What To Do with All That Stuff?
14 stops on an avid recycler's way to lighter living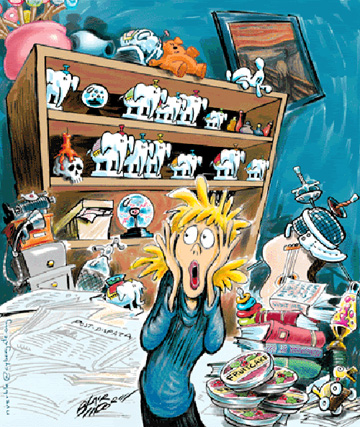 by Sandy Greenberg
In the April 29-May 5 issue, reader Farley Peters of Fairhaven, wrote, "What do we do with all this stuff?"
I'm glad you asked.
In 2006, I lived in a five-bedroom house. Now, in 2010, and two major moves later, I'm in a two-bedroom apartment. And I don't rent a storage locker!
Keeping stuff out of the landfill has been a big part of this transition. It can be a challenge, particularly if you are, as I am, the inheritor of a lot of pack-rat genes. However, with a bit of creativity and a little research you can find homes for just about anything.
In addition to the usual donations to charities like Goodwill and the Salvation Army, and selling via craigslist.org and yard sales, these are some of the outlets I've used successfully. For most places, of course, it's best to call first, to make sure that they can accept your items.
Freecycle: A great way to get rid of items too good to throw away but not really something you might donate. Among stuff I've passed on: a box of miscellaneous rope pieces, boards for shelves, clothes pins, a Styrofoam cooler, sewing patterns, a bag of dish towels, a box of recipe clippings. Freecycle is a nonprofit grassroots movement all about reuse and keeping good stuff out of landfills. For Freecycle groups in Maryland check: http://www.freecycle.org/groups/unitedstates/#Maryland.
Consignment shops: For items that are more than you want to donate, there is a wide range of shops in the area that will sell your stuff for a percentage of the profits. One I have been particularly pleased with is Annapolis's Echoes and Accents (http://echoesandaccents.com), which deals in furniture, antiques and decorative items, and has sold a number of items large and small for me. Other shops often have their own specialties.
Books for International Goodwill: Collects books of all types, including textbooks, for distribution to groups both international and domestic. Funds from sales of donated books, which are held every six weeks (the next one is June 12), help pay for shipments and expenses. There is a drop-off collection shed on West Street, between the Exxon station and Toys-R-Us, across from Annapolis Mall. Books can also be left at the B.I.G. warehouse in Lothian: www.big-books.org.
Senior Centers: Are happy to receive magazines, preferably recent. They may also be interested in craft supplies.
Nursing homes and care centers: Are also happy to have magazines and craft supplies. I also routinely pass on some of those greeting and note cards and calendars that various non-profits send so often; many residents don't have a way to get to a store to purchase such items.
Nature Centers: Found in most counties and some local parks, nature centers often welcome nature magazines and calendars, nature-related and other craft materials, for use with their children's programs, school-group programs and the like. Magazine and calendar pictures are great for kids to cut up for various activities. I've also donated specialized books to the Smithsonian Environmental Research Center in Edgewater.
Schools/Preschools: May also be willing to take calendars, craft supplies and the like.
High School and College Drama Departments: May have costume collections that can use additions of those vintage outfits from your more youthful days that you still have stashed away in your attic or basement. After saving some things way too long, for nostalgia's sake, I guess, I was happy they found a new home and use.
Dress for Success/Suited for Change: And similar organizations collect and provide donated women's business attire to women trying to find jobs but unable to afford suitable outfits for interviews. They also take business-appropriate accessories.
Family Crisis Centers: Serve a population that can use just about everything — clothing, linens, dishes (mismatched or not), pots and pans, furniture, the list really is endless. Usually, you have to drop off items at a neutral office or location, as addresses for their safe houses are not given out. They may or may not be able to pick up furniture.
Veterinarians and Animal Shelters: Can use old, worn towels for pet bedding.
Parcel Plus/Mail Boxes, Etc.: Will take your no-longer-needed packing peanuts.
Local historical associations: Are often pleased to have some of those nostalgia items from your past. Several things that came to me from my parents are now part of the reference library at the county historical department in my out-of-state hometown. A number of items from my high school years will eventually go to them, and they are looking forward to receiving them.
The Wright Museum: In Wolfeboro, N.H., collects and displays items related to the American home front during World War II. If you have items from your parents, or are a little older than a baby boomer and have childhood items from 1939-'45, it's worth checking with them: http://www.wrightmuseum.org/.
This is just the beginning, a partial list of places and organizations I've dealt with. A little creative thinking, a little time researching, a little judicious sorting, most of all a little willingness, and you really can find a home for much of "all this stuff."
---
Sandy Greenberg is a Crofton reader whose Letter to the Editor is so thorough that it stands on its own two feet.