Murder on the Bay
Chesapeake Beach Resort and Spa takes a stab at bloody weekend entertainment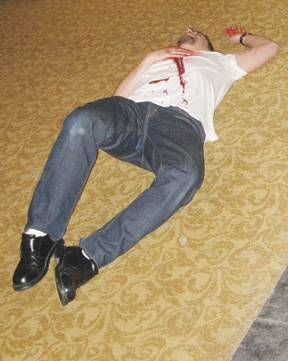 photos by Diana Beechener
After bodies started piling up, investigators compared kissing lip imprints to one found at the scene.
by Diana Beechener
Fog blanketed the Chesapeake Beach Resort and Spa as 60 people entered the Rod 'n' Reel. Two were murderers, the rest were amateur sleuths vowing to find them.
I was there to observe, report and devour crab cake sandwiches.
The bloody weekend was a first for the Resort, which hopes to turn these Murder Mysteries into a yearly event. With Murder Mystery USA executive producer and co-owner Keith O'Leary overseeing the killer entertainment, the evening started with laughter and ended with a bang.
"Excuse me, do you like sex?" asked Keisha Brassfield as people took their seats at her table. The event planner and caterer wasn't being rude, she was just reading from the welcome sheet. The sheet gave an overview of the weekend and offered 10 questions to ask your fellow sleuths. Question No. 3: Do you like sex? Why?
"It's the why part that gets me," said Laura Oller, an amateur sleuth from Louisiana. "Doesn't everyone know why?"
Before the table could move on to question seven — Have you ever killed anyone? — a masked man entered the room brandishing a gun.
"Freeze!" cried another armed man, before unleashing a hail of gunfire.
It was the first of three deaths that weekend, and the diners couldn't be more excited.
"Finally, we're getting started," said Brassfield, an avid Agatha Christie fan who had never hunted a killer before.
As the house detective — played by D.C. patent attorney Jason Lotti — broke down the crime scene, the guests pushed aside their salad plates to take notes. A few brave sleuths grabbed cameras and ran for the body. Crime scene photos could help solve the mystery and would be a great souvenir.
I was at the head of the pack, but I confess I wasn't motivated to solve the crime. I wanted a good shot of the body.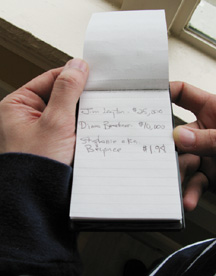 L

ittle did I know I would soon be a prime suspect.
"Is there a Diana in the house?" asked the detective, brandishing a debt book removed from a dead bookie's body.
Silence. Eyes narrowed, and heads began to turn.
"You're a Diana," reminded my fiancé.
Great.
I raised my hand.
"I see you owe $10,000, Ms. Beechener," said the detective. "Care to explain?"
It was fake. No one had died. The dead woman on the floor was clearly breathing. Yet my heart began to pound, and my cheeks flushed.
"Uh, no." I started to sit down.
"No, no, no, stand up," the gumshoe approached. "What could you have spent $10,000 on?"
"Shoes?" I could feel my face burning, and I watched as people murmured and scribbled notes.
The rest of the weekend, I was interrogated.
Tired of pledging my innocence, I played along. Maybe I did have a few gambling debts. Maybe that handsome guy I'm with wasn't my fiancé, but an escort. I practiced my own shifty-eyed stare when I felt suspicious eyes on me.
I had to provide a lip print for examination. And by the time the third body staggered into the dinning room — stabbed and flailing — I could hear sleuths whispering "Where was Diana?"
My shifty personality was confirmed at Sunday brunch. When the murder mystery solutions were turned in, O'Leary pulled me aside.
"I thought you'd like to know, over 50 percent of the solutions finger you," he said.
In spite of my red-herring act, a large number of Chesapeake Beach sleuths figured out the mystery and fingered the real killers. Seven — including my fiancé — were given the ultimate reward: Bragging rights and a copy of the at-home game on DVD.
Three, including your intrepid reporter, were awarded Groucho Marx glasses for their ridiculous answers to the mystery. Though I still feel my Star Wars-themed solution had merit.
All detectives got a T-shirt as souvenir of their sleuthing weekend.
"I still like the Alleghany murder weekend better," confessed Dani Kleinfelder, an Annapolitan veteran of murder mystery weekends. She explained that with the entire hotel dedicated to the mystery, guests were invited to scour every corner for clues.
Chesapeake Beach's weekend was a smaller affair, with murder mystery guests mingling with resort patrons. The excitement of the chase, however, was palpable. Guests laughed with the detective, enthusiastically tracked down leads and vowed to do better the next time.
If there is a next time, maybe I will be in on it.