The Song Remains the Same
More than a century after it was written, some Marylanders seek to replace the state song with something kinder, gentler and more in tune with the times
by Grant Zeigenfuse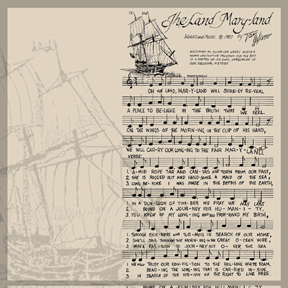 State songs are relics. Ours, "Maryland My Maryland," was written in 1861 by Confederate sympathizer James Ryder Randall. After the words were set to music by Jennie Gary, the song became a war hymn for the Confederacy. Despite its nine stanzas of warlike rhetoric in defense of the Civil War South, it was adopted as Maryland's State Song in 1939.
But Maryland may still get a new state song this year.
Last year, Maryland's lawmakers gave us a State Dessert: the Smith Island cake. This year, two lawmakers would like to give us new lyrics for "Maryland My Maryland," while a third would add an entirely new song suitable to the sweet voices of Maryland's children.
Replacing Randall's words with a kinder, gentler and more unifying text may be the harder job.
Leading this year's charge against "Maryland My Maryland" is Anne Arundel County Del. Pam Beidle. A letter-writing campaign by fourth graders at Glen Burnie Park Elementary School studying Maryland history prompted Beidel's bill. The children asked for a song that "said good things about Maryland."
Montgomery County Sen. Jennie Forehand is supporting Beidle's bill, making 2009 her second campaign to alter the Free State's song. In 2002 she proposed a change that fit more with the air of patriotism and unity after Sept. 11. Forehand's bill offered a poem written in 1894 by Western Marylander John T. White, superintendent of Maryland schools for more than 20 years. White, says the bill, "wrote the poem as a tribute to his native state." White's poem is uplifting and celebrates Maryland. It also fits the music of the state song, which is sung like "O, Tannenbaum."
We dedicate our song to thee,
Maryland, My Maryland,
The home of light and liberty,
Maryland, My Maryland,
We love thy streams and wooded hills,
Thy mountains with their gushing rills,
Thy scenes — our heart with rapture fills —
Maryland, My Maryland
Earlier attempts to change the song showed why this is a hard job. In the 1980s, Sen. Howard Denis' attempts ended after he received a death threat.
Change is difficult and relics are sacred.
That's why Calvert Del. Sue Kullen is bypassing the "Maryland My Maryland" debate.
"Establishing an official state children's song," says Kullen, "gives all Marylanders — and especially school children and their teachers — an option that is upbeat, easy to sing and captures the spirit, dreams and hopes of the pioneers who established Maryland as a place of tolerance and opportunity."
A new song for Maryland's children would also honor Chesapeake advocate and bard Tom Wisner, who has dedicated his life to educating children to the life and love of the waters around them.
Long before I was made in the depths of the earth, you knew of my
Longing and you fashioned my birth
With a passion to journey out over the sea
In search of the vision of the right to live
free.
–Tom Wisner's "The Land Mary-Land"
Keep your ears tuned to hear whether either of these two campaigns upstages "Maryland My Maryland."