Landmarks
Rebuilding the Galesville Rosenwald School
by Diana Beechener
Gertrude Makell's early education in Galesville was separate, unequal — and historic. She learned reading, writing and arithmetic in the last generation of a massive social experiment.
"I didn't realize the significance until later," says Makell, the 60-year-old community organizer.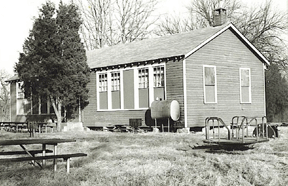 As Rosenwald schoolers, she and her African American classmates were the point of confluence for vast historic forces encompassing at least four main currents of American history.
Slavery was one. The opportunities another downtrodden race found in America was a second. Jim Crow was a third. The success of Sears and Roebuck was a fourth. Those currents converged in the Rosenwald schools for African American children.
History 101
Julius Rosenwald, the Illinois-born son of German Jewish immigrants, turned a job wholesaling summer suits into a partnership with the fledgling Sears & Roebuck Company. Buying a quarter of the catalog empire in 1895, Rosenwald rose to company president.

A self-made millionaire, Julius Rosenwald's donations financed thousands of African American schools like the one in Galesville.

Meanwhile, Booker T. Washington was rising from slavery to a presidency of his own, as head of the Tuskegee Institute.
A self-made millionaire — with a personal fortune of $200 million by 1917 — Rosenwald supported Booker T. Washington's doctrine that education and economic advancement would pave the way to African American independence.
From Washington's thrift building six rural schoolhouses for only $2,800 came the Julius Rosenwald Fund. Between 1912 and 1948, Rosenwald donated $70 million to build 4,777 African American schools and fund scholarships throughout the southern United States.
Just below the Mason-Dixon line in Maryland, Rosenwald filled more than 155 schools with children whose skin disqualified them for standard American education. Gertrude Makell's school was one of Anne Arundel's 22 Rosenwald schools. Calvert had five.
Economics 101
Built in 1929, Galesville's Rosenwald school crammed its elementary-aged students into one room — until a population boom made another room necessary.
Makell attended the Galesville School until the third grade. "Then the school was closed, and we were relocated to other communities," Makell said. She was shuffled from Edgewater to Lothian.
"We felt pretty good about going [to Galesville School]," Makell says. "It was a neighborhood school, so we knew all the kids. When we went to other schools, we didn't necessarily know the children."
So Galesville's black community decided to buy its gift from Julius Rosenwald. The Galesville Community Center Organization purchased the land and two-room building for $1,000. It was used as a community center for meetings and activities until the 1970s. By then, Makell says, "Most of the former members of the organization became elderly and couldn't manage [the property] anymore."
Makell and the final group of Rosenwald students watched as their childhood memories were boarded up. Their school sat, separate and abandoned, for nearly three decades.
"Some of the former students, myself included, just decided that they wanted it to become active again," says Makell. "There was also a great interest in preserving the Rosenwald schools."
To preserve the spirit of the schoolhouse and revive their community center, the Galesville Community Center Organization has hired architect Michael Dowling, who also helms the restoration efforts for Annapolis Summer Garden Theatre.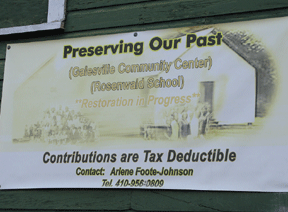 Dowling plans to restore the building's façade, rehab the interior using period fixtures and repaint the building in the traditional Rosenwald colors of buff and white. The interior will remain open, with original wall lines ghosted onto the refurbished floors.
Though preservation is the key, the Galesville School sits on a critical area and buffer location, meaning some modern accommodations were required. The parking lot will be paved with semi-porous materials to reduce stormwater runoff, French drains will aid in rainwater saturation and minimal landscaping and re-vegetation will prevent excess groundwater.
Grand plans in a tough economy, but the Community Center has raised substantial start-up funds.
To date, Makell and the group raised $200,000 from Anne Arundel County; $200,000 from a state bond bill; $90,000 from Arundel
C

ommunity Development Services and $4,000 from Preservation Maryland. Makell is waiting for word on a grant from Lowes' Preservation Fund, which would add $50,000 to the project's $494,000 price tag — a far cry from the school's original $1,900 cost.
"When it's restored, we're going to preserve as much of it as we can," Makell says.

"It will look like it did. We have asked former students for pictures."
With restored faith, new varnish and the donations of the community, Makell hopes to build a center where pictures of a segregated past decorate two rooms that welcome everyone.
Galesville is not the first town to turn a relic of slavery into a community center. Marley Neck, Lula G. Scott, Freetown and Queenstown Rosendwald schools have all been recognized for their historic value and found new life welcoming people of all creeds and colors.