Going, Going … Sold!
Chesapeake history on the auction block
by Margaret Tearman
Only an auctioneer can equally and impartially admire all schools of art.
–Oscar Wilde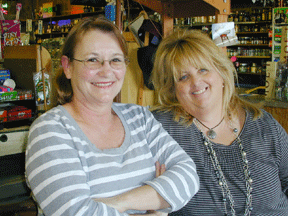 photo by Margaret Tearman
Pam Parks and Judy Howard turned their love of the hunt into a business as Parks Place Auctions.

Our possessions are our identities. These things reflect who we are: Our personalities shine through art glass and crystal, our intellectual curiosity's defined by the books on our shelves and our eccentricities exposed in porcelain figurines and wood carvings perched on tabletops.
Our homes are oversized chests brimming with treasures: valuable, obsolete, sentimental, simply enjoyable.
But at some point — out of financial necessity, as part of downsizing, an energetic spring cleaning or upon our death — we and our stuff do part.
We hope some of these prized possessions will stay in the family as heirlooms or be given to friends to remember us by.
But what becomes of the rest of a lifetime's accumulated stuff?
These relics are recycled, re-entering the stream of commerce as treasures to be sought and found again, becoming a part of another's life collection.
The hunting grounds are yard sales, estate sales, classified ads –—and auctions.
The Anticipation of the Hunt
Judy Howard and Pam Parks know something about the hunt. Friends for more than 20 years, they bonded, as they say, over a "love of junk."
Together, they spent weekends scouring yard sales and flea markets snapping up things that appealed to them. They either kept their treasures — "too many," as Howard tells it — or re-sold them at their own yard sales.
"At one sale, I paid $7 for a lamp," says Howard, "Then I turned around and sold it for $25. I looked at Pam and said, hey, we can make money doing this."
The light bulb clicked, and the ladies found their calling.
In 1996, Howard and Parks enrolled in the "Harvard of auction schools."
They drove to St. Joseph, home of the Missouri Auction School, like "Lucy and Ethel," says Parks. "We used to say like Thelma and Louise, but they died."
After 10 intensive days of schooling — from traditional calling to the ethics of the business — they returned home to Deale, ready to hunt and sell.
Today, the two friends are partners in Parks Place Auctions, a job in which discovering treasures is all in a days work.
"Where there are boxes to be opened," says Howard, "we will be there."
The Thrill of Discovery
Armed with the tools of their trade — newspaper, boxes, camera and reference books — Howard and Parks dare to go where others may hesitate. They climb fearlessly into attics and descend into dank, dark basements. They are undeterred by sweltering heat, dust and spiders.
Their experience has taught them to be prepared.
"We keep a jar of Vicks Vapor Rub in the car," Howard says. "A little dab in the nose wards off even the nastiest smells."
They are called upon to assess single collections and entire households.
"We have to decide if it would be a profitable inventory," Parks explains.
The anticipation of the hunt is followed by the thrill of discovery.
"We never know what we're going to find," Howard says.
"One house was chock full of gorgeous antiques. On a side porch, we found 30 to 40 of what we thought were ugly metal vases. We didn't think they were worth anything."
At auction, the vases sold for hundreds of dollars — each.
"The highlight of our work is getting to go inside some fantastic homes," Howard says.
"And not knowing who we're going to meet or what we'll find," adds Parks.
But that's all they'll say. Their most important tool is discretion.
"We sign confidentiality agreements," Parks says. "I can tell you we were in a landmark home, but I can't tell you which one. I'll tell you that we were hired to liquidate the estate of a famous person, but I won't tell you who it was."
That part of the treasure hunt remains their secret.
The Gamble of the Sale
Appraising an estate can be a delicate dance around emotions.
Much of their inventory comes from estate sales, which can be tricky. We all want to think that our father's old harmonica is valuable, because it is — to us. But to most, it's probably just an old harmonica.
"People have emotional attachment to things," Parks says. "We have to remind them that people aren't coming to buy sentiment."
Antiques Roadshow has made their job trickier. The popular PBS series features professional appraisers traveling around the country to convention centers where people line up to have a prized possession evaluated and appraised.
"People tell us all the time they saw the same item get much more money on TV," Howard says. "We remind them that we're not setting the price. The public sets the price.
"We remind our clients to look at the big picture. If they didn't get as much as they thought they would for one piece, they often get much more for something they didn't think was worth anything."
Average auction attendance is 300, and Howard and Parks categorize bidders into three groups: John Q. Public, there out of curiosity; collectors with an open checkbook; and dealers who know what they can sell and what they can sell it for.
"Auctions are a gamble," Howard says. "We never know who's going to show up to buy and how much they have to spend."
February 28's Gamble
On February 28, as often in the past decade, Howard, Parks and their team arrive at the Deale Elks Lodge (6022 Drum Point Rd.) in the wee hours. Moving vans pull in, their contents the prey for the day's hunt. As boxes are unpacked, the hunters lurk, surveying the possibilities, searching for hidden treasure. Howard and Parks stand watchful.
"After all this time we still don't always know what to expect from the auction," Parks says. "We're still surprised."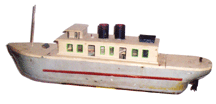 Midday, bidding begins. The pace is fast. The collectors and dealers bid in earnest. John Q. Public, especially the novice hunter, has to move fast. Adrenaline flows. And so goes the transfer of ownership. The auction doesn't end until the gavel lands and the last item is sold!
Their first auction of 2009 will put unusual items on the block.
"We have a terrific collection of miniature World War I toys," says Howard. "It is complete with miniature soldiers, airplanes and a fort with miniature sandbags still filled with the original sand. The gurneys, carried by soldiers from a medical unit, still have the original fabric."
This collection is a not a children's toy. Because of possible lead content, it cannot be sold to anyone under the age of 12.
The three model wooden boats to be auctioned are not toys, either. One dates back to 1901.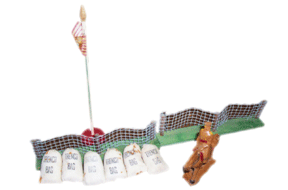 Then there are the 21 John Moll prints. The late artist's depictions of Chesapeake Bay life are sought by collectors and lovers of the Bay.
Diamonds, Limoges porcelain, Fostoria glassware, Castleton China, antique furniture, beer tap handles, rock-and-roll LPs, sea shells, Marilyn Monroe cutouts. The list goes on …
"There has been so much stuff," Parks says, "I just can't remember."
---