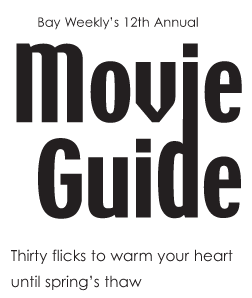 screened by Diana Beechener
Shadow smadow. The groundhog couldn't care less. He's fallen victim to Cupid's arrow — and so has she. Reporting that love conquers all, Chesapeake Chuck and Chesapeake Chic want to share their good fortune — with 30 movies, from heart pounding to heart rending, for six weeks of warm, romantic nights in your burrow.
All's Fair in Love and War: Wartime Romance
The English Patient
1998 • R • 162 minutes
Director: Anthony Minghella
The best wartime love stories still come from World War II, though newer ones may lack the traditional moral clarity. In that genre, no one's done better than Anthony Minghella, who died last year at the age of 54. His English Patient — which won nine Oscars, including Best Picture and Best Director — rises to three layers of stories on the dangers of losing your heart when the world's exploding around you.
The foreground story belongs to young Canadian nurse Hana (Juliette Binoche), who loses everyone she loves.
The background story — a sensual feast of adulterous erotic compulsion set in sweeping African deserts — belongs to Hungarian Count Laszlo de Almásy (Ralph Fiennes), whose love destroys his beloved (Kristin Scott Thomas).
As nurse and patient, Binoche and Fiennes develop a compassionate kind of love played out in almost-normal domesticity in the war-ravaged Italian villa where she has taken him to die. There her piano playing calls a new lover to let down his hair, Sikh mine detonator Kip (Naveen Andrews).
The third story shoots you back to theme, but we'll not spoil the ending.
–Sandra Olivetti Martin
Heaven Knows Mr. Allison
1957 • unrated • 108 mins.
Director: John Huston
Shades of Adam and Eve color this platonic love story that simmers with stifled passion. Corporal Allison, USMC (Robert Mitchum), is shipwrecked on a deserted island during World War II with Sister Angela (Deborah Kerr), a novice missionary stranded in a dangerous world.
The consummate protector and provider, he is the answer to her prayers. Beautiful, kind and understanding, she fills a void in his life.
Through hard work and play, leatherneck and lady conquer starvation, exposure, illness and their own human frailties. Then the war shatters their idyll in the form of the Japanese navy.
Can they survive? If they do, will she take her final vows with the Lord or will she take wedding vows with Mr. Allison? Kerr won the New York Film critics' Best Actress Award for this performance.
–Jane Elkin
Casablanca
1943 • PG • 102 mins.
Director: Michael Curtiz
This movie is more about loyalty than love.
Sure there is love, passionate love in Paris as the Nazis advance in World War II. But in the end, loyalty triumphs.
As the movie begins, Rick Blaine (Humphrey Bogart) entertains Nazis, Vichy French collaborators and refugees alike in his Casablanca nightclub. Rick claims to care only about money, not politics.
Rick's hard shell cracks when Ilsa Lund (Ingrid Bergman), his lover in Paris, shows up with a husband, French Resistance leader Victor Laszlo (Paul Henreid).
Their reunion triggers anger, renewed passion and intrigue.
Casablanca won three Academy Awards, including best picture. The film is especially poignant for being made in the midst of World War II with many cast members having fled Europe themselves to escape the Nazis.
–Ben Miller
---
Birds with Brains: Ladies' Choice
Bull Durham
1988 • R • 108 mins.
Director: Ron Shelton
"Women don't get lured," Annie Savoy (Susan Sarandon) advises her acolyte in The Church of Baseball, Millie (Jennie Robinson). The pair prove their freedom as Annie once again chooses her player of the year, to whom she'll impart her wisdom in a season of sex, and Millie propositions her way through the roster of the wind-swinging Class A Durham Bulls. In contrast to female freedom is the men's bondage: Their right to play the game they love is controlled by fate in assorted forms: managers, owners and hexes.
Veteran catcher Crash Davis (Kevin Kostner) rebels when Annie chooses Ebby Calvin 'Nuke' LaLoosh (Tim Robbins) a dumb, cocky and supremely gifted rookie pitcher, over him. The plot travels through pratfalls, hard knocks and sultry sex to give them both not what they want but what they need.
–Sandra Olivetti Martin
Love with the Proper Stranger
1963 • unrated • 102 mins.
Director: Robert Mulligan
Girl meets boy. Pair has one-night-stand. Boy helps girl raise money for a back-alley abortion. Love with the Proper Stranger confronts a daring subject for its time — or ours. Yet the adventures of Angie Rossini (Natalie Wood) and Rocky Papasano (Steve McQueen) as they traverse the streets of New York make for a quirky kind of romantic comedy. The pair give fine performances, McQueen as a musician content with one-night stands — with jobs and women; Wood as a modern girl struggling for independence from her old-country Italian family — and from the shotgun standard of sex and marriage.
–Diana Beechener
The Long Hot Summer
1958 • unrated • 115 mins.
Director: Martin Ritt
Clara Varner (Joanne Woodward) has had it with men. A spinster at 23, she's trapped in a Southern Gothic mansion with a domineering father (Orson Welles), his ninny mistress (Angela Lansbury), her cloying brother (Anthony Franciosa) and his coquette wife (Lee Remick).
Then a handsome drifter with a seedy past — a tanned and frequently shirtless Paul Newman — charms his way into a job working her father's land. He'd like to charm Clara, too.
She replies with whip-smart rejection: "I've spent my whole life around men who push and shove and shout … I'm not anxious to have another one around."
A romantic game of cat and mouse ensues, with her wit more than equaling his charm.
–Diana Beechener
---
Cold Showers: Best Steamy Stories
The Horse Whisperer
1998 • PG-13 • 170 mins.
Director: Robert Redford
A lot goes on that makes The Horse Whisperer a good, if imperfect, movie. There's the dramatic meeting of horse, rider and big truck that starts the story. There's the quiet way with animals that made famous the book this movie is based on. There's the big scenery of the West, as opposed to the close confines of Eastern city life. There's a love story, and there are lots of life stories.
But what makes this movie among the steamiest of all time is a single dance, with Kristin Scott Thomas in the arms of Robert Redford, full of dangerous, delicious possibility.
–Sandra Olivetti Martin
An Officer and A Gentleman
1982 • R • 124 mins.
Director:Taylor Hackford
The lovers in this love story would just as soon not fall in love.
Zack Mayo (Richard Gere) is a loner who enlists in the Navy in a last-ditch attempt to make something of himself. During basic training at Naval Aviation Officer Candidate School, Zach meets Paula (Debra Winger), the spunky, seductive local girl just waiting for the right cadet to come along.
Paula is a combination of insolence and vulnerability, a sexy, strong-willed girl, terrified that her job in a paper mill may be all life will offer her. When Zack comes along, she can't believe her good fortune; nor can she quite accept it.
Passion is high and compelling as Zach tries to keep Paula at a safe distance and she dares Zach not to fall in love with her.
–Amy Kliegman
Body Heat
1981 • R • 113 mins.
Director: Lawrence Kasdan
Ned Racine (William Hurt) is a good-natured, intelligent but lazy small-town lawyer sweltering away in the Florida summer.
He's smart enough to think he can get away with a dangerous affair with seductive Matty Walker (Kathleen Turner), and too smart to think he could get away with murder. But passion — and a woman smarter than him — lead him on.
Ned uses his lawyerly skills to keep one step ahead. His friends, the district attorney (Ted Danson) and police detective (J. A. Preston), want to believe him, but they begin to have their suspicions. Is Ned deceiving or being deceived?
Reminiscent of the atmospheric film noir dramas of the 1940s and '50s, color, sights and sounds feed the gathering tension of a cautionary tale.
–Ben Miller
---
End of the Affair: Love Gone Wrong
The End of the Affair
1999 • R • 102 mins.
Director: Neil Jordan
Novelist Graham Greene, the man behind the story, never gives you a happy ending, so don't expect the title of this heart-breaker to mislead you. Sarah Miles (Julianne Moore) and Maurice Bendrix (Ralph Fiennes) fall into an adulterous wartime affair of the possessed variety Fiennes is famous for. Naturally you want it to continue, as do they. Yet Miles ends the affair after an interlude interrupted by a bombing raid — though she clearly still loves him. The mystery torments Bendrix — as it will you, unless you know Greene well.
–Sandra Olivetti Martin
War of the Roses
1989 • R • 116 mins.
Director: Danny DeVito
Kathleen Turner and Michael Douglas received Golden Globe nominations for best actor and actress in this black comedy about divorce at its nastiest.
Oliver and Barbara Rose (Douglas and Turner) have a seemingly perfect life, raising two children to adulthood before their festering irritation with each other becomes a toxic infection.
With amputation as their only course of action, they seek the guidance of their old friend Gavin (DeVito), a jaded divorce attorney, and find themselves doomed to share the perfect home they both covet.
Greed brings out the worst in both, driving them to physical violence, emotional abuse and social sabotage, all handled with a comic touch in this historic battle of the sexes.
The cynical look at love gone wrong is fun for singles, secure couples and survivors of divorce. Not for the romantically insecure.
–Jane Elkin
Fatal Attraction
1987 • R • 119 mins.
Director: Adriane Lyne
Fatal Attraction is a classic tale of love gone wrong and an excellent reason to take your pets to work.
Married attorney Daniel Gallagher (Michael Douglas) has a seemingly blissful life with his wife and daughter. When the two ladies in his life leave for the weekend, Daniel steps out and into the clutches of Alex Forrest (Glenn Close), a lonely and disturbed publishing company editor.
What Daniel regards as a one-night stand becomes a daily headache as Alex persists. His cruel rebuffs compel Alex to make Daniel love her.
When acid burns on his car and claims of pregnancy don't win her man, Alex resorts to an act that added the term bunny-boiler to our lexicon.
–Diana Beechener
---
Love on the Rocks: Romantic Mysteries
The Constant Gardener
2005 • R • 129 mins.
Director: Fernando Meirelles
Assigned to Kenya, unassuming British diplomat Justin Quayle (Ralph Fiennes) remains apart from the world beyond his garden. His activist wife Tessa (Rachel Weisz) immerses herself in the harsh reality of impoverished Africa.
When she stumbles onto a corrupt drug company's scheme, she and a Kenyan doctor plan to expose corruption and the British government's complicity. She hides her work from her husband, hoping to protect him. But her brutal murder forces him to confront her reality as he searches for the truth of how and why she died.
Fiennes and Weisz are both sensational in the film adaptation of John le Carre's tragedy.
–Margaret Tearman
North by Northwest
1959 • unrated • 131 mins.
Director: Alfred Hitchcock
Cary Grant maintains his trademark grace and elegance despite numerous near-death scrapes as he is mistaken for a foreign agent.
But his romantic interest, Eva Marie Saint, is the real spy. The classic ice princess, she hides her real intentions so that suspense from the love story bolsters the film's action line. All is revealed during the iconic chase across the faces of Mount Rushmore.
A literal cliff-hanger morphs into a honeymoon scene in a sleeping car compartment on a train heading back east. Even some heavy-handed symbolism as the train enters a tunnel for the closing shot doesn't spoil satisfaction with this old favorite, ranked by many as Hitchcock's best American work.
–Bonnie Lefkowitz
The Petrified Forest
1936 • unrated • 82 mins.
Director: Archie Mayo
Leslie Howard plays romantic Englishman Alan Squier, trudging across the dusty wasteland of Arizona's Petrified Forest in this black-and-white film steeped in noir. Stumbling onto a gas station/café, he falls in love with the owner's daughter, a willowy school girl named Gabrielle Maple (Bette Davis), who reads poetry, paints desert sunsets and dreams of escaping to France.
As night descends, notorious gangster Duke Mantee (Humphrey Bogart in his cinematic debut) arrives with his bloodthirsty gang after robbing a bank and killing several people. A howling storm rages as the radio broadcasts warnings — and the law closes in.
The dialogue between the lovers and the hardened gangster is as poetic as the Francois Villon poems Gabby reads aloud. Every word has a hidden meaning, and the supporting cast provides almost constant comic relief.
–Steve Carr
---
Love's Labor Lost: Terrific Tear-Jerkers
Wings of Desire
1987 • PG-13 • 127 mins.
German/English w/English subtitles
Director: Wim Wenders
Quiet yourself to listen to the longings of mortals and angels in this award-winning German film. With artistry and grace, Wenders pulls at our hearts as we meet two angels, Cassiel (Otto Sander) and Damiel (Bruno Ganz), who bring solace to the lonely and grieved of Berlin.
But Damiel yearns for life, "to end the infinity and to tie me to earth." When he falls in love with a forlorn trapeze artist Marion (Solveig Dommartin), he must choose between her and eternity.
Peter Falk plays himself, becoming a go-between for Damiel, a compassionate ear, a "compañero."
The heavy-handed 1998 remake City of Angels not only lacks the original's beauty but also pummels us to make us weep.
–Dotty Holcomb Doherty
Love Story
1970 • PG • 99 mins.
Director: Arthur Hiller
Grab a box of tissue. Because even if you've seen this film a dozen times, your tear ducts will overflow.
Erich Segals' tragic tale of college students Jennifer Cavalieri and Oliver Barrett IV made Ali MacGraw and Ryan O'Neal household names and sold millions of posters.
The story of Jennifer, a Radcliff music student from a working-class family, and Oliver, a Harvard law student and son of a socially elite millionaire, is told by Oliver in flashbacks, as the young lovers struggle against themselves, their families, social expectations — and a deadly disease.
In spite of so-so acting and a sappy script, the movie tore at America's heartstrings and earned a slew of Oscar nominations.
–Margaret Tearman
An Affair to Remember
1957 • unrated • 119 mins.
Director: Leo McCarey
Playboy Nickie Ferrante (Cary Grant) and nightclub singer Terry McKay (Deborah Kerr) meet on a luxury liner cruising to America. Both are engaged to others, but despite Terry's resistance — and because they keep bumping into each other — they fall in love.
Facing their former lives when they reach New York, they agree to wait six months and, if each feels the same, to reconnect on the top floor of the Empire State Building. Nickie shows up as scheduled; Terry does not.
Tragedy has a way of sorting out love; as Terry's absence is explained, their shipboard affair becomes a love to remember.
The title song and sweeping score should bring tears to your eyes.
–Ben Miller
---
Platonic Passion:Best Buddy Films
Nobody's Fool
1995 • R • 110 mins.
Director: Robert Benton
Sully Sullivan (Paul Newman) is dedicated to being irresponsible. In an upstate, downbeat New York town, he lives in a rented room, drives an old pickup truck, drinks, gambles, and flirts with a woman he can't have (Melanie Griffith). He works odd jobs for a boss (Bruce Willis) he cheats. He lets his boyhood house fall down. He looks out for himself; he is nobody's fool.
The balance changes when estranged son Peter (Dylan Walsh) brings his wife and two sons to visit Sully's former wife for the holidays.
Reluctantly Sully admits he's a grandfather, then a father. When he is sentenced to a weekend in jail for punching a doofus, small-town cop (Philip Seymour Hoffman), the people he has been helping all along realize how much they need him. And Sully realizes how much he needs them.
–Ben Miller
The Sting
1973 • PG • 129 mins.
Director: George Roy Hill
The Sting proves that there is honor among thieves. Heartbroken that his con partner Luther (Robert Earl Jones) was killed by ruthless mobster Lonnegan (Robert Shaw), John Hooker (Robert Redford) vows to exact revenge.
Hooker enlists Luther's old partner, card sharp and con man Henry Gondorff (Paul Newman), to help him swindle Lonnegan out of all his money.
Tracking down a band of merry crooks, from pick pockets to crooked croupiers, Hooker and Gondorff begin an elaborate long con in honor of their friend. Men bond, bad guys are conned and the fleet notes of Scott Joplin's ragtime score keep you humming for hours.
–Diana Beechener
Beaches
1988 • PG-13 • 123 mins.
Director: Garry Marshall
It's not only men — and not only Paul Newman — who have memorable friendships. Among the female friendships on the silver screen, none is more iconic than Beaches.
Two young girls from diverging backgrounds escape overbearing parents and meet under the boardwalk in Atlantic City. Sustained in part by their differences, their friendship lasts through marriages, divorces, even romantic rivalry.
Brassy Bette Midler accuses Barbara Hershey, the ultimate WASP, of selling out her ideals as a human rights lawyer, and Barbara accuses Bette of self-serving ambition as a performer. But when Barbara discovers she has a fatal disease, she plots to have her daughter end up with Bette. Their last days together are spent on another beach, and you only need one guess as to how things turn out.
–Bonnie Lefkowitz
---
Swashbuckling Sweethearts:Action-Packed Romance
The Princess Bride
1987 • PG • 102 mins.
Director: Rob Reiner
Buttercup and Wesley (Robin Wright Penn and Cary Elwes) have found true love. But a love so precious must be defended.
Thus they battle pirates, giants, Machiavellian royalty and Rodents of Unusual Size. They scale the Cliffs of Insanity and navigate a fire swamp only to face torture in the Pit of Despair.
As narrator Peter Falk promises, this is not just your run-of-the-mill fairy tale.
Mandy Patinkin as swashbuckling Inigo Montoya, Billy Crystal as magician Mad Max, Andre the Giant and Fred Savage are more reasons this instant classic was nominated for five Academy Awards.
–Jane Elkin
Diva
1981 • R • 117 mins.
French w/English subtitles
Director: Jean Jacques Beineix
Moped-riding postman Jules (Frédéric Andréi) gets tangled in a web of deceit and murder when he surreptitiously records opera singer Cynthia Hawkins (American soprano Wilhelmenia Wiggins Fernandez).
The lovesick Jules wanted to capture her voice for himself, but Taiwanese bootleggers seek his tapes of the otherwise unrecorded singer. Meanwhile, an endangered prostitute who knows too much about a drug-smuggling ring drops a tape of her confession into Jules' moped pannier just before she is abducted.
Chased through Paris by bootleggers, police and hit men, Jules remains resolute in his love for Hawkins.
Diva won French Cesars for cinematography and music.
–Dotty Holcomb Doherty
Two Mules for Sister Sara
1970 • PG • 116 mins.
Director: Don Siegel
A year before the legendary team of Siegel and Eastwood spawned the Dirty Harry franchise, they made this quirky tale of lust in the dust.
Hogan (Eastwood), a Mexican soldier of fortune, saves a naked Sara (Shirley MacLaine) from three attacking soldiers. Donning a habit, Sara explains that she is a nun helping the Mexicans revolutionaries fight the French.
Sister Sara persuades Hogan to help her attack a French garrison. Through shootouts and sabotage, the pair bond as soldiers in arms. Sara's sass, long legs and idealistic hyperbole drive Hogan to distraction, as he tries to keep from suggesting sin with a sister who, shoots, smokes and drinks.
–Diana Beechener
---
Swoons and Sighs: Romantic History
The Patriot
2000 • R • 165 mins.
Director: Roland Emmerich
Heath Ledger — who died last year at 28 — won the Blockbuster Entertainment Award for favorite male newcomer for his role as Revolutionary soldier Gabriel Martin. His love story broadened the appeal of the historically accurate war epic.
Ledger is at his dreamy, hunky best embodying all that is good and noble about our American heritage: the model son, soldier and lover.
When Ledger/Martin is not fighting redcoats, he is wooing a spunky colonial maiden, Anne Howard, (Lisa Brenner) through town meetings, tea parties and the colonial custom of bundling, which involves sewing a suitor visiting from afar into a sleeping bag when he must, of necessity, share his betrothed's bed.
Filled with smiles and tears, The Patriot reflects the emotional extremes of tragic times.
–Jane Elkin
Sense and Sensibility
1995 • PG • 136 mins.
Director: Ang Lee
Elinor Dashwood (Emma Thompson) faces life as a poor spinster in this adaptation of Jane Austen's 1811 novel. Living with her mother and two sisters in a borrowed cottage, Elinor has too much sense to reveal her love for Edward Ferrars (Hugh Grant), who she believes is pledged to marry another. Younger sister Marianne (Kate Winslet) has no such problem. Quick to fall for the dashing Willoughby (Greg Wise), Marianne is just as quick to suffer when Willoughby moves on to a richer prospect.
English countryside, grand houses and period costumes and customs involve us in the history of love, while the actors involve us in love's timeless experience. Lead actor Emma Thompson won a writing Oscar for best adapted screenplay.
–Ben Miller
A Patch of Blue
1965 • unrated • 105 mins.
Director: Guy Green
Elizabeth Hartman, Sydney Poitier and Shelly Winters all won awards for this 20th century drama of interracial romance amid intolerance.
Selena (Hartman) is a fragile flower, uneducated and blinded at the age of five, defending her prostitute mother Rose-Ann (Winters) from an abusive john. Her world is brightened only by occasional forays to the park, where she goes to do her work stringing bead necklaces.
There she meets Gordon (Poitier), a Good Samaritan determined to save Selena from her mother's corruption. But he is also a black man in love with a white girl, living in racist times. Rose-Ann is determined to nip their relationship in the bud.
–Jane Elkin
---
Unclassified Love: Quirks and Comedy
Off the Map
2005 • R • 108 mins.
Director: Campbell Scott
Set in rural New Mexico in the 1970s, this lovely little movie is full of love.
Bo, now a young adult, recalls the summer of her 11th year. Bo's mother, Arlene (Joan Allen), is the center of the family. Depressed husband Charley (Sam Elliott) and a precocious young Bo (Valentina de Angelis) circle around her. The outside world intrudes in the form of tax auditor William Gibbs (Jim True-Frost).
While examining how the eccentric family survives on an isolated ranch with no outside work, Gibbs is stricken with a mysterious illness. Too ill to leave, he spends days in a fever-induced haze on the couch. When his fever breaks, he believes he has found his true love in Arlene. Steadfast in her love for her husband, she's unmoved by his professed passion.
Undeterred and unable to turn away, Gibbs moves in, Charley breaks his silence and Bo learns about love — and credit cards — while Arlene serenely keeps it together.
–Margaret Tearman
Sliding Doors
1998 • R • 99 mins.
Director: Peter Howitt
Helen Quilley (Gwyneth Paltrow) goes to work one morning as usual — and is fired. Upset and oblivious to her surroundings, she heads for London's tube for the ride home — an apartment she shares with her scoundrel boyfriend (John Lynch).
Here the movie splits into two parallel stories of Helen: In one, she catches the train, in the other, she doesn't. Paltrow plays both Helens with an uncomplicated style, but co-star John Hannah carried the film with his charming — and sexy — performance as James Hammerton, the movie's romantic hero. Because of Hannah's James, you hope for Paltrow's Helen.
One of the stories ends in tragedy. So does the other. Or does it? For this is a film about love lost, and love found. Over and over again.
–Margaret Tearman
Move Over Darling
1963 • unrated • 103 mins.
Director: Michael Gordon
A remake of the 1940 film, My Favorite Wife (starring Irene Dunn and Cary Grant), this 1963 romp recasts Doris Day as Ellen Arden, the mother of two young children and wife of Nick Arden (played by James Garner). Ellen is lost at sea following a plane crash. After five years of searching for Ellen, Nick has her declared legally dead. On the same day, he marries Bianca (Polly Bergen, wonderful as a charm-bracelet waggling socialite.)
But on the very same day, Ellen is found alive and returns home to her family: two little girls who don't recognize her and the news from her mother in-law Grace (Thelma Ritter) that her now ex-husband is on his honeymoon. With Grace's encouragement, Ellen surprises Nick at the hotel where he is supposed to be enjoying a romantic night with his new wife. The screwball comedy goes full throttle when Nick and Ellen attempt to keep the new marriage from being consummated.
This is a warm-hearted romantic comedy, perfect for a cold, gray February day.
–Margaret Tearman