by J. Alex Knoll
---
Baby It's Cold
And winter's just now got us in its grip
As the sun hovers directly above the Tropic of Capricorn Monday, December 21, winter officially takes hold. While the winter solstice is the shortest day of the year, it is neither the earliest sunset — that was two weeks ago — nor the latest sunrise — two weeks hence — but rather an aggregate of the two. That day the sun rises at 7:21:24 and sets less than nine and a half hours later at 4:47:19.
The sun is its farthest south of the celestial equator, and its arc through our skies is the lowest of the year, climbing a mere 231⁄2 degrees above the horizon. The North Pole is tilted 231⁄2 degrees away from the sun, and anywhere north of 661⁄2 degrees latitude north — just above Fairbanks, Alaska — is shrouded in 24 hours of darkness, while the sun does not set in places south of 661⁄2 degrees latitude south. The days that marks our start of winter is the beginning of summer for those south of the equator.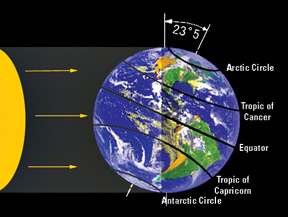 Without Earth's 231⁄2 degree tilt, the hours of daylight in any given place would be the same day after day year-round. There would be no changing seasons, those along the equator would be embroiled in summer, while those north of the Tropic of Cancer and those south of the Tropic of Capricorn would be bundled against winter's chill the entire year.
Back on summer solstice we enjoyed almost 15 hours of sunlight; the difference in daylight hours is why it's so cold now — not how close we are to the sun.