Old-School Lessons
History was made in this old building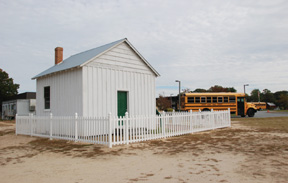 by Sandra Lee Anderson
The second-grade students of Calvert Elementary art teacher Shari Adams saw nothing they could recognize in the bits and pieces of the Old Wallville School, which opened last month, reconstructed for students of history.
"What is it? Is it a shed?" today's schoolchildren wondered from the windows of their modern, low-slung fortress of education.
As the new generation watched, carpenters reconstructed the old building from individual rafters and pieces of walls. Masons placed every brick of the ancient brick chimney in its original location. Only a bucket of small pieces remained.
Soon the students were imitating the architects and builders who saved Calvert County's oldest-standing, one-room African American school from rotting, then moved it halfway up the county, from just north of Jefferson-Patterson Park to east of Prince Frederick, on Calvert Elementary School grounds on Dares Beach Road.
The seven- and eight-year-olds made dioramas of the small white building while studying the architecture, history and social implications of the old school.
And asking lots of questions: "What's that pot-belly thing? How did they get water? Why did they go to school by themselves? Where are the computers and electricity? How did they eat?"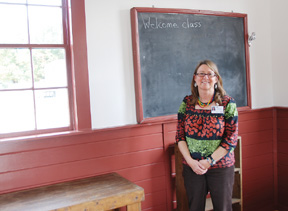 Calvert Elementary art teacher Shari Adams stands in the single room of the Old Wallville School, where black students studied before the end of segregation.

The old school provides, Adams explained, "a wonderful teaching opportunity to talk about architecture, art, the humanities — which means talking about the past."
And about people.
"My husband's father walked miles to a one-room school," she told them. In rebuilding a school, "you learn about your ancestors."
Twined in the school's history is the history of its principal, Ms. Regina Brown, and her sister, Ms. Harriet Elizabeth Brown.
Elizabeth Brown, also a teacher and principal, challenged Calvert County in 1937 over the disparity between her $600 annual salary and the $1,000 salary of white teachers. Thurgood Marshall — the future Supreme Court justice — worked with the National Association for the Advancement of Colored People to help her cause. Eventually, Calvert equalized its pay rates.
Regina Brown gave the Wallville schoolers good educations — despite conditions beyond the comprehension of today's school kids. As many as 45 children packed into the 18-by-18-foot room, three to a desk. Older children sat on the floor with flat-topped logs for desks.
When the old school was dedicated last month, the Brown sisters' cousin's son, Madison Brown Jr., recalled memories.
We would arrive from Virginia, he said, "and they didn't ask us the usual, Who is your girlfriend? What's the latest dance? No, they asked, How are you doing in school? What are you going to be? How do you plan to get there? They looked at deeper things, wanted us to have plans.
"We had to write Libby and Gene," he continued, referring to his first-cousins-once-removed by their nicknames. "They each got a letter, every time we got our grades. And we made our children write them, too. It's important to kids that someone cares about them. Who would want to write a letter saying they got a bad grade? That's how the legacy is carried on.
"Somehow, I became the family historian. Regina would go upstairs and come down with a book. Then another. Among those was a letter from Thurgood Marshall. Regina told me, You're going to get these."
The reopening brought back many memories of school days past. Senate President Mike Miller said he knew the Brown sisters. William Phalen, vice-president of the Board of Education, said his mother taught in a one-room school. The Reverend Irvin Beverly talked about attending a one-room school for African Americans in Lusby.

"Pencils were broken in half to share with those who didn't have one," Beverly said in giving thanks "for the people who made this possible, a laboratory for today."
The reopened school will now continue to spark memories and fuel comparisons that help its visitors understand "the human condition," art teacher Adams believes. "This building is speaking to me," she said. "It goes beyond a structure. How are we now, compared to how we were then?"
Adams' son Brian built a half-mile trail through the woods behind the school for his Eagle Scout Troop 903 project. The path of wood chips and benches beside it invite a family walk or a class field trip.
"We pass the knowledge on to our children," Adams said. "It is our legacy."
Visit evenings or weekends or arrange tours through the Friends of Old Wallville School:
410-474-3868.