Thanks to the vision of Habitat for Humanity founder Millard Fuller, pictured at the Jimmy Carter Work Project in 1998, more than 300,000 homes have been built around the world.
Building a Better World
That's the job of the carpenters at Habitat for Humanity
by Sandra Olivetti Martin, Bay Weekly editor
If Otto Coates could look down from heaven on the farm he bought and worked, he'd see — and likely admire — whence his labors led. For on his land, granddaughter Brenda Moses, great-granddaughter Sheri Jones and great-great-granddaughter Shaquanda Jones' new home has risen.
Since miracles are a matter of course in heaven, we can imagine that another farmer stands, also beaming, shoulder to shoulder with Coates. Coates is African American, and he tilled his land in Freetown Village, the pocket of Glen Burnie settled by emancipated slaves in the 19th century. The second farmer, Millard Fuller, was a "tall, lanky Baptist attorney from Alabama," according to his Chesapeake Country disciple Mike Mitchell. Fuller abandoned the law to live, work and pray on Koinonia Farm, an agrarian community devoted to racial equality. That journey of faith, hope and charity unites the two farmers in heaven — and their descendants below.
From the utopian farm near Plains, Georgia, Millard and Linda Fuller and their daughters moved to Africa to build homes for impoverished Congolese families. By 1976, the year Americans elected a president — Jimmy Carter — from Plains, Fuller had brought home his vision of eradicating poverty by helping people into simple, decent housing. He founded Habitat for Humanity, whose best-known volunteer is the former president.
In Habitat for Humanity, all those degrees of separation unite. For Habitat for Humanity of the Chesapeake — with Mitchell at its head — built the new home in Freetown, on the family place. It was dedicated November 14.
A Bigger Habitat
By Millard Fuller's death last February, his vision of justice housing had spread round the world. Habitat for Humanity chapters flourish in 90 countries. Maryland contributes 18 chapters to the 1,500 in the United States. In Habitat's first 33 years, it has added 300,000 homes to our global village.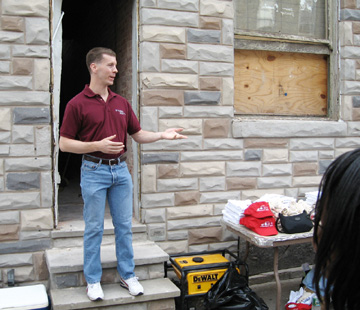 Mike Mitchell heads Habitat for Humanity of the Chesapeake, which combined the Baltimore City and County chapters with that of Anne Arundel County.

To imagine what that means, Mitchell suggests you drive the length of Anne Arundel County, where a quarter-million people live. "All those houses you pass within one place," he says. "That's how many homes Habitat for Humanity has built."
In the United States, Habitat builds about 5,500 homes a year.
"That's 15 homes a day," Mitchell says. "Drive home tonight, pass one block, and that many families got homes today."
And that, Mitchell says, is just the beginning. Worldwide, Habitat will reach half a million homes in three years.
Tall, thin and fair, Mitchell still looks like a kid at 39. But as the first executive director of the new Habitat for Humanity of the Chesapeake, he's been hired to think big.
Habitat of the Chesapeake unites two former Habitat chapters into a new powerhouse. Anne Arundel now joins with Baltimore City and Baltimore County with Mitchell — who directed Habitat for Humanity of Baltimore for six years — graduating to a staff of three dozen and a budget of $7.5 million. December 8 was opening day for the new headquarters, in Halethorpe, near Thurgood-Marshall BWI Airport in Baltimore County.
In a quarter of a century, the two old chapters built 275 homes, 66 in Anne Arundel.
Merged, Mitchell says, "we've made a commitment to serve more families. This year, we've built more homes than either combined."
That's 15, including a village of nine rowhomes erected on Fayette Street in Baltimore in nine days in the ninth month of 2009.
Starting this spring, 10 more will be built in Annapolis, in the Clay Street neighborhood. By July, a year after the merger, Habitat of the Chesapeake promises to build 30 homes.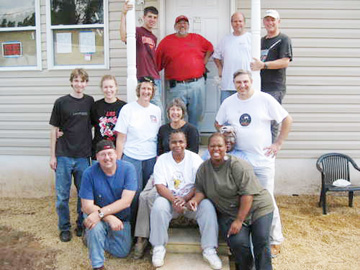 Brenda Moses and daughter Sheri Jones, seated center and right, with some of the Habitat crew that built their new home in Freetown.

The average home built by this Habitat costs $150,000 to $175,000, with finding land to build on the biggest challenge. Construction styles vary according to location and opportunity. The Baltimore village was modular. The 1,100-square-foot, ranch-style, three-bedroom Freetown home was framed in wood from the ground up. Other homes are remodeled.
They're all "utterly beautiful," Mitchell says, and both health- and environment-friendly.
Among their green features: white, reflective, rubber roofs; multiple levels of insulation; tankless water heaters and energy-efficient furnaces. A fuel-comparison study of Baltimore Gas and Electric bills found that local Habitat homes used 33 percent less gas and 25 percent less electricity than other homes.
Low-VOC paints make a more healthful habitat. To cut down further on allergens, no carpet was laid in the Baltimore row. Floors are hardwood and staircases oak.
In a depressed construction economy, Habitat is growing and building. That's because a house is more than a house in the great building scheme that animates Habitat for Humanity.
The Theology of the Hammer
Otto Coates raised vegetables in Freetown. Great-granddaughter Sheri Jones remembers that, and she remembers his market stand.
At Koinonia Farm, vision grew alongside crops. "The theology of the hammer," Mitchell calls it. Faith, Habitat founder Millard Fuller meant, must manifest in action.
It's a theology apt for the Christmas season, when there was no room in the inn. Mitchell explains it thus:
"The foundation for human growth and justice is that one can feel safe and secure," he says. "All the other things entailed in fulfilling a person's potential can only begin when one has a simple, decent place to live and lay their head at night.
"So poverty isn't simply a lack of money," he continues. "It's a lack of feeling secure, a lack of having access to resources like food, education, family and neighborhood support networks and the friendship typical in communities where homes are owned. So in eradicating poverty housing, we're eradicating the limits to human potential."
Eradicating the limits to human potential for both homeowners and builders — who may be one and the same.
Working under Habitat's own construction team, some 2,500 people — measured by Habitat as 4,000 day-long volunteers — will build that scattered village of simple, decent homes. Included in that number are Habitat homeowners, who contribute 350 hours of sweat equity for their new homes and interest-free mortgages. Fifty hours of that time is spent in the classroom, learning skills to keep and keep up their new homes.
Sweat equity is part of the theology of the hammer. As is the help of the community, be it a community of geography or intention.
"Habitat has a transactional relationship with the public," Mitchell explains, sounding more like a graduate of the College of William and Mary, which he is in fact, than a carpenter, which he is by analogy. "Instead of simply writing a check, people participate in bringing change."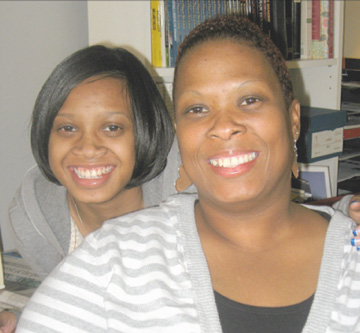 Sheri Jones (front) and daughter Shaquanda at the dedication of their Habitat for Humanity home.

Under the theology of the hammer, everybody who lifts a tool becomes a carpenter. "People are hungry to become part of that transaction," Mitchell says. "There's a real movement of people who want to get involved. So many volunteers are the reason so many homes are getting built across the country."
People give money as well as labor; about 30 percent of Habitat of the Chesapeake's funding comes from individuals. To keep that money coming, the organization employs a development director and a major gift officer. A public relations firm, IMRE, also works under contract to spread the word of Habitat's good works.
Habitat's three dozen fulltime staff also includes builders, teachers and counselors.
Foundations are the biggest contributors, accounting for 36 percent of the organization's budget. Corporate and government funding each account for about 12 percent, as does in-kind support.
Thus, Mitchell says, "it's a much bigger picture than just building a house."
Still, carpenter is what Mitchell calls himself, though he says on a construction site his skills are better suited to carrying trash than doing skilled labor.
"I'm not a literal carpenter," Mitchell says. "My role is to build a vision of a better community and to build a strong organization that donors wish to fund because it is creative in that it actually transforms systems as opposed to allowing them to perpetuate."
The work is transformative for him, too, for it gives him a vocation, allowing him to heed his life's calling.
And that, he says "is to use what gifts I've been given by the people who love me and my faith by living it out by creating a better world."
The people who love him include his parents, both Episcopal ministers. Appointed by John. F. Kennedy to the Civil Rights Commission, his father helped usher in the Civil Rights Act of 1964 before becoming the first director of the Peace Corps in Asia. Mitchell was born in Beirut and lived in Indonesia and Swaziland.
That family history and living experience have taught Mitchell, he says, that "this country has more potential than we use."
On the other hand, he says, "we have communities that desire to volunteer, which allows us to come together to lift families out of poverty."
Be a carpenter: Volunteers and donors always needed, and Mitchell and his staff are eager to come speak to your school or organization to tell you more: 410-366-1250; www.habitatchesapeake.org.