Some of those toys everybody's buying today are going to make tomorrow's memories
conceived by Jane Elkin
What was your favorite toy? Did your childhood toys influence your life, like the designer who loved sketch pads, the pediatrician with her baby dolls or the musician who wore out a music box? Yes or no, you remember it still.
Twister, Teddy Ruxpin, Transformers and Tamagachi were all big sellers in their time.
This year, robots rule. For the very young child, Tickle Me Elmo has been upgraded to the animatronic Elmo Live ($50). For the allergic child there are Zsu Zsu Pets ($10), electronic hamsters with accessories like habitrails, exercise wheels and skateboards. Hexbugs ($15) are robotic critters that scurry around in response to sound, light or touch.
Not quite robots but still powerful are the anime-inspired Bakugan Battle Brawler action figures, plastic spheres that burst open into warriors when thrown onto magnetic cards (6 for $20).
Technology also gives us Kidizoom digital camera by VTech ($60), which takes still photos and videos and plays video games; and the Eyeclops TV microscope ($50), which looks like a giant eyeball that plugs into your television.
Traditionalists will be happy to know that Star Wars Legos (various sizes and prices) and the Star Wars Visual Dictionary ($20) are popular, despite the lack of a new film this year. Transformers is now marketing the Ultimate Bumblebee, a car/robot ($90).
Which will endure, shaping memories like these?
Come-Back Bear
Jane Elkin
Come-Back Bear was an engineering marvel and my constant companion for two years. A heavy plastic Teddy suspended by two rubber bands, he lived in a barrel-shaped cage that, when rolled across the floor, would always return, making a faint clattering sound rather like a baby's rattle. I was both mesmerized and reassured by his faithfulness. Then one day when I was three years old, my brothers tried to take him from me, so I threw him out the back window of the station wagon for his own protection. Come-Back Bear never came back but was replaced by other noisy marvels of technology: a music box and a slinky. I never showed any inclination for engineering, but I have always been intrigued by sound, and eventually became a singer. Plus, I am a faithful and trusting individual. Did Come-Back Bear teach me that?
Major Matt Mason
Herb Elkin
The space race provided the ultimate adventure fantasy for boys growing up in the 1960s and '70s, and the Major Matt Mason action figure was my star of the show. He lived and worked on the moon, and he came with a space station, a moon suit, a jet pack and a moon buggy! My brother and I played with ours for years, and though neither of us became astronauts, we both wound up pursuing military careers via the Naval Academy. Rather than exploring the final frontier, though, I went in the other direction: undersea in a submarine as my alternative spaceship.
A Polaroid Camera
Amy Juras
I became hooked on photography when I received a Polaroid camera for my eighth birthday. The immediacy of taking a picture and seeing it develop right before your eyes was a novelty then. But I still enjoy the hobby because I think a picture really is worth a thousand words. I scrapbook and take videos, and I love sharing the results with distant family members via Facebook and the Internet. It makes us seem so much closer. As a realtor, my camera is also an important tool of my profession, enabling me to post a huge collection of local properties on my website.
My First Fishing Rod
Margaret Tearman
My favorite toy, my first fishing rod, was not a toy.
I was seven years old that Christmas, old enough, my father thought, for my own rod and reel.
With a lead weight tied to the line, I spent winter honing my casting skills on Beech Hill Drive, anxiously awaiting spring when I could cast for real into our favorite Sierra Nevada trout stream.
That first fishing pole didn't influence my career choice, but the many happy hours spent fishing influenced one of my biggest priorities: The need to protect our natural environment for future generations to enjoy.
Lambert the Stuffed Lion
by Diana Beechener

There was nothing remarkable about the lion. Undistinguishable from the thousands of his stuffed brethren that rolled off the same assembly line. He was probably machine-stitched by an eight-year-old in a workshop.
He wasn't even original to me. I had a lion just like him, Charleston, lost during a trip to the aquarium.
Weeks of hysterical tears and fraying parental nerves got me Lambert.
The name, from a Disney cartoon about a cowardly lion raised among sheep, wasn't original either. But it came with a theme song. For weeks I skipped through the house swinging my new best friend by the tail and screeching:
Lambert, the sheepish lion. Laaaaaaambert, there's no denying that he's a wild and wooly sheep. Lambert the sheepish lion!
My father thought it was cute. My mother told me to sing outside, so the neighbors could hear.
I wanted everyone to know that Lambert wasn't just some lion. He was mine. I set about making him one of a kind.
I gave him a birthmark with a blue Crayola marker.
I spiked his mane because he loved Billy Idol as much as I did.
I ripped the sweater off one of my grandmother's antique baby dolls to give to Lambert. He was from Africa, after all, and not used to cold Maryland winters.
This need to make a mass-produced object unique followed me — like Lambert — through school. My textbooks had artwork on all the margins. My Troll dolls had geometric haircuts. My American Girl dolls had scars from imaginary WWII battles.
It's been years since I needed a sheepish lion to cuddle as I sleep, but he still sits in my room. Keeping an eye out for closet monsters.
And he still wears his sweater. I guess he liked my handiwork.
Blackie the Hobbyhorse
Linda Beechener
In her heart, Linda Beechener was a cowgirl. She had the hat and horse to prove it. Her trusty steed Blackie was a black-and-white stuffed hobbyhorse.
"I used to sit on him and watch Howdy Doody," says Linda.
After four and a half years of high-riding fun, Blackie showed his years.
"He started sagging and his stuffing was coming out," recalls Linda.
Her mother decided that it was time to put Blackie out to pasture.
"When we moved from our apartment to a house, my mother told my dad to leave Blackie outside with the garbage," says Linda.
Unaware that her mother had tied Blackie to the metaphoric train tracks, Linda only realized her best friend's peril when she unpacked.
"I cried so much that Mom sent Dad to retrieve Blackie," says Linda.
Sadly, the cavalry came too late in this tale of Wild West woe. The Department of Public Works took the hobbyhorse to the great stuffed frontier in the sky.
"I never saw Blackie again," says Linda.
Though she never became a cowgirl, Linda honored Blackie's memory by finding a job policing unruly citizens in an untamed environment.
She became a principal at a Baltimore Public School.
–by Diana Beechener
Pearl-Handled Cap Guns
George Beechener
It took five years of practice to make George 'Quick Draw' Beechener the most dangerous gun in the Southwest — of Baltimore.
Sixty-five years ago, before Baltimore was a regular on the Most Dangerous Cities in America rankings, being the quickest gun in town meant cap-gun smoke instead of crime scene tape.
Still, Sheriff Beechener had sworn to keep the peace.
"I was a big cowboy," says George of his gun-slinging days. To help him keep order in his corner of Baltimore, George's parents gave their five-year-old tinhorn the best equipment the Old West could manufacture.
George patrolled the neighborhood with a white leather two-gun holster that held silver cap-guns with genuine imitation pearl handles.
"I was the only two-gun man in the neighborhood," recalls George. "I was fast, too."
Though OK Corral shootouts were not in his future, George needed his quick thinking and decision-making skills in his career as a stockbroker, and in case the streets of Pasadena get mean, George maintains an itchy trigger finger.
–by Diana Beechener
My First Sewing Machine
Charlene Carr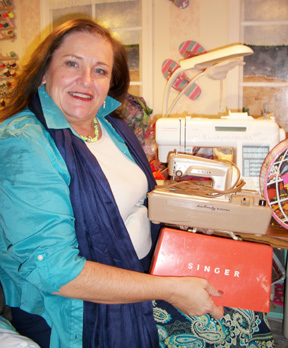 My favorite toy was a sewing machine I got when I was five years old. My mom saw how much I liked crafts and thought I was ready for an almost real machine, a bobbinless Singer model that made only a chain stitch. I took to it immediately and was soon sewing dresses for all my favorite dolls. The Disney Small World Doll was best for creating an endless variety of national costumes.
As my projects became more complex, I graduated to my mother's machine, and then a good one of my own, eventually moving on to gourmet sewing for my kids and a small business doing wedding attire and gowns. I still enjoy making Native American regalia and working as wardrobe coordinator for the Naval Academy Halloween Concert, and I can't wait to sew for my future grandchildren.
That old Singer? It works perfectly.
My First China Tea Set
Marguerite Jahns
I received a beautiful china tea set for my fourth Christmas. It looked like a miniature of my mother's, and I wanted to be just like her, so when she served tea to our guests, I followed suit. Being too short to reach the sink, I found a source of water that was just my height in the bathroom. I was quite proud, serving from a tray all by myself, but as I made my way back to the bathroom for refills, Mom became suspicious and followed me just in time to see me dip my teapot into the toilet bowl. Her horror turned to laughter as she suggested we find another way to fill the teapot, and the story became enshrined in family lore. I still love to entertain, but I lost track of that first tea set amidst so many moves. I hope to someday replace it with one that looks just like Mom's.
Something for Christmas
Pat Browning

I have a favorite book, Something for Christmas, written in 1958, the year I was born. I borrowed it from the library in second grade, and when my family moved, it accidentally moved with me. I used to read it every year and still get it out from time to time. It's about a mouse who wants to make something for "someone special," his mom. The only problem is he doesn't have the things he needs to make any of his ideas. She suggests giving what only he can give, his love, and so he hugs her and tells her he loves her. It just brings tears to my eyes every time I read it and is one of the reasons I enjoy acting in Christmas shows so much. This year it's The Christmas Doll at Colonial Players.
Bed Doll
Davina Grace Hill
When my mother was pregnant with me, she received a shower present of a sleepy-eyed, fabric doll. Bed Doll became my constant companion. She is seen firmly in my grip throughout years of family photos. Somewhere in my teen years, she disappeared, forgotten. As a young adult I began to search flea markets to find another Bed Doll. After more than a decade, success, at last. The seller told me she was $5. If he had known that she was priceless to me…
Such is the power of the attachments we make with tangible objects. My first known gift, Bed Doll is with me, once again.
A Deluxe Microscope
Steve Carr
It was Christmas 1963, and I had just turned 10. I pretty much knew everything — or at least wanted to — and I was dreaming about snow and a brand new puppy.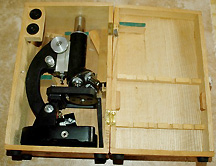 I came running into the living room in my red bathrobe that Christmas morning to find a Tasco 1200X Deluxe Model Microscope in a large wooden box under the tree. Inside that treasure box were blank slides, prepared slides, colored filters, slide labels, an eyedropper and all manner of curious delights. Even neater, there were new worlds to explore. The kit included polarized film that magically turned into shiny crystals when viewed under the microscope. And there were freshwater and saltwater samples containing microscopic critters called diatoms.
Every day there was some wondrous journey to embark upon. Everything under the sun became astonishing under the magic looking glass. Beach sand from the Severn River, dirt from our lawn, leaves, dog hair, a fingernail, pot roast: It didn't matter, because when I placed my eye on the tiny eyeglass, turned on the light and slowly dialed down through each level of creation, I would be transported to the center of some enchanting universe.
That microscope changed the way I looked at life forever. It taught me there was much unseen in the earth around us, and it got me interested in the natural world. As the owner of a political and environmental consulting business, I often find myself trying to figure out what lies beneath the surface — and remembering that journeys into the unknown are like coming down the stairs as a small child on Christmas morning and wondering what Santa has brought me.
Anything Outdoors
Dotty Holcomb Doherty
I liked any toy that took me outside. Our driveway became one of my favorite playgrounds; the woods and beach were my others. My tricycle, scooter, skates, jacks, pogo stick and jump rope eventually made way for my basketball, which occupied me for hours, even after dark under an outside light. My love of the outdoors and sport led me to play numerous varsity sports in high school and college and to become a high school coach. But those early toys were special because we kids made up the games.
A Toy Tractor
Jonathan Doherty
If Jonathan Doherty had followed the direction his favorite toys were taking him, he would have become a construction worker. "I loved my jackhammer," he says, "though I think my parents quickly regretted giving it to me. I was also always building roads with my Tonka trucks and Caterpillar tractor."
Alas, his liberal arts education steered him wrong as he now works trying to limit that type of development. Secretly, though, he dreams of driving anything from a line painter to an asphalt finisher or bulldozer.
"The only problem," he says, "would be choosing which one."
A Musical Top
Ruth Holcomb
"I remember a multi-colored top," says Ruth, 93, "the kind you pump, and it played a little tune." Perhaps it was humming along with her musical top that started Ruth on a lifetime of singing. "I was always in the Glee club. In Jamestown, New York, our landlady Mrs. Gilbert said I sang when my daddy was coming home from work. But I think I just sang all the time." As a young adult, she typed up the words to all her favorite songs and kept them in a notebook, from which she still sings with family and friends.
A Lionel Train Set
ML Faunce
Still, to this day, when I smell freshly sawn lumber, I think of Dad building the stand for the O-gauge Lionel train set that completed holiday planning for all of our Christmases. Purchased by Dad in the late 1930s or early 1940s, that set of electric trains may have personified the American spirit for so many people who had not yet traveled afar but who dreamed of where they might someday go. It was a journey we were traveled every Christmas.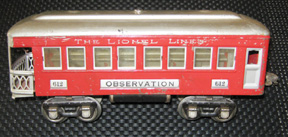 My dad, a Washington, D.C., streetcar operator, reckoned himself a railroad man. He had the gold pocket watch to prove it, and etched on the reverse of the watch was the engraving of a train and the mindful reminder of on-time service. That his grandfather was the driver of horse-drawn trolleys in Washington, D.C., at the turn of the century was not lost on him.
Each Christmas, as the train stand took shape, Mama would set up the village. But first, the red-brick crêpe paper would be adhered all around the two-foot-high structure. The cardboard station house would be placed, the tracks laid, the transformer connected, then the village: cows in a pasture, a church with steeple, a cottage, ducks and geese, roadsters on paths paved with coffee grounds, and most memorably to me, a man and woman sitting arm and arm on a park bench — small metal people and animals and objects made not in China but Germany.
Along with walnuts and tangerines in Christmas stockings, this railroad scene, this village, that O-gauge train and its unforgettable whistle fed our Christmas dreams.
Paula May Doll
Linda Noel
I got Paula May for Christmas in 1951. We didn't have much money, and Paula May was an expensive doll for the time. I must have really loved her because I still have her. She looks pretty good for her age, although she lost an arm sometime between 1951 and 1956.
Growing up in West Virginia in the 1950s, little girls weren't pointed to careers. Some of us wanted to be secretaries, hairdressers, teachers, or sometimes a nurse. But we all wanted to be mothers and we all had dolls. I eventually had a career in real estate, but first I had two children.
Books
Bonnie Lefkowitz
My favorite toy wasn't a toy at all, but a series of books. My family moved 14 times before I was seven, the result of economic upheavals and the demands of World War II. Books were my window on a world where people stayed put and knew their neighbors. There were Cherry Ames, Nancy Drew and especially the Betsy-Tacy series, recently reissued and written up in The Washington Post.
While these books were inevitably replaced with others, I still love the way words challenge the imagination. Writing is part of my life, and whatever the subject, I always try to include a sense of time and place.
A Blue Schwinn Bicycle
Bill Culhane
My favorite toy was a blue Schwinn bike I got for Christmas after campaigning for months. Like other third graders, I had a lot more freedom than kids today, staying out all day, doing wheelies in the YMCA parking lot and hitching rides behind the buses in Plainfield, New Jersey.
Something must have stuck. Later in life, I spent years commuting to work by bike from Glen Echo Heights in Bethesda to downtown D.C. Today I'd be happy if we had a bike path in Holland Point to supplement our narrow roads.