---
Azure Restaurant & Lounge
Westin Hotel, Annapolis • 410-972-4328 • www.azureannapolis.com
M-Th 6am-2:30pm & 5-10pm; F,Sa 7am-2pm & 5-10pm; Su 7am-noon & 5-10pm
$-$$$
The cool blue Azure Restaurant & Lounge in the Westin Hotel is a retreat that puts you in the scene. Park Place has made outer West Street a destination. Azure adds the fashionable hotel-lobby gathering spot you know and enjoy in the cities.
Chef James Barrett serves three daily menus — changing with the season — to take you from early morning to late night. Breakfast is traditional, with buffets laid out on weekends. Otherwise, you're freed from the clock's dictates: You can order soup — crab bisque, waterman seafood stew or three chilis — and a salad or sandwich for dinner. Or steak or crab cakes for lunch.
Another welcome choice is salad-to-order: You construct your perfect salad from a list of greens and toppings. Chef Barrett has a light touch, and he makes food fun. That's the reason for his Seasonal Delights section, now featuring specialty coffees (alcoholic or flavored), cocoa and three cold-beating sweets.
The fun continues after 5pm, with the $5 fun food menu.
That's also the beginning of the Unwind happy hour, with daily drink specials including some of the best martinis in town, mixed and named to alter your mood: Pure relaxation, tranquil, soothing and rejuvenating.
Settle into one of the lounge's comfortable chairs and relax, watching one of the bar's big-screen TVs or checking your email using the free wireless internet. On Wednesdays, unwind with live music.
---
Bilvil: A Beaches Café
4114 7th St., North Beach • 410-286-7214 • www.bilvil.com
Lunch: W-Su 11am-2pm; Dinner F-Sa 5-9pm
M-Th; 5-10pm; Su 1-8pm
$-$$
If you know the Twin Beaches, you know Bil Shockley. A founder of Neptune's and Vic's Italia by the Bay, the graduate of the Culinary Institute of America cooked both into favored status for reliably good, creative food in casual settings at affordable prices.
Bilvil, his masterpiece, is something different.
Shockley and wife Sandi converted the space of two beach homes —into his vil. Its restored dining rooms still have a homey feel. But here "relaxed and comfortable," as Shockley describes his neighborhood café, has upscaled to linen table cloths and slow dining. Appetizers, soups, salads, lunchtime sandwiches, entrees and desserts are each of his creation and cooking. He tries to keep comfort and innovation in balance, as in, for example, Orange Soy Brined Roast Chicken with Mac and Cheese ($16.95).
A full bar complements meals.
Shockley chooses local when possible, and in their upcoming second summer, Sandi plans an edible garden. "Our approach," Bil says, "is to keep it fresh and simple, and let the ingredients be the star."
---
Brick House of Shady Side
1534 Cedarhurst Rd., Shady Side • 410-867-3400
Every evening but Tu 5pm-midnight
$$
Before local became the hallmark of 21st century quality, 10-year-old Brick House was there. In fact, Brick House never lost sight of the values — of people, land and community — that unite in the term.
"I like to make the food. I thrive on the pressure and the pleasure of timing and presenting every order," says Brick House owner, chef and manager Pete Litchfield. "After the dinner push, around the bar, in the middle of the neighborhood and the great people of South County, that's were I will be, every night."
Litchfield sets a local standard in his kitchen, as well, in keeping with a chef-friend's sage advice: Buy the best product available and keep it simple.
"We make the most of our local fare and seasonal seafood. I do my own shopping, from local farmers, watermen and the D.C. fish market. Our steaks are hand-picked and cut on premises. Then I prepare and cook each entrée after you order it," Litchfield says.
The full-service bar comes into its own after dinner, when Brick House flourishes as a neighborhood gathering spot. From draft beer to decorative martinis to distinctive wine, bar staff keeps up with trends and the customers. The wine list is printed weekly, reflecting Litchfield's finds in selection and value.
Comfort is high with fireside dining among antiques and artifacts in Brick House's cozy, home-style environment. And prices are affordable: from $7.50 appetizers to $24 surf and turf.
---
Café Normandie
185 Main St., Annapolis • 410-263-3382 • www.restaurant.com/cafenormandie
M-F 11am-3:30pm & 5-10:30pm; SaSu 9am-3:30pm & 5-10:30pm
$$$
The standard by which fine cuisine is measured in contemporary American restaurant culture is alive and well at Café Normandie, where for 23 years Annapolitans and visitors have experienced why the French standard still holds.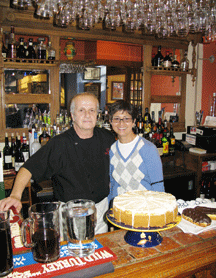 French cuisine is rooted in the Earth — in respect for all that grows, grazes and swims paired with the wild imagination to envision how it all can be eaten.
Chef-owner Jean Louis Evennou — who cooked in D.C. for many years — continues the tradition by going to market himself to seek "what's fresh and good — and keep prices as low as possible."
Beginning this growing season, some ingredients will be fresher, coming from Jean Louis and Suzanne Evennou's farm in Upper Marlboro.
In his kitchen, Evennou transforms fresh ingredients into French regional dishes like bouillaibaisse, cassoulet and coq au vin. Preparations are simple, clear and savory, in the Provençal — or country — style. Fish is favored. Eggs appear in a half-dozen forms, including omelettes, filled, like crepes, with lots of tempting, comforting choices, including apple and cheddar cheese.
Cafe Normandie owners Suzanne and Jeaan Louis Evennou.

Splurge on six-course wine dinners, with the next on February 10. Or save on nightly specials, including soup or salad, under $20.
For the Evennous, respect for Earth means recycling. Containers (even straws) are biodegradable. Waste oil they make into biodiesel to fuel Suzanne's car.
---
Cakes and Confections
1841 St. Margarets Rd., Annapolis
410-757-7100 • www.cakesandconfections.com
Tu-F 7am-6pm; Sa 8am-4pm; Su 9am-3pm
$-$$$
Find more than sweet treats — though you'll find plenty of those — at Cakes and Confections. Stop by the sunny yellow building to select from the scrumptious offerings in the display cases to satisfy your sweet tooth, or order an elaborate cake for your next event.
"We do all types of cakes," says co-owner Julianne Brown. "Any type of design that people can come up with, we can do."
The bakery has expanded to a full list of sandwiches, such as Buffalo chicken wraps and smoked turkey, served deli style or grilled panini style. Place your lunch or breakfast order at the counter, and peruse the display case filled with freshly made confections.
"Our specialties are Key lime pies and chocolate macaroons," Brown says.
Cakes and Confections' popularity has stretched beyond the walls of the bakery. Annapolis restaurants such as McGarvey's, Wild Orchid Café and Lewnes' Steakhouse stock up on their sweet treats for their customers.
Pastry Chef Michael Brown bakes fresh breakfast pastries, cookies, pies and cakes daily, while his wife Julianne works the counter and greets customers.
Call ahead (48 hours is requested) to order your favorite pie, from Key lime to chocolate crème to sweet potato. Sweeten your next party with mini desserts, cookie trays or work with Chef Brown to create your own personal cake.
---

Crooked i Bar and Grill
8323 Bayside Rd., Chesapeake Beach
410-257-7999 • http://crookedibar.com/
Seven days a week noon-2am
$
Crooked i is a place to have fun. Big-screen televisions bring in the games and the fans, but there's more to do than root for your favorite team. Pool tables bring in the shooting crowd, including men's and women's league-play a couple nights each week. Bingo's big, and Black Dog video tables pay out in cash. Horseshoe courts and a Tiki bar looking out on the Bay await summer.
There's also music, including live bands, DJs and karaoke, at least one night each weekend, and dance parties every couple of weeks.
Crooked i's take on bar food may surprise you for two reasons: first, it's got last-century prices: daily $4.95 specials and $9.98 spaghetti for two Tuesday nights. Second, just hired is Chef Jamie Hunt, formerly of Little Jay's, a graduate of the Culinary Institute of America. "Good food doesn't have to be expensive," co-owner Chris Russell says.
---
Gallo's Italian Deli
8905 Chesapeake Ave., North Beach • 410-286-8866
M-Sa 11am-8pm; Su 11am-5pm
$
Tucked into North Beach's storefront shopping, Gallo's Italian Deli serves up fresh quick fare with old-fashioned mom 'n' pop store charm.
Staff — including owners Joe Gallo and Louie and Debbie Zanelotti — takes the time to visit; they know their customers and their town. "I'm fourth generation down there, so I know a lot of people," says Debbie Zanelotti. "We're very adamant about customer service."
With bread delivered daily and a commitment to additive-free products, Gallo's serves quality deli delights from custom subs to pizza.
"Our specialty," Debbie says, "is a cold cut sub that will knock the socks off your feet."
---
Gina's Cantina
722 Generals Highway, Millersville • 410-923-taco (8226)
Daily 11:30am-2am; Su brunch starting at 11am
$$
If you think Gina's Cantina is all about fun, you've got only part of the story.
Yes, the cantina spirit flourishes here, with wood picnic tables for four, six and eight circling the bar, and Mexican décor by way of Goodwill creating an easy-going, funky atmosphere.
Yes cerveza, margarites and sangria flow.
Gina's Cantina is all that and more — because Gina Parchman has put serious thought as well as high energy into your good times at the five-year-old cantina she owns with her husband Jody.
A mother of two grade-schoolers, Gina's thought about customers with kids as well as the footloose. An electronic game room lures kids of all ages, and a play table stocked with nature games keeps kiddies happy while parents relax.
Nature games are part of a lively philosophy sustainability practiced in ways that benefit you immediately and long term. Short term, everything tastes so good because it's made from scratch, from Gina's recipes, including salsa, guacamole, dressings, bean dips, soups and desserts.
Take margaritas, for example. They're made with organic tequila and sweetened with agave nectar. Limes are squeezed. "We do not use that horrific sour mix," Parchman says. "We don't want to pollute our good booze with alien chemicals."
Even the house wine is organic.
Vegetables are locally bought in season from Pumphrey's Home Grown Vegetables — whose tomato season extends 10 months. Waste oil is picked up and reused as biodiesel by a local driver.
One last secret: Gina's heritage is German, and her cantina cuisine also crosses borders. Tacos range from traditional to Chesapeake and Japanese inspired.
---
Happy Harbor
533 Deale Rd., Deale • 410-867-0949
Winter dining room 7am-3pm; bar 7am-midnight, 9pm Su
$-$$
The historic Happy Harbor roadhouse, first opened in 1933, has stepped into the 21st century. New owner Shelley Daniels has upgraded and painted. But she's keeping the folksy appeal.
"Happy Harbor is an institution," Daniels says. "I want to remain true to that while making it welcoming to everybody — our community and our summertime visitors."
This winter, breakfasters and lunchers are happily welcoming upgrades to the menu, with food made fresh and in house. Lunch favorites include the half-pound Harbor burger, homemade soups and daily specials. Breakfasts remain hearty and hefty, with the biggest of all Sunday's breakfast buffet, where you can try it all from 7am to 1pm.
To the Harbor's mix of Americana and pub fare, Daniels promises some surprises when dinner returns in the spring: homecooking with a New Orleans flavor will join old favorites.
With the return of warm weather you can eat on the outdoor deck overlooking Rockhold Creek or kick back at the Dock Bar, with live music weekend afternoons.
Happy Harbor is also home to Deale's charter fishing fleet, so there's usually a captain or mate ready to tell you about the one that got away.
---

Heavenly Chicken & Ribs
10812 Town Center Blvd. • Dunkirk
410-286-9660 • www.heavenlychickenandribs.com
M-W 11am-9:30pm; Th-Sa 11am-10pm; Su 11am-9pm
$
The trinity of divinity at Heavenly Chicken and Ribs is quality, speed and savings.
"We specialize in quick food, not fast food," explains owner Gary Armstrong. "In seven to 11 minutes and half the price, we serve the same, quality fresh food as full-service restaurants."
It's a new idea for northern Calvert County. Armstrong and wife Jennifer saw a need, he says, "for more diversity in dining at affordable prices." In response to that need, they opened last June. But with 14 years' restaurant experience, the Armstrongs are by no means novices.
Armstrong's promise of quality he says, means "if you wouldn't serve it to your mother or grandmother, it shouldn't be served to a customer."
In selection Heavenly Chicken & Ribs belies its name. Salmon, steaks, burgers, gyros, shrimp, livers and gizzards and distinctive side dishes — beans and rice, collard greens, macaroni and cheese — join the namesake chicken and ribs. Sauces from hot to mild to spicy Asian are all homemade.
Desserts include two originals — beignets and Funnel Stix — alongside brownies, cookies, cheese cake and carrot cake.
---
Herrington on the Bay Catering
7149 Lake Shore Dr. (Rt. 261), Rose Haven
301-855-8435 • 410-741-5101• www.herringtononthebay.com
$$$$
With its lush landscaping and Bayside setting, Herrington on the Bay invites your next celebration, whether it's a grand wedding, a beachside picnic, a family reunion, a Hawaiian luau or a business retreat.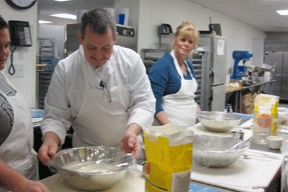 "

We want you to have an extraordinary experience in a natural setting that's relaxed and elegant," says owner and manager Anna Chaney Willman.
Herrington on the Bay will also take the party on the road, bringing its culinary vision to you.
Willman sets her standards high, following three tenets: Sustainable Chesapeake cuisine; local fresh ingredients sustainably produced; Authentic global cuisine; and Healthy decadence.
Chef Tom McReynolds leads a cooking class at Herrington on the Bay Catering.
Monthly feasts and cooking classes let you experience the tastes and charms of Herrington on the Bay on a smaller scale.
---
The Inn at Pirates Cove
4817 Riverside Dr., Galesville • 410-867-2300 • 301-261-5050
Winter hours: M-Th 11:30am-10pm; F 11:30am-10:30pm;
Sa 8am-10pm Su 8am-9pm
$$-$$$
Pirates Cove is a Chesapeake original. Its name draws on local history, and its location gives it a culture as well as great views.
For owner Bob Platt, consistency is a virtue, especially in the kitchen.
"Our chef, William Parkinson, has been in the kitchen for over 25 years, buying, preparing and serving fresh local fare that has made us a standard-bearer," Platt says. "The same recipes that made Pirates Cove popular back in the 1970s are still being prepared."
Which is one of the reasons Pirates Cove's cream of crab soup is a perennial competition winner.
Another reason is skill.
"Chef Bill is as discerning as he is consistent," Platt says. "He still inspects every pound of crab meat, fish and meat to make sure it meets his high standards."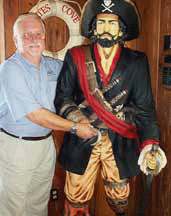 Platt himself, the Pirate, is one of those who came and stayed. The village of Galesville, the camaraderie of the townspeople and the panoramic view that surrounds Pirates Cove lured him from Washington, DC. Platt has owned close to a dozen other restaurants, but this is the one he settled on and has remained with for more than 30 years.
His Cove now boasts a 90-slip marina, an inn with five luxury rooms and Big Mary's Dock Bar, a hugely popular summer destination with exotic drinks, casual food and live Jimmy-Buffet- and reggae-style music.
But the center of it all remains the kitchen, feeding up to 200 guests in dining rooms with river views and fireplaces for winter comfort. The deck is tented and heated for dining in all but the coldest weather.
Pirates Cove owner Bob Platt, left.
Says Platt: "Pirates Cove is one of the few places where you can dine next to a roaring fire while looking out over the water and be served some of the best seafood on the Bay."
---
Jake's Steaks
3145 Rt. 2, South River Colony • Edgewater • 410-956-4420
M-Th 11am-9pm; FSa 11am-10pm; Su 11am-8pm
$
Take a bite of South Philly in Edgewater at Jake's Steaks. The authentic cheese-steak house serves thinly-sliced ribeye hoagies, wraps and salads, all cooked to order.
If you're feeling decadent, add fresh-cut fries with gravy or cheese topping, or feast on spiced hot wings for a sumptuous treat rich in flavor.
---
Jalapeños
Forest Plaza, Annapolis
410-266-7580 • www.jalapenosonline.com
Lunch M-F 11:30am-2:30pm; Dinner M-Sa 5-10pm, Su 4-9pm
$$$
We Americans are descendants of many lands — and inheritors of many cuisines. At Jalapeños, owners Gonzalo Fernandez and Alberto Serrano serve the legacies of Hispanic cuisine, rooted in Spain and reinterpreted in Mexico.
Stepping from Forest Plaza into Jalapeños, you feel the better half of culture shock, for you find yourself in a haçienda: warmed by color, soothed by a wall of water, transported by olive-grove murals and solidly seated at white-clothed tables.
Host Gonzalo welcomes you with familiar, respectful and refined service. Now come drinks: a Spanish wine, sangria or a margarita are in order. Then comes the fiesta. Tapas, paella and delicately sauced seafood, from the Spanish side. Rich mole sauces, as in guacamole and enchiladas mole, from the Mexican. We've even feasted on whole rockfish caught by Sporting Life columnist Dennis Doyle and enchanted by Spanish sauces.
For authentically blending the best of cultures and cuisines, Jalapeños regularly wins Best of the Bay accolades from Bay Weekly readers.
---
Luna Blu
36 West St., Annaolis
410-267-9950 • www.lunabluofannapolis.com
M-F 11am-2:30pm; M-Th 5pm-9:30pm; F,Sa 5pm-11pm
$$$
Inner West Street has become one of downtown Annapolis' busiest streets, bustling with commerce and traffic. In Luna Blu, Michelina Scotto and Erin Dryden have created an intimate, Italian space to step out and slow down for lunch or dinner.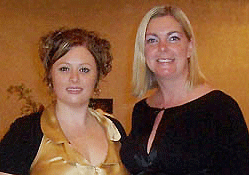 White tablecloths and candlelight add ambiance, while fresh pasta and an innovative menu keep your focus on the world inside. The regular menu includes delicacies like Lumache alla Luna (escargot sautéed with mushrooms, marinara, marsala wine and cream on a puff pastry) and Vitello a l'Annapolis (veal scaloppine sautéed with crabmeat and mushrooms in creamy rose sauce). Daily specials like Shrimp and Asparagus Risotto gild the lily.
Authentic ambiance and good service complement the food. You'll find bargains, too, in the $35 four-course dinner special and Monday and Wednesday's half-price wine nights.
Luna Blu owners Erin Dryden and Michelina Scotto.
---
Mamma Lucia
10136 Southern Maryland Blvd., Dunkirk • 301-812-1240
862 Costley Way, Prince Frederick • 301-812-0111
M-Th 10am-10pm; F,Sa 10am-11pm; Su 10am-9pm
$$
Mamma Lucia's has served Italy to Calvert County since 1997.
Bright Mediterranean murals make the family-owned restaurant seem like an Italian villa.
Owners Sal and Maria Lubrano say they want to make you feel like family, too. They greet you and feed you generous portions of fresh pasta, pizza, veal, seafood and chicken from recipes inspired by southern Italian and Neapolitan traditions.
Mamma Lucia's specializes in "typical Italian recipes," says co-owner Maria Lubrano. At the same time, the Lubranos strive for innovation. "A lot of dishes we come up with. We try them and then we put it on the menu."
The most popular is the Bowtie del Mare, lobster, crab and asparagus in a light cream sauce. Dessert is Italian American: tartufo, cannoli, tiramisu and caramel apple pie. The bar is stocked with Italian wines as well as beer and liquor.
Bay Weekly readers have named Mamma Lucia's a Best of the Bay winner.
"It's a lot of work that goes with it," says Lubrano. "The best part is when the customers tell you they liked everything."
To bring Italy into your home, Mamma Lucia's offers two options: For fast service, call your order in and pick up for a to-go taste of Italy. Or call Mamma Lucia's catering service: 443-486-4701.
---
Mangos Bar & Grill
7153 Lake Shore Dr., Rose Haven
410-257-0095 • http://mangosonthebay.com/
Winter hours: T-Th 4-11pm; F 4pm-1am; Sa 11am-1am; Su 11am-midnight
$$
It's always summer at Mangos Bar & Grill. It's Jennifer Brown's dedication to keeping that Caribbean flame burning that keeps many of us going when the cabaña bar overlooking the pool at Herrington Harbour South closes for the season, and ice crusts the Bay beyond Mangos' big windows.
Inside the dining room, the Chesapeake-Caribbean fusion continues all year long. "Fresh meats and seafood are prepared to order, never frozen," says Brown, "and chef Mark Anthony Brewer makes beautiful presentations."
Chef Brewer's vegetable crab soup won top honors at the Ultimate Crab Soup Cook-Off, while his tornedoes Chespeake are an inspired version of surf and turf: filet mignon topped with crab imperial. Mango's Caribbean influence shines with Brown's coco bongo, defined by coconut.
Camaraderie flows at Mango's bar, and so do its famous Mango mai-tais, martinis and orange crushes. And the party heats up with Thursday's karaoke night.
All that will keep you warm till summer when Mangoes invites you to the Bayside Caribbean for lunch, too.
---
McGarvey's Saloon & Oyster Bar
City Dock, Annapolis • 410-263-5700
M-Sa 11:30am-1am; Su 10am-1am
$-$$$
A downtown staple since 1975, McGarvey's Saloon welcomes diners from all ports of call to City Dock with fresh food and hometown hospitality. A cross section of Annapolitans is its crew, but Chesapeake citizens from farther afield make it their home port — especially when they're craving oysters.
"McGarvey's is an authentic American saloon," says general manager Jim Fishback. "No frills, no gimmicks. Just good old-fashion American character and integrity. A place to meet, drink, eat and live your life with fervor."
McGarvey's claims fresh food and generous portions for moderate prices. Famous for its oyster happy hours and bivalve dishes — you'll find raw, fried, stewed and steamed — McGarvey's menu focuses on fresh fish, prime beef and oversized sandwiches. Even fried foods are fresh; cottage fries are hand-sliced twice daily to give the best bite for your buck. In deference to the difficult economy, the saloon serves a hard-times menu Monday thru Friday: A bowl of chili and a beer for $5; a burger and a beer for $10.
Savor a pint of McGarvey's house brew, Aviator Lager, or order your favorite cocktail from the fully stocked bar.
Bay Weekly readers have long considered the saloon a local favorite, as McGarvey's has regularly earned Best of the Bay in three categories: Best Oysters, Best Crab Dip and Best Bar.
---
Morton's The Steakhouse
The Westin at Park Place, Annapolis
410-280-1170 • www.mortons.com
M-Sa 5:30-11pm; Su 5-10pm; bar open at 5pm
$$$$-$$$$$
Creating a consistently superior dining experience is the goal of all 80 Morton's — in seven countries around the world — including the corporation's newest incarnation at Park Place in Annapolis.
The steakhouse's commitment to excellence means buying and serving only premium Midwestern beef, cutting satisfying portions and cooking each dish to order. You choose your steak by looking over the cuts of meat before ordering. The most popular orders are the ribeye, New York strip and porterhouse.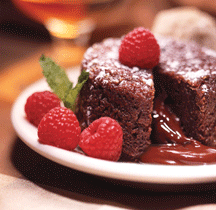 Upscale dining comes at a price. Most of Morton's entrees run upwards of $30. Morton's special double porterhouse, carved tableside, serves two healthy appetites for $97.
Dip into the ocean with friends with one of Morton's baked or chilled ocean platters. The dishes, serving from two to six, feature such succulent treats as lobster, oysters, crab meat, king crab legs and colossal shrimp. For a single sea outing, browse options from yellowfin tuna to whole baked Maine lobster.
For a bit of green or a hearty starch on your plate, select a side from an à la carte menu featuring garlic green beans, steamed asparagus with hollandaise sauce and button mushrooms. Be careful as you choose; sides are portioned for two.
Morton's hot chocolate cake with molten center.
End your evening with a decadent dessert. Morton's most popular sweet treat is its hot chocolate cake with molten center, topped with raspberries and vanilla crème.
---
The Nautilus Diner
1709 Transportation Blvd., Crofton
410-451-8515 • www.thenautilusdiner.com
Su-Th 6am-1am; F,Sa 24 hours
$$
Get breakfast anytime, or camp out with a cup of coffee to people watch at Crofton's Nautilus Diner. The two-year-old establishment is the newest in a line of dinners from Greek families Karageorgi and Efstathiou, who entered the restaurant business 20 years ago in New York.
The families have perfected their diner décor as they moved their business south. The slick style of classic 1950s deco greets you, and inside the diner is filled with chrome and glows bright with neon signs.
The Nautilus gives diner food a fresh twist, with desserts, cakes and pastries baked in house. Beyond the fresh-baked, find typical diner fare on a menu so abundant that it takes as long to read as a newspaper. Breakfast is served all day, but there are way more — from moussaka to seakabobs — to confuse the issue.
But the best part of any diner — beyond the ability to order waffles and eggs whenever they strike your fancy — may be the people-watching, and the Nautilus does draw a crowd. The extensive menu, clean dining area and fresh-baked food draws groups of seniors, late night diners, families and celebrating crowds who use the diner's banquet room. And you.
---
The Old Stein Inn
1143 Rt. 214, Mayo • 410-798-6807 • www.oldstein-inn.com
W,Th,Su 4-9pm; F.Sa 4-10pm; closed M,Tu
$$$
You don't have to speak German to understand the standard of Gemutlichkeit practiced at Old Stein. Second-generation owner Mike Selinger draws on his heritage to comfort you in winter's cold and until warm weather reopens the Biergarten with summer's lighter menu.
For now, hearty food is the first step. The winter menu features game: wild boar, elk, venison, quail, whatever Chef Dirk can get his hands on. All the German standards — including Jagerschnitzel, sauerbrauten (both $20) and lots of wursts — are good winter comfort.
The second step: Stimulating drink, to wake your blood. The Old Stein stocks a library of 40 beers from all the regions of Germany, including 10 on draft. For winter, Selinger recommends Doppelbocks, darkened with roasted malt. His favorite of all is Ayinger Celebrator, called Bavaria's finest Dopplebock, sold by the bottle. On draft, he recommends Spaten Optimator Dunkle DK, from Munich.
Old Stein's the place to get to know German wine. Selinger stocks several dozen (including five sold by half bottle and eight by the glass) from Germany or made round the world in the German tradition. This time of year he also serves hot spiced gluhwine.
The third step: Bavarian Apple Cheesecake, voted Best Dessert by Bay Weekly readers, complemented by an after-dinner degestif.
Saturday adds a fourth step, as Sylvia raises spirits with accordion music.
"We're a comfortable place where people feel at home," says Selinger. That's Gemutlichkeit.
---
The Original Steakhouse Sports Theatre
139 Mitchell's Chance Rd., Edgewater • 410-956-4494
Seven days 11:30am-midnight
$$$
Fulfill your carnivorous cravings with a steak cooked just as you ordered at The Original Steakhouse and Sports Theatre.
As its name suggests, the casual restaurant combines dining room and sports bar.
"It's a great place to come and dine and catch your favorite team," says manager Jack Booze. "The Sports Theatre is in our bar area. We have nine big-screen TVs as well as regular dining tables."
Fresh is Original Steakhouse's goal, and an in-house butcher cuts to order steaks aged at least 40 days and fresh fish filleted daily. The Steakhouse partners with Buckhead Beef Company to ensure its choice Angus cuts are of the highest quality and aging.
Steaks range from the delicate seven-ounce fillet mignon to the robust 20-ounce porterhouse, cooked to order and creatively complemented, with toppings from Gorgonzola cheese to lobster tails. For sports fans who don't have a taste for beef, the Steakhouse offers hearty meals featuring shellfish, fish and pasta.
To keep the good times flowing, Steakhouse boasts a full bar, including your favorite beers on tap.
When you crave your good steak in the comfort of home, the Original Steakhouse gives you two options: Call in a Curbside2Go order and get great food delivered to your car. Or have your party or event expertly catered by the Original Steakhouse.
---
Punk's Backyard Grill
Westfield Mall, Annapolis
410-571-7744 • www.punksbackyardgrill.com
Su-W 11am-9pm; Th-Sa 11am-10pm
$$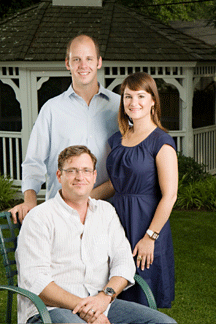 Founded by three Cornell University School of Hotel Administration students — Sheila Laderberg, David McCabe and Jeffrey Sloan — Punk's Backyard Grill opens in Annapolis February 9, serving Americana in a classic backyard cookout atmosphere.
"We felt that the backyard cookout experience was something people know and love, but you couldn't find it in a restaurant setting," says co-founder Sheila Laderberg.
The kid-friendly destination features a wide range of off-the-grill food, from barbecued chicken skewers to pulled-pork sandwich to Chesapeake Cobb salad.
The fresh ingredients come from metro-area specialists. "Our buns are from D.C.'s Lion Bakery. We use Gifford's ice cream from Silver Spring, and some of our sausages are made locally from Baltimore's Simply Sausage," Laderberg says.
Punk's fare is both nostalgic and healthful: Every item is grilled fresh — no fried foods at this backyard cookout — and served with classic picnic sides such as macaroni salad, coleslaw and sweet and sour cucumber salad.
Punk's co-founders David McCabe, standing, Sheila Laderberg and Jeffrey Sloan.
---
Pusser's Caribbean Grille
80 Compromise St., Annapolis
410-626-0004 • www.pussersusa.com.
M-Th 6:30am-10pm; F 6:30am-11pm; Sa 7am-11pm; Su 7am-10pm
$$$
Pusser's Caribbean Grille serves a true taste of the Caribbean, featuring high quality at moderate prices. Descended from Pusser's Ltd. of British Virgin Island fame, Pusser's Annapolis is the flagship restaurant and model for expansion of the chain in the United States.
Raise your spirits with a colorful selection of tropical rum drinks, including the infamous Pusser's Painkiller. The favored drink is served at three levels of potency; you determine how much rum completes your beverage. Fresh seafood is served in Caribbean style, in such presentations as jerk-rubbed tuna steak, Haitian Creole seafood gumbo and a barbecued salmon tower. For a hometown feast, order Chesapeake-themed dishes such as crab cakes, hand-cut steaks or rockfish Annapolitan.
Pusser's offers a breezy Caribbean décor that will make you forget the whipping winds and arctic frost in winter, and as summer warms Annapolis City Dock, Pussers opens its porches for a seasonal port of call.
---
Renditions Players Grille
1380 N. Central Ave., Davidsonville • 410-798-9798
Seven days 7am-7pm
$$$
You don't need to be a duffer to enjoy fine fairway fare at Renditions Players Grille, featuring posh pub food with beautiful views of Davidsonville's famous 18-hole golf course, Renditions.
Players Grille goes beyond the traditional walk-up snack stand, offering upscale pub fare freshly prepared by expert chefs.
Discuss your handicaps at one of the spacious clubhouse tables, or warm up by the fireplace after a cold round. Check on your favorite teams playing on the Grille's flat-screen TVs or simply savor the dark wood clubhouse decor.
The menu changes with the season to reflect what's freshest, because shopping locally is par for the course at Players Grille.
"In season I shop at farmers' markets," says food and beverage manager Leon Fossett, who recommends the popular tomato Gorgonzola soup.
Toast your success or drown your sorrows with a premium spirit from the Grille's well stocked bar.
---
Restaurante Serrano
2129 Forest Dr., Annapolis
410-573-9200 • www.restauranteserrano.com
Daily 10:30am-10pm
$$
Jalapeños' dressed-down cousin, Restaurante Serrano, is casual and comfortable, with table seating, murals and Mexican pottery. It's a place where people take daily sustenance seriously, with sit-down dishes rather than quick Tex-Mex carry-out — although you can make your order to go.
From appetizers to desserts, the Spanish-language menu is full of surprises to refresh your memories without traveling miles: Pescado frito entero, (whole fish marinated in dried herbs, garlic, olive oil and Spanish paprika, grilled or fried), for example, or chamorros en barbacoa (lamb shank rubbed with sweet and hot pepper paste, and steamed in banana leaves with avocado).
Aficionados travel from all over Chesapeake Country for Restaurante Serrano's platos principales — and its prices. Drink cerveza, tequila, sangria or margaritas with your meal.
---
The Rockfish
400 Sixth St., Eastport • 410-267-1800 • www.rockfishmd.com
M,Tu 11:30am-midnight; W-Sa 11:30am-1:30am; Su 10am-midnight
$$$-$$$$
You'll have to wait until July to taste the thick slices of fried green tomatoes grown on Rockfish's green-roof garden. Still, biting through the golden crisp of delicately deep-fried batter into pale, sweet flesh, you remember summer, because that's a tomato!

It's also a sign that The Rockfish is the real thing.
"It's all fresh, not frozen," says Russell Brown, scanning the menu to which, as Rockfish's brand-new general manager and executive chef, he'll add another chapter. Yes, the Russell Brown who made Northwoods Annapolis' most reliably delicious dining destination.
For Brown, green tomatoes are a test of truth. "It's kind of sad," he says. "Everything can be frozen today and trucked in."
Not at Rockfish. Restaurateur and now state delegate James King opened The Rockfish on the site of the old Eastport Clipper four years ago determined to be an enduring original.
"We wanted the best of both worlds: an upscale, upbeat, restaurant where locals and visitors could also enjoy themselves after dinner," King says.
Rockfish owner James King, center, flanked by chefs Greg Dowling, left, and Russell Brown.
T

o reach that goal, King followed five paths — not all of them obvious to the customers who are doing just what King hopes: enjoying the experience rather than analyzing it.
Path One is food. In cooperation with Chef Greg Dowling, King planned a menu that reflects this place in time: fresh, honest and sustainable.
"The focus is specifically on fresh seafood and steaks with clean, simple preparation," Dowling says. True to its name, The Rockfish features two rockfish preparations: roasted whole or filleted and topped with jumbo lump crab and sherry Dijon cream. Nothing is prepackaged. Six dishes on both the lunch and dinner menu use sustainable seafood. That's why your oysters, fried or raw — like the fried green tomatoes or corn pudding — taste so good.
The semi-exposed kitchen features a wood-burning grill and a ceramic pizza oven. Specialty pizza, chicken, wings, sandwiches, salad, ribs and big, delectable side dishes complete the menu.
Path Two is drink. The Rockfish bar is fun, with tropical exotics; colorful martinis; an array of Scotches, cordials and coffee drinks; beers, both bottled and draft, including local craft beers and imports; a wine list highlighting far-ranging varietals.
Path Three is atmosphere. The Rockfish is roomy, modern and minimalist. Wood, brick, stone and steel communicate integrity, then merge into background. Marion Warren photos of the Chesapeake region embellish the walls. Seating is comfortable, but not enveloping — except in the bar, where leather couches and flat-panel televisions invite you to settle in. Local musicians play five nights a week, and Mike Noonan plays jazz at Sunday brunch.
Path Four is integrity. The Rockfish practices sustainability, probably more than most of us do at home. A green roof tops the establishment, trapping rainwater, lessening run-off into neighboring Spa Creek and the Bay and providing a garden for herbs and summer tomatoes. To offset the use of fossil fuels, King buys wind energy. He recycles not only glass, plastic, metal and paper but also food wastes for composting and fry oil for biodiesel fuel. The Rockfish green program costs an estimated $20,000 a year, King says. "Customers want places they go to be environmentally friendly."
Path Five is always doing better. That's why Russell Brown has joined an already flourishing business. That's why, by Valentine's Day, his escargot will return to Annapolis, on The Rockfish menu.
---
Rod 'n' Reel Restaurant
Rt. 261, Chesapeake Beach
877-rodnreel (763-6733) • www.CBResortSpa.com
M-F 11am-10pm; Sa 8am-10pm; Su 8am-9pm
$$$
The history of Chesapeake Beach is written in good times. Donovan brothers Gerald and Fred, owners of Rod 'n' Reel, have made it their business to keep that history living.
Rod 'n' Reel is the center of the Donovans' zone dedicated to good times: three restaurants, a resort hotel and spa, two marinas and charter fishing fleet and the gaming parlor, featuring electronic bingo.
And it's all served with million-dollar Bay views.
Come for lunch or dinner, and you'll likely order among rockfish, crab cakes, oysters, clams and lobster. Finishes are often something special, as in salmon stuffed with shrimp, brie and spinach and served with saffron orzo confetti. Featured in winter is whole lobster, for $18.95. Weekend brunches show the range of possibility in the hands of Executive Chef William Bednar.
---
Rustico Restaurant & Wine Bar
401 Love Point Rd., Stevensville
410-643-9444 • www.rusticoonline.com
M-Th 11am-midnight; F,Sa 11am-2am; Su noon-10pm
$$$
Just over the Bay Bridge take the first Stevensville exit to find Rustico for a new and accurate take on southern Italian fare.
It's un-Italian to hurry a meal, so slow down at Rustico's wine bar, with over 20 wines by the glass.
Move into the warm dining room for Salmone Conspinaci (grilled salmon filet in creamy alfredo sauce with scallops and crabmeat, served over sautéed spinach) or Pollo Marsala (chicken with mushrooms in marsala wine sauce). Splurge on the $35 price-fixed four-course special. For an even better value, visit Monday and Wednesday, when wine by the bottle is half price
---
Sam's on the Waterfront
2020 Chesapeake Harbour Dr. E., Chesapeake Harbour Marina
410-263-3600 • www.samsonthewaterfront.com
Tu-Th,Su 11:30am-9pm; F,Sa 11:30am-10pm
$$$$
Sam's is the kind of place where you want to ask Sam to play it again. But you'll only get to do that on weekend evenings, when local jazz and blues musicians add to the ambiance of a place already scoring high on that scale: It resembles a lighthouse overlooking Chesapeake Harbour Marina.
"The best waterfront restaurant in Annapolis," is how owner Andrew Parks, grandson of Sam, describes his enterprise. A nationally recognized wine list supports that claim. A full martini menu and a deep Scotch menu add spirit.
Weekly specials seduce with gargain as well. Tuesday offers half price Kobe burgers for lunch and dinner and half price wine on Wednesday night.
But chef Jerry Trice (a graduate of the Culinary Institute of America, seasoned in D.C.'s Vidalia and Red Sage) makes food king at Sam's. It's gorgeous, savory and inventive, like an upright (as if swimming) whole fish of the day, crisp and garnished like a work of art.
---
Shockers Bar & Grill
173 Mitchells Chance Rd., Edgewater • 443-607-8964
Seven days 11am-2am
$$
Shockers co-owners Andrew Dawson and Shawn Shannon won't let a bad economy ruin your good time. The two local men set out to create a bar and grill where you can watch the game, drink with friends or bring your family for a hearty meal.
"I grew up in bars and restaurants, and I always wanted to have my own," Dawson says. "We've got unique things on the menu, and it looks like a downtown bar in the middle of Edgewater."
In spite of its slick looks, Shockers keeps its prices simple. "During hard times, we're answering the call," Dawson says of his specials: kids eat free from 4 to 8pm; happy hour drops the price of beer from $1.50 to $1.25; and each day features different specials.
"We've got a Sunday Bloody Mary brunch, with endless mimosas, screwdrivers and bloody Marys, and endless waffles, omelets, sausages and more for $20," Dawson says.
Generous portions fill you up without emptying your wallet. Favorite dishes include the Muddy Creek burger — topped with garlic mashed potatoes and A-1 sauce; Crab Nuts mini crab cakes; homemade Old Bay chips. Fried food fanatics feast on beer-battered bacon, fried zucchini, hush puppies and more.
Dawson explores the exotic with wild game specials featuring antelope, elk, alligator and kangaroo.
The fully stocked bar boasts a bevy of Edgewater's Most Wanted bartenders and 15 big-screen televisions.
"We're not corporate," Dawson says. "We give the public what they want, not what some company in Chicago tells us they want."
And what you want according to Dawson is more entertainment. Starting in February, Shockers starts Monday night karaoke and a soft-tip dart league.
---
Skipper's Pier Restaurant and Dock Bar
6158 Drum Pt. Rd., Deale
410-867-7110 • www.skipperspier.com
Winter hours: Tu-Th 4pm-9:30pm; F-Sa 11:30am-10pm; Su 9:30am-9pm
$$$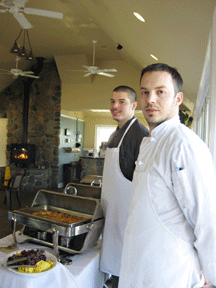 Skipper's Pier Restaurant and Dock Bar has a long history as a destination that welcomes all comers eager for fun. Come by land or water on a fair day, and you'll know why.
For other dockside pleasures, you don't need to wait. In three years, owner and executive chef John Kozik has given the traditional summer hangout the yearlong appeal of inventive food in a comfortable setting with the life of a busy harbor outside the windows.
Trained at Scottsdale Culinary Institute, Kozik cooked in Arizona, the D.C. area — including the popular Kinkeads — and North Beach before taking over his own kitchen.
Seafood is high on the menu, with crab and oysters taking top billing, as in raw and steamed oysters, crab encrusted oysters or flounder ($23.59), crab fondue and prize-winning crab soup.
But Chesapeake seafood is only the first chapter of
Skippers Pier owner and executive chef John Kozik, front.
Ski

pper's story. Kozik draws on regional cuisines for shrimp and grits, mussels or clams in tomato broth seasoned with parma ham, and barbecued buttermilk chicken.
Friday night's seafood buffet lets you try much of it at once; weeknight specials increase your value; wine dinners add another dimension; and Sunday brunch starts the week off right.
---
Sly Horse Tavern
1678 Village Green, Crofton • 410-721-4550
M-Sa 11:30am-10pm; Su 11:30am-9pm
$$$
Modeled after Williamsburg's Raleigh Tavern, the Sly Horse Tavern offers a taste of colonial food and décor. Owner Don Dey Ermand researched both Williamsburg and Eastern Shore inns before adorning Sly Horse in crimson and beige colors with dark-wooden floors and high-backed booths. Each of Sly Horse's three dining rooms features working fireplaces, and meals are served by candle light.
The menu, however, is eclectic, with new American added to classic Maryland and historic tavern dishes. So you'll find Texas barbecued shrimp alongside cream of crab soup; calves' livers and fresh fish; pasta in competition with Bavarian Jagerschnitzel. Start with the house salad, winner of Baltimore's Best honors.
---
Smokey Joe's Grill
Smokey Joe's Grill is a casual place where you can afford to have a good time three meals a day: Hearty breakfast; bar fare — including burgers and wings; and ribs, chicken and barbecue. Most dinners come with two home-style sides. Choose from baked beans, mashed potatoes with gravy, macaroni and cheese, cole slaw, baked potato, stewed tomatoes, seasoned fries or potato salad.
Prices are family friendly, with many entrees under $10 and specials sweetening the tab. Chicken, fried or barbecued, is $8.99 on Wednesdays; all-you-can-eat ribs are $17.99 any night.
Special kids' events team with prices to make Smokey's a family-friendly destination.
Desserts are sufficient reason to visit in themselves: Apple fritters, apple cobbler, peanut butter pie, Snickers pie and cheesecake.
---
South County Café
5960 Deale-Churchton Rd., Deale
410-867-1992 • www.southcountycafe.com
Daily 7am-9pm
$$

John Whitman was a regional legend before he opened South County Café in Deale in 2006. His freshly made pies lured pie lovers from far and wide. For 14 years, they'd been the reward at the end of the Thanksgiving classic car rally pie run that followed Whitman from Galesville to Deale.
So, yes, whatever else you eat at South County Café, you'll want to order pie. Cinnamon apple is the usual in a café that's as American as apple pie, as Southern Anne Arundel County as rockfish fresh caught by Whitman, who doubles as a commercial fisherman.
South County Café made its reputation on breakfast and lunch. Breakfast is working-life hearty: eggs, biscuits, meat and homefries (which are actually deep fried) blueberry or apple-cinnamon pancakes.
At lunch, Whitman shows his stuff, with imaginative variations on sandwiches, salads and soups, including daily specials, like the Southwestern Salad topped with crispy-flaky tortilla chips.
South County Café owner John Whitman with a couple of his signature pies.

"Everything is homemade daily with the freshest ingredients," says Whitman, who's often behind the
counter or in the kitchen of a café that's become a local gathering spot with plenty of tables and historic regional décor.
The café has so caught on that Whitman has added dinner (but no liquor license). Thursdays thru Saturdays (5-9pm) the menu includes rockfish tempura and brie in puff pastry as appetizers, classic and creative salads; and main courses from Southewestern pasta with Andouille sausage ($12.99) to seafood Alfredo ($20.95). Mondays through Wednesdays, order a variety of $8.95 comfort meals (meatloaf, for example) to carry out. And don't forget your pie — by the slice or whole.
---
Sweet Sue's Bake Shop & Coffee Bar
7th Street & Bay Ave., North Beach
410-286-8041; http://sweetsues-bakeshop.com/
Tu-Sa 7:30am-5pm; Su 7:30am-4pm; closed M
It used to be that every town had a bakery — where you were lured in by the aroma and brought back by the satisfactions of handmade sweets and savor treats, fresh from the oven.
North Beach still does.
Reversing the trend to supermarket sameness, Sue and Gary Dzurec opened Sweet Sue's on the North Beach boardwalk in 2005. Cakes are baker Sue's specialty, with grand presentations of such standards as chocolate and coconut cakes, and imaginative cheese cakes — think Black Forest. Her elegant wedding cakes, designed to your specifications, make acing your wedding cake a dream within range.
Spontaneous satisfactions are yours without eloping, too, at Sweet Sue's: muffins, cookies, quiches and a specialty bread each week.
Sweet Sue's satisfies appetites on the go with wraps, homemade soups and salads as well as party platters and specialty baskets.
In keeping with the Viennese sweet shop tradition, Sweet Sue's serves signature coffees in all the forms you expect of a modern coffee bar. Sit down and enjoy your pick-up in Sue's garden café — or outdoors in good weather.