The Bay Gardener

by Dr. Frank Gouin
A Fresh-Cut Christmas Tree Is a Fire-Safe Christmas Tree
Buy locally from a Christmas tree grower's lot or cut your own
Many corner Christmas tree lots advertise freshly cut trees. To me, fresh-cut means that the tree was cut just a few days or at most a week ago. Trees that are imported into the region could have been cut in late October or early November. Since it is not economically feasible to store cut Christmas trees in coolers, most likely the trees were cut and stacked in large piles in a wooded area or in a barn until shipped. Sometimes the trees are sprinkled with water to help keep them cool and to minimize water loss.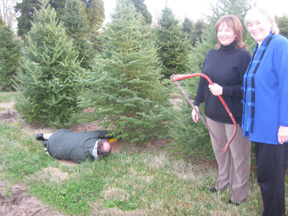 If the corner Christmas lot manager tells you that they are receiving shipments every week, most likely the trees are coming from the same location or pile as the original shipment. A fresh shipment does not necessarily mean trees recently harvested.
During storage, a Christmas tree can lose up to 30 percent of its water. The more water a tree loses, the more easily it will burn. If the tree loses more than 30 percent of its water, its ability to absorb water is lessened. Even in an appropriate stand, it's unlikely to rehydrate. The corner sales lot does not provide ideal storage conditions.
What's more, the trees are in full sun, often on asphalt and exposed to cross winds.
This means that if you are going to purchase your Christmas tree from a corner sales lot, purchase that tree soon after opening day because it will never be fresher. As soon as you bring that tree home, cut at least two inches from the base of the stump and immerse it in 100-degree water. Store the tree in the shade until you are ready to bring it in. Then cut at least another inch from the base and use a Christmas tree stand that will hold at least one gallon of water. Never allow the stand to dry out.
If you want a fresh-cut Christmas tree, buy locally from a Christmas tree grower's lot or cut your own. The State Fire Marshal has identified fresh-cut Douglas fir, Scots pine and blue spruce as the most fire-safe Christmas tree species. This selection is based on two consecutive years of research conducted by the Bay Gardener in cooperation with the Maryland Christmas Tree Growers and the office of the State Fire Marshal.
---
Fertilize Hollies and Azaleas
Q I read in one of your articles that hollies should be fertilized in October to November with a nitrogen fertilizer for good berry color. I understand that azaleas should not be fertilized until after a hard freeze. We haven't had one yet, judging by my remaining impatiens. If we remain frost-less, can I fertilize my azaleas in early December, or should I wait until we get a genuine freeze?
Also, what fertilizer is 10-6-4, 50 percent organic? I mixed some dried blood (man, is that stuff expensive) with Holly-Tone, which is 4-6-4, and used it on my hollies. I found some inexpensive lawn fertilizer for the azaleas.
–Lucy Goszkowski, Annapolis
A You must live near the water if you haven't had a frost yet. You can go ahead and fertilize your azaleas because we have had a frost inland.
With regards to hollies, the nitrogen gives you better dark green leaves, which makes the berries look brighter red. The nitrogen does not affect berry color but provides a better contrast.
With regards to fertilizing azaleas, I use ammonium sulfate, which is cheap. A 50-pound bag is about $18. You can also use it on hollies. The rate of application for both hollies and azaleas is half a pound per three feet in height or spread.