at work and play
---
How the Boys Next Door Got Funky
With 20 soul brothers and sisters, Kevin Basiliko and Michael Shereikis are going to get you up off of that thing
by Sandra Olivetti Martin
How did the boy next door get funky?
In fact, boys?
The plural is important because that fate has skimmed the cream of more than one generation. The Doors' Jim Morrison may come to mind, but he isn't the only ideal American boy to flee his middle-class upbringing for the never-never land of music.
Chesapeake Country music clubbers will see 22 more November 20, when Chopteeth and 8 Ohms play Annapolis. And it's not only boys, most of whom are by now old enough to be called men.
Women, too: Two of the 13 players of Chopteeth are women — horn players, to boot. Between these two bands alone, the numbers are huge.
Fronting the two horn-heavy big bands are boys next door who couldn't say no to the call of the wild. For funk/reggae/soul band 8 Ohms, it's 35-year-old saxophonist Kevin Basiliko, an Annapolitan with roots spreading through Chesapeake Country.
Michael Shereikis is the mastermind behind the Beltway Afrobeat/funk band Chopteeth. That 40-year-old singer and guitarist grew up a few blocks from me and my kids in Springfield, Illinois.
Not Abe Lincoln's Music
Who knows what's going on in the mind of a kid?
Shereikis liked his guitar, but he also liked his mother, soccer, Greek dancing and the hometown girl, Natasha Sakolsky, who's now his wife. They live with their two children in a two-story home in Silver Spring that's not so different from the Shereikis family home. Except that Natasha's the breadwinner, and Michael's the stay-at-home daddy and music maker.
The Afrobeat/funk band Chopteeth.

The music he makes even Basiliko — who fills in with Chopteeth on baritone sax — finds odd. Unique is his word. "Annapolis has not seen a group like this," Basiliko says.
You likely haven't either. Chopteeth plays a big band style born in the 1970s, when the recorded American music — particularly R&B, James Brown's funk and Cuban rumba — pollinated West Africa, blossoming in a variety of national get-up-and-dance genres featuring driving drums and interlocking guitars and horns.
Shereikis first caught the beat on records he bought in his college days at Brown University. Over two tours in Africa — first in the Central African Republic, where the young couple went as Peace Corps volunteers; then in Abidjan, Ivory Coast, with Natasha on fellowship in public health — the music got under his skin. Shereikis was trying to finish a PhD in anthropology, and the West African music industry became his subject. And his obsession.
Now it's the driving force in his life. "I guess I like it so much," he says, "because nobody's out front. We're all working together."
And it's not only the driving force in his life. Somehow, he's captivated a dozen other white folk, ranging in age from 30s to 60s.
So there's another question: How does such an assorted assemblage fall under such an exotic spell?
It's the spirit of the thing, Shereikis says: "When the sound is working, it makes people dance. I've seen a three-year-old and his grandfather both getting down and shaking it. And when people dance, we're all of us in it together. "
The spirit has carried Chopteeth to regular rotation in the D.C. area clubs big enough to hold 13 possessed musicians playing, in Basiliko's words, "the common groove between the funkiest, most hip-shakin', West African and American popular music on the planet." Their enthusiasm, power, groove and virtuosity have won them air time on National Public Radio and stage time at the Kennedy Center.
And now, thanks to Basiliko, the spirit has brought them to Annapolis.
But It Should Set Annapolis Dancing
Italian and Greek on his father's side, Hawaiian on his mother's, Basiliko has unification in his blood. Addicted to the saxophone and dedicated to making live music, he's a boy for whom a band brings all the threads together.
He gets to play. He gets to connect.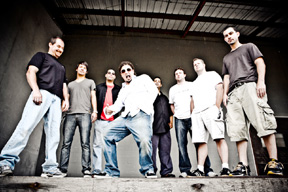 8 ohms, a "horn-heavy, funk reggae jam band."

"Playing with people you like, trying to connect with the crowd, people singing, dancing — it's kind of a high," he says. "It takes you to another place."
And he gets to play that funky music.
Basiliko took up his horn in grade school.
"That Motown sound, the horns, got my attention," the saxophonist says. "And James Brown, his energy."
Motown and R&B were the beginning. To "old-style funk," Basiliko added a 15-year stint with a reggae band. Working full-time as a vending machine repairman, he'd play four nights a week plus every summer weekend. Since high school, there's always been a band — or bands —in his life.
Three years ago, he pulled the threads together into his own band, Eight because the players numbered eight. Ohms because, he says, "you see the word on every public address system."
Basiliko addresses the public with all the music he loves: 8 Ohms, now extended to 10 players, is a "horn-heavy, funk reggae jam band."
Sort of like being Italian, Greek and Hawaiian.
Nor does the unity Basiliko craves end there. His wife backs him up, not only tolerating the hours he keeps but also throwing her energies into the band as manager and keeper of the webpage.
Basiliko's got unity with his band, too. Now that it's survived a crisis of redefinition and come out stronger, the experience, he says, "is about the group coming together as one. I'm the leader, but you'd never know. Everybody gets the spotlight."
All 10 of 8 Ohms play with the Godfather of Soul's energetic determination to give you the best show they can.
But to make the union perfect, they need you.
"If you dance," Basiliko says, "we'll play better."
---
9pm, with 8 Ohms playing the first hour and a half, followed by Chopteeth, at The Whiskey, 1803 West St., Annapolis: $10: www.8ohmsband.com.