Waste Not, Want Not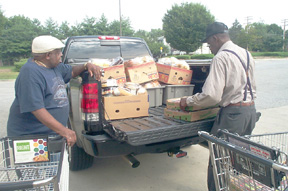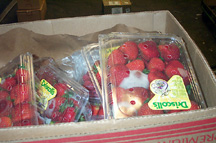 photos by Erica Stratton
Albert Offer (left) and James Grey collect baked goods for Food Link at the Forest Drive Safeway, top. The two guess-timate that they collect 200 to 300 pounds of food for donation during their daily rounds to area grocery stores.
Waste food such as these fuzzy strawberries are referred to as "shrink" by grocery stores. Food bank volunteers will sort through the berries, using the good ones.
What may not be right for the supermarket shelf can still help feed the hungry
by Sara Newman
What better than a supermarket to define the abundance that makes America the land of plenty? Our average supermarket is 46,755 square feet, nearly as big as a football field. In 2008, the average store stocked 47,000 items, including tons of perishables in constant rotation.
Supermarket displays are filled to the brim with the freshest of fruits and vegetables, often polished to a shine that rivals a new car on a showroom floor. Meat, poultry, fish are so diverse and plentiful that you wonder how there's any left to stock other stores. How many fish can still swim in the ocean if so many are iced down in the cases of Giant, Whole Foods, Safeway, Woodburns, Graul's.
If your eyes swim, imagine what a visitor from Sudan might think.
Americans love to eat. On average, we visit a supermarket two times a week, contributing to an average weekly sales of $333,535 per supermarket. Even so, we can't eat up all that we see. What happens to the leftover abundance? Do the strawberries left after their sell-by date end up in the dumpster — along with never-to-be eaten banquets of fish, meat, cakes and vegetables?
The Gleam on the Apple
Freshness is surely more than a gleam that attracts a shopper's eye. Exactly what more, however, no spokesperson wanted to specify beyond the broadest terms. On many products, freshness is specified by a sell-by date. Integrity is also part of the standard. A marketable can of apple sauce can't be dented, and a bruised apple can't be sold. But how for many days is a chicken, a quart of milk or an oyster good? Nobody's saying.
Safeway's Greg TenEyck — director of public relations for 178 stores in the Eastern division of Washington, Baltimore and Philadelphia — did, however, describe how employees meet the "high product-quality standards" the chain expects them to follow.
"Rotation of perishable products is part of grocery store operations," TenEyck said. "The date checks and produce-gleaning functions are primarily performed by our stocking crews, who do most of their work at night when the store is closed. Products left over after culling would be brought to the front so that it is the next item to be purchased by our customers."
One bad apple does not spoil the barrel or display, according to TenEyck. "If there is a poor quality apple," he says, "it will be discarded and replaced with a fresh apple."
Keeping the gleam on the apple means managing tons of waste.
Some is discarded, dumped into the trash and hauled to the landfill. As Safeway's TenEyck says, "When a product is culled, it is generally discarded. Outdated items are boxed up and sent to a product recovery center where inventory and vendor credit accounting is performed and the product is destroyed."
In fact, managing waste is not so wasteful. Increasingly, stores are finding new profitable or charitable uses for food they don't sell.
Into the Deli
Erin Kerr, green mission specialist for a cluster of five Whole Foods Stores, explains how it works: "In going through apples, there's one of three things team members will do to ones that are bruised or brown." Step one leads to the store's own kitchens.
"If the apple is perfectly good, they're going to see if the bakery or prepared foods need apples," Kerr says.
Rotation to the kitchen is common. At Safeway and Graul's, as at Whole Foods, imperfect apples may become pies and unsold chickens reappear as chicken salad — always within food safety guidelines.
"Beef that's perfectly good but oxidized a bit, we'll use that in chili," Kerr continues. Fish, however, has little chance for an afterlife; it's too perishable.
To reduce waste in that department, Kerr says, "the seafood guys are generally very good about ordering so they don't have waste, which hurts their bottom line."
Other stores agree.
Avoiding waste is also to the store's advantage as a way of maximizing profit. So "in the past few years groceries have gotten more efficient," including computerizing their inventory, Safeway's TenEyck says.
Into the Compost
Along with the fish, the apple that isn't perfectly good is discarded.
Nowadays, discarding need not mean wasting.
At Safeway, "meat products have been recycled for many years to a firm that processes meat protein," TenEyck says. Used plastic grocery sacks are collected for recycling. Now the chain is nearing an agreement to begin composting all produce and floral waste.
Keeping waste out of the landfill, in part by composting, has become a mission at Whole Foods, where two-thirds of waste is compostable.
In 2007, Kerr, the Green Mission team leader for Whole Foods' five area stores, committed to reducing discarded apples — and the stores' whole range of waste — by 70 percent.
The team descended in a "training blitz," and the stores reached their goal. In 2008 the reduction bar on the remaining waste was raised to 80 percent. That year, Whole Foods' old Annapolis Harbour Center store still sent 28 tons of waste to the landfill. But another 28 tons of waste were composted. Most comes from unsold perishables, but the new store at Towne Centre at Parole has compost depositories for the waste — paper and food scraps — of eat-in customers.
The bad apples all end up in composting dumpsters in the back of the store. The dumpsters are picked up by Bates Trucking and hauled to Recycle Green in Carroll County where the waste is transformed into soil.
Beyond all those tons of compost, in 2008 Whole Foods Annapolis donated eight tons of good food.
Feeding the Hungry
When it comes to donations, most stores follow the same principle: give away as much as they safely can. Ninety percent of food donations to Maryland food banks comes from grocery salvage.
Each week, stores give away hundreds of pounds of fruits and vegetables, breads, cakes and pies, canned, bottled and packaged foods — plus some wholesome prepared foods.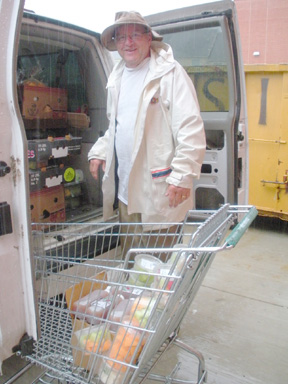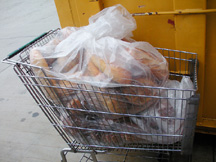 photos by Sara Newman
Crabby Joe Berry picks up donations three days a week from several grocery stores. On a rainy day at Whole Foods he picked up two carts of bread, cut fruits and vegetables, coffee, apple cider — even cooked sushi. Berry says he gathers six cart-fulls amounting to 500 pounds at each pick-up.
From Safeway, TenEyck says, "non-perishable products that are discontinued, damaged or dented are sent from the store to our product recovery center, where they are donated to the Capital Area Food Bank. Day-old bakery products are donated to local charities, which periodically make pick-ups at store level."
The ability to give rather than waste is why Amy Chase works as Annapolis Whole Foods' community liaison.
"When I moved here I decided I didn't want to work for corporate entities that were soul-less and revenue driven," says Chase, whose experience working in D.C. hotels for 15 years had shown her more waste than she needed to see in her lifetime.
"Giving a case of bananas means 100 people will eat fruit that day. It's extremely empowering," she says.
Dairy products and raw meats and fish are seldom donated because those foods must be refrigerated to stay good. Prepared foods, an increasingly popular component of supermarket sales, are making their way into donations. But neither are they so common as donations of canned goods or fruits and vegetables.
Donations of prepared foods for disadvantaged populations are legal, according to Jody Menikheim of the Maryland Department of Health.
"Grocery stores can make these donations. But would they? I don't know if I would want that risk and publicity that could follow," Menikheim says, if anything goes wrong.
Graul's in West Annapolis does not donate prepared foods, according to manager Bob Fitzpatrick. "If your prepared food chef does things correctly there shouldn't be a lot left over," he says.
Unlike Graul's, Whole Foods, Safeway, Giant and Woodburns quietly include salads and sandwiches from the previous day in their donations.
Whole Foods and Graul's donate to Food Link, while Safeway donates to both Food Link and the Capital Area Food Bank. Woodburns donates to SMILE, or Service Makes Individual Lives Exciting, an ecumenical community outreach ministry of seven Southern Calvert County churches.
The Gleaners
Every day at the Safeway on Forest Drive, between four and six grocery carts full of three-day-old cakes, pastries and bread wait for James Grey and Albert Offer. The retiree-volunteers for Food Link guesstimate that they collect 200 to 300 pounds of food for donation during their daily rounds to area grocery stores.
As they load boxes of Tasty Kakes and chocolate doughnuts onto the bed of their truck, a shipment of bruised strawberries arrives. Are they worth taking? Some of the berries are white and fuzzy.
"They'll pick over it," Grey says.
This is a scene repeated daily at grocery stores throughout Chesapeake Country, indeed throughout the nation, as volunteers glean foods passed over by shoppers but good enough to eat.
Another regular on the pick-up route is Crabby Joe Berry, who's been feeding the needy for almost 15 years. An epiphany rescued the man of action from aimlessness and led him to his new vocation.
After he closed Pop's Crabhouse in Landover Hills in 1995, he relates, "I was sitting there in front of the computer playing solitaire, and I said, This ain't it. This is not going to be my life."
A religious man, Berry follows the lessons taught in the Bible.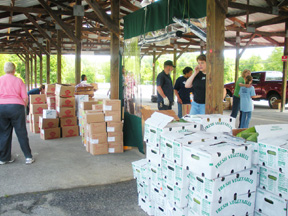 photos by Sara Newman
Volunteers from more than 20 different organizations, including Asbury United Methodist Church, the Salvation Army and the Farmers' Mart-Produce Program, wait in line for their share of the Capital Area Food Bank's weekly delivery.
"God said love one another like I've loved you, and Jesus said help the poor and you should do what you can to feed them. I feel that that is my calling, my life's mission."
On Tuesdays through Thursdays, Berry's pick-up route includes Whole Foods. One very rainy Thursday, he collected four carts full of packaged already cut fruits and vegetables in addition to coffee, apple cider and sushi (containing only cooked fish). He also packed two carts full of breads into his white Astro van. In all, Berry says he packs up six carts full of food amounting to 500 pounds each time he picks up.
Besides his three-days-a-week visits to Whole Foods, he picks up donated food from Giant, Safeway and Food Lion.
Throughout the week, Crabby Joe ferries donations to 15 churches, camps and orphanages. On Friday mornings, his first stop is the parking lot of the Anne Arundel Farmers' Market on Riva Road, where he and other volunteers will unload trucks from the Capital Area Food Bank.
The trucks are full of bushels of zucchini, squash and eggplant. Crates of sliced onions from Pizza Hut accompany sliced peppers, carrots and broccoli florets and bags of soup donated by Giant. Bags and boxes full of bread and other baked goods are piled on the opposite side of the pavilion where volunteers organize and line up the donations.
Cars driven by representatives from 20 different organizations, including Asbury United Methodist, the Salvation Army and the Farmers' Mart-Produce Program, wait in line to each receive a bushel of zucchini, squash, eggplant and a bag of bread that are taken to their food pantries.
This whole process is the work of a local non-profit organization called Food Link, which is dedicated to providing disenfranchised families with an opportunity to reap the benefits of charitable stores.
"If I can share and help others, things come around full circle," said Abe, who offered no last name. One of Food Link's 150 volunteers, he sorts donations and loads them in trucks. Food Link's work alone stocks 80 area pantries with food for the hungry.
From one day's worth of donations, with the help of 20 volunteers, Abe says 1,000 people will eat.
Dinner Is Served
Volunteer gleaners deliver the bounty they've collected to their many agencies: churches, food banks and the Salvation Army.
St. Luke's Episcopal Church on Bay Ridge Avenue is one. On Tuesday and Thursday mornings, deliveries are received, sorted and packed. Damaged foods — for example, eggs that arrive broken from a bumpy truck ride — are thrown out. Food in good condition is bagged for handing out to people who might otherwise go hungry. Each bag contains enough food for a family of four for two to three days, including canned vegetables, canned meats (tuna, chicken, spam), peanut butter and jelly, bread, fresh fruits and vegetables.
"The amount of food that comes in each week varies," said Ed Stofko, Food Bank overseer at St. Luke's Episcopal. "On a Thursday we will distribute at least 40 to 50 bags." That's the day clients enjoy coffee, tea and doughnuts before they collect their groceries.
This year, St. Luke's Episcopal has served 3,327 families. November is expected to add 540 families. Stofko also is filling Thanksgiving baskets containing ham, vegetables, yams, rolls, dressing and pies to ensure everyone has meal to be thankful for.
Sara Newman of Calvert County studies journalism at the University of Maryland, where she works at both the campus newspaper and radio station. She was Bay Weekly's summer intern. Erica Stratton contributed to this story.