Here He Lies Where He Longed to Be
Home is the sailor, home from the sea

This was the first time in 65 years that Bill Burton didn't pause on Veterans Day to remember his friend Henry Beckwith.
Henry, like Bill and so many other boys at Burrillville High School in Rhode Island, joined the military right out of high school and went off to fight in World War II. Henry never came back; he was killed in Europe.
Bill never saw combat. A Seabee, he was in Hawaii training for the invasion of Japan when the war ended.
When he learned of Henry's death, Bill made a promise never to forget him, and he never did. Bill never let a Memorial Day or a Veterans Day go by without mentioning his high school friend. His devotion to the country's veterans was no abstraction; it was personal.
On October 14, Bill joined his friend Henry, when his ashes were placed in a vault at Arlington National Cemetery. The honor guard solemnly and carefully folded Bill's ceremonial flag, the rifle squad fired the traditional salute and the bugler played taps — all done just as it must have been for Henry Beckwith, so many years ago.
In the last weeks of his life, Bill planned his own memorial service and chose to be buried at Arlington, instead of the Burton family plot in Rhode Island. It was Bill's final testament to his enduring love of his country and its military — and a final salute to his old friend.
Annapolis Spreads a Bigger Tree Canopy
School children make like squirrels; pick up your free tree this weekend

photo by Jane Schlegel
West Annapolis Elementary schoolers plant acorns with the help of city tree man Jan van Zutphen.

"Annapolitans have a deep and abiding sense of history, and trees are a simple, loving way to pass on something of value to the next generation," Steve Carr wrote last week in his column, Where We Live.
On its way to extending its tree canopy from 42 to 50 percent, Annapolis proved him right in two ways.
1. West Annapolis Elementary schoolers imitated squirrels on October 2, digging holes and planting acorns to grow into mighty oaks. Students from five more schools will also be planting a pound of acorns each, all supplied by the city from Maryland Department of Natural Resources tree nursery.
The schools are Annapolis Elementary, Eastport Elementary, Georgetown East Elementary, Hillsmere Elementary and Rolling Knolls Elementary.
New schools are welcome:410-263-7997.
2. The city is giving away trees this Saturday, November 14. The six-foot tall seedings are American hophornbeam, black gum, sycamore or plane tree and willow oaks. But you'll need to come early to get your pick. Each household gets one tree, but it must increase your forest, not replace another tree. Bring your driver's license to prove you're a resident.
To match species to site conditions and for proper planting techniques, see Chapter Four of The Urban Tree Risk Management Manual: www.na.fs.fed.us/spfo/pubs/uf/utrmm/
9am-noon at Truxtun Park Pool, Primrose Rd. Questions: Jan van Zutphen: 410-263-7946 x7718; [email protected]
This Week's Creature Feature: Pumpkins Post Patch
What happens to the not-so-great pumpkins after Halloween?
When the Great Pumpkin sinks back into the patch after All Hallow's Eve, pumpkins transform from seasonal symbols to garden surplus. Jack-o-lanterns wilt on porches, waiting for the compost heap, and most Maryland farms give up on the gourd sales.
"For us, pumpkin season ends before Halloween," says Joe Swann of Swann Farms in Owings. "But one of our buyers said his sales are going strong after Halloween."
Even Thanksgiving dinners, when people gobble up pumpkin pies, can't save the pumpkin crop. With the advent of canned pumpkin filling and frozen pies, Maryland farmers have found it economically essential to close pumpkin season at the end of October.
"We close October 31," says Gina Schillinger, co-owner of Severn's Papa John's Farm. "There's very few people who make homemade pumpkin pies anymore. It's too convenient for people to get the can or go buy Sara Lee."
"There's just no market after Halloween so there's no sense keeping them around," adds Jennifer Mattera, co-owner of Meadow View Farm in Huntingtown. "They're primarily for decoration."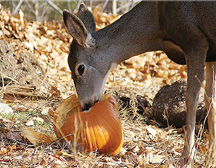 What to do with the not-so-great pumpkins?
"We throw them in the woods," says Mattera.
With no demand for the product, other farmers choose donation.
"We have some gentlemen who take our excess pumpkins to feed their cows, pigs and goats," Schillinger says.
"Our pigs love pumpkins," agrees Cindy Greenwell, co-owner of Knightongale Farm in Harwood. Knightongale has also used its excess crop to encourage baking from scratch. "We've donated pumpkins to Girl Scout troops for them to make homemade pies."
For Swann Farms, surplus pumpkins are donated to church youth groups for projects — or neighbors with a taste for great gourds.
"Friends and neighbors always stop by for a few," adds Swann.
St. Martin's Lutheran Church in Annapolis, which sells pumpkins to benefit Light House Shelter, sends its leftovers around town, donating pumpkins to the Boys & Girls Club and the Annapolis Area Christian School or giving small gourds as gifts to supporters.
This year, waste was reduced by unseasonably rainy months that caused some pumpkins to rot early.
"It's very easy for the seeds to rot," explains Greenwell. "We've always planted about Father's Day weekend, but this year we had to plant in July. So we'll have pumpkins for Christmas."
The pigs will be pleased.