Oscar and Olive Osprey
Janie Suss reports on how an osprey family spends our part of their flightful year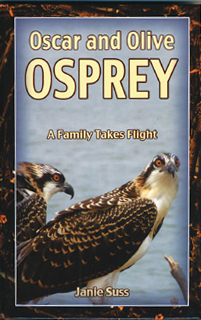 reviewed by Ben Miller
The osprey are gone now. They've headed south. Some will go as far as South America. We won't hear their calls from overhead until around St. Patrick's Day, next March 17, when they'll begin to return.
We tell the seasons by these graceful birds. Soaring above the water, they become so familiar to us that we take them for granted. Then, when we notice we no longer hear them, we know cold weather and shorter days are on the way.
Janie Suss of Holland Point in southernmost Anne Arundel County loves osprey and has become an acute observer of their lives and habits.
Her feelings and powers of observation are on display in her new book, self-published through Synergy Press, Oscar and Olive Osprey, A Family Takes Flight.
Suss lives on the water in Holland Point. With the help of her husband and neighbors, she built an osprey-nesting platform on top of a pole on her pier in Herring Bay.
She prepared to wait, but to her delight an osprey showed up the next day and began building a nest. She called him Oscar. A mate soon showed up. Suss named her Olive.
The platform was built in mid-July, too late in the season for the pair to mate and rear babies, but they had established their home.
The next year they returned. The two birds finished their nest, defended it from other osprey and hatched three chicks. Suss named the chicks Omar, Olivia and Odie.
One adult, at least, was always watching the chicks. Sometimes the parents had to protect their babies from a persistent great blue heron that Suss named Harriet Heron. All summer Suss watched as the young osprey ate fish brought by their parents, learned to fly and then dove for fish themselves.
The reader gets to know these birds and is glad when all five survive the summer and fly south.
Suss documents this season of osprey nesting and rearing with close-up photographs and words suitable for young readers. Both children and adults can learn a lot about ospreys.
To these birds Suss attributes emotion — often human emotions — that they may or may not have. Her interpretations of these emotions may please children more than wildlife behavioralists.
Nevertheless, Suss has carefully observed, recorded and photographed osprey behavior and the result is a delightful book about an icon of Chesapeake Bay and its tributaries.
Meet Suss Sat. Nov. 14, from noon-4pm at Harrison Street Books during the Waterfowl Festival in Easton. Track her appearances at www.oscarandolive.com.