The Long Road of Brundibar and Ela Stein Weissberger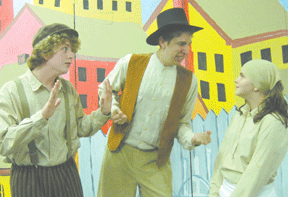 photo courtesy of Children's Theatre of Annapolis
Above: Nick Brice as Little Joe, Jeff Miller as Brundibar, Liza Bedlin as Annette.
From Terezin Concentration Camp to Children's Theater of Annapolis
previewed by Jane Elkin
Sixty-five years ago this month, an extraordinary event transpired at the Terezin Concentration Camp near Prague, Czechoslovakia. It was the 55th and final curtain for Brundibar, a popular children's operetta by Hans Kraza, featuring 20 of his protégés and fellow prisoners. After the show, Kraza — like most of the cast before him — was sent to Auschwitz and executed.
Just a handful — blessed with beautiful voices, luck and pluck — beat the 99 to one odds of extermination. One, Ela Stein Weissberger, acted in every production of the show's 13-month run. Now she is coming to Annapolis.
The Children's Theater of Annapolis is celebrating its first half century with Brundibar and an appearance by Weissberger. This play was chosen because it embodies the company's mission: "education through the arts." The anniversary also features readings and an exhibit with works from I Never Saw Another Butterfly: Children's Drawing and Poems from Terezin Concentration Camp 1942-1944.
That posthumous collection was possible because many of Prague's artistic elite taught in Terezin's clandestine school and hid student poems and drawings in suitcases, walls and floorboards. Weissberger loved the simple routine of going to school, and for her and her peers performing was an escape from a grim reality. Brundibar is now performed all over the world, and wherever Weissberger goes, she tells children that the opera's survival represents the undying spirit of her friends.
This story of teamwork and triumph is about two children raising money for their ailing mother by singing in the street. They are thwarted by the evil organ grinder, Brundibar, until a chorus of children and animals joins to drown him out. In the end, they sing and dance to a traditional Jewish song.
It's a simple tale, rich in covert imagery. The original cast thought of Brundibar as Hitler, yet this show, featured in a 1944 Red Cross film, was a highlight in the Nazi's campaign of disinformation.
Closer to home, at Children's Theater of Annapolis, it's a unifying force. A boy of Czech descent serenades his grandmother with a Czech lullaby. A Jewish boy and his mother teach the cast the Hine Ma Tov, a folk dance featured in the finale. Some children are learning for the first time how their families were affected by the Holocaust.
They all listen, they all read, and they are all excited about meeting Weissberger, who in their eyes is another Anne Frank. It's a gentle introduction to a heavy theme for most, aged 10 to 18, many of whom — as director, Kevin Wheatley, points out — "barely remember 9-11."
Playing Oct. 23 thru Oct. 25 at 7:30pm F; 2pm & 7:30pm Sa; 2pm Su @ Children's Theatre of Annapolis, Bay Head Park, Annapolis. $15 w/discounts:
410-757-2281.
---