A Sailing Town
Rosemary Williams' Maritime Annapolis
by Ben Miller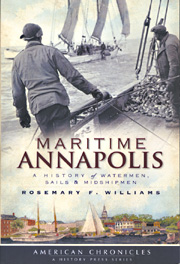 Sailors tell stories.
They even tell true stories.
Rosemary Freitas Williams, a sailor and writer, tells a number of true stories in her first book, Maritime Annapolis, A History of Watermen, Sails & Midshipmen.
She tells stories of sailors, merchants, shipwrights, fish sellers, watermen, oyster packers, pleasure boaters, naval officers and midshipmen.
Her intent was to tie these stories together.
"This is the first book with all aspects of Annapolis maritime history," Williams said.
Some of the stories are pretty gritty, such as those of the captains of oyster dredging boats in the 1880s who resorted to crimping — kidnapping or shanghaiing — men, often immigrants new to America, for their crew.
The kidnapped men were held in virtual slavery and some were said to have been paid at the boom, which meant being knocked overboard by the ship's boom and left to drown.

Williams wanted to "take the romanticism out of maritime history," she said, and to tell the stories that are "off the beaten path."
She thinks Annapolis "takes care of its formal history" in commemorating the signers of the Declaration of Independence and Annapolis' time as the nation's capital.
There has been less focus on the stories of the sailors, the boat builders and the watermen in the histories of early Annapolis because these were "second-class citizens." Yet to her, she writes in the preface, these are "everyday people doing extraordinary things."
Williams admires the watermen, especially the oystermen, who did grueling labor for long hours, often in the bitter cold.
"Watermen had hard lives. They didn't live long and lived like they didn't expect to live long," Williams said.
This work, tough as it was, offered opportunities.
Oystermen could make money, at times four times the typical laboring wage, said Williams. African Americans took advantage of these opportunities by oystering and working in packing houses. At the turn of the 20th century, the Colored Union Oyster Packing Company on City Dock was black owned.
A solid African American middle class in Annapolis was built on these water-based industries, Williams said.
Williams used some standard works in her research and she recommends these for more information: Tobacco Coast: A Maritime History of Chesapeake Bay in the Colonial Era, by Arthur Pierce Middleton; Cruising Mostly the Chesapeake, by George and Robert Barrie; Chesapeake Sails: A History of Yachting on the Bay, by Richard Henderson; Oyster Wars, by John R. Wennersten; and The United States Naval Academy, by Jack Sweetman.
She also brings from the past stories she found in the Maryland Gazette — Annapolis' newspaper from colonial times — at the Maryland State Archives.
Maritime Annapolis is enlivened by photographs, many not in print before, that Williams found at the Historic Annapolis Foundation and the Chesapeake Bay Maritime Museum in St. Michaels.
Williams is also a painter; one of her paintings decorates the cover. Some of her nautical paintings are on display at City Dock Coffee in Annapolis through October.
Meet Williams and get a copy of Maritime Annapolis Friday thru Sunday at the United States Powerboat Show (October 16-18) at the Marine Trades Association of Maryland exhibit booth. Maritime Annapolis is a 2009 paperback by The History Press: $19.99.
---