Newly Renovated, the U.S. Naval Academy Museum
Stories of ships, midshipmen and academy graduates in peace and war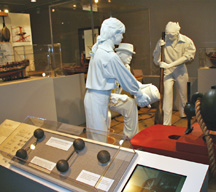 British seamen load a cannonade at the newly renovated United States Naval Academy Museum.
photo by Cathy C. Miller
by Ben Miller
There's a new museum in town and it's a good one — especially if you like ships and stories of adventure, exploration and war.
Annapolis is solidifying its claim to be America's Sailing Capital with the completion of the first of three major museum exhibits devoted to life and work on the water. (The Annapolis Maritime Museum is developing a new major exhibit, and funds are being raised to build The National Sailing Hall of Fame & Sailing Center at City Dock.)
The United States Naval Academy Museum reopened in August with a completely renovated building and brand new exhibits.
Now everything in the museum has context.
The artifacts, paintings of naval battles and ship models — once displayed as art objects — all contribute to telling the stories of the history of the United States Navy and the Naval Academy.
Each artifact displayed is "related to a particular individual or event," said museum director J. Scott Harmon.
This is appropriate. For this is, as Harmon said, "a teaching museum."
Its main purpose is to teach naval history and heritage to midshipmen.
The midshipmen's gain is ours as well. You can learn a lot here.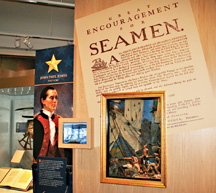 Fighting at Sea
Have you ever read books by C. S. Forester or Patrick O'Brian and become lost in the luffing and tacking during those naval battles?
In this museum, computerized animated videos show the action of major battles fought during America's wars at sea.
The videos show the ships moving through time, adjusting to the wind and firing their guns.
Watching the video of the battle between the USS Constitution under Captain Isaac Hull and the British ship HMS Guerriere under Captain James Richard Dacres, on August 19, 1812, you appreciate how seamanship and knowledge of naval tactics were the keys to the American victory.
More than 100 Tall Ships — All at Scale
The more than 100 magnificent ship models, for which this museum has long been known, are used to teach the history of life aboard ships of war.
The models are accompanied by full-size figures of men in a variety of activities, from eating on board a British naval warship to loading a cannon.
The earliest ship model was built in 1650, and every decade but one between then and 1850 is represented, to encompass the great age of fighting sail. Considering that most of the actual ships have long since rotted away, these models are the only surviving physical record.
These dockyard models were built by order of Great Britain's Royal Navy to reproduce in scale recently constructed warships. Models were rarely built as prototypes for new ships; instead, they were meant to be records of ships recently constructed.
Especially dramatic is the story of the models made by French prisoners of war, captured by the British in wars from 1756 to 1815.
The prisoners built these ship models from memory in elaborate detail using bones from their meager rations and whatever materials they could scrounge. Often imprisoned for years, they would sell the models to gain money for food and clothing.
(Ship model enthusiasts can consider joining the United States Naval Academy Ship Model Society. These volunteers meet at the Naval Academy Museum model shop on Thursday evenings and Saturday mornings. "This is for people who love the hands-on. We are doing serious work and having fun doing it," said Don Preul, curator of ship models: 410-293-5260.)
The United States Naval Academy Museum tells many more stories and uses one-of-a-kind artifacts prominently displayed and up-to-date media to tell them.
These are stories of the Naval Academy, stories of America's wars and stories of exploration on land and water and in air and space.
The stories feature people, most of them Naval Academy graduates, who have excelled in leadership. At the museum of the United States Naval Academy, excellence in leadership is a good lesson to learn.
The United States Naval Academy Museum, Preble Hall, U.S. Naval Academy: 9am-5pm, M-Sa; 11am-5pm, Sun. 410-293-2108: Admission is free. Visitors need official photo ID to enter the grounds.