Two Green Stars for The Rockfish
Environmental endeavors pay off, doubly
Two green stars to The Rockfish, the Eastport eatery owned by District 33A Del. James King.
One was earned for raising $3,725 for the Chesapeake Bay Foundation from the second annual Seafood Festival at The Rockfish on Aug. 30. John White of Compass Marketing Inc. added $1,000 to the amount collected from $5 admission fees. "Based on the turnout, the community has spoken that saving the Chesapeake Bay is a cause near and dear to their hearts, and I couldn't agree more," White said.

From left Kim Coble, Maryland executive director of Chesapeake Bay Foundation; James King, co-owner of The Rockfish; Eileen Burgess, director of sales and communications, Compass Marketing.
Thanking The Rockfish and the hundreds of contributors, Bay Foundation president Will Baker said, "CBF is in the middle of what we call the biggest fight for clean water this nation has ever seen, and to win we're going to need every single person who cares about the Bay to roll up his or her sleeves."
The second, a 2009 Green Star Award for Environmental Excellence for being selected Annapolis' Green Restaurant. The Rockfish's green measures include using local and sustainable seafood and renewable energy. An 80-square-foot organic herb and vegetable garden grows atop the roof of the restaurant. The Rockfish also plans, in partnership with The Spa Creek Conservancy, to design a stormwater retrofit for the restaurant's large parking lot. The porous concrete, rain gardens, air conditioning condensate collection, rain barrels and other features will lead to a cleaner Spa Creek. Mayor Ellen Moyer presented the official Green Star at City Hall.
–Sandra Olivetti Martin
---

Food Ways:
Summer Gardens Yield to Fall
But the frost on the pumpkin is late this year
Cornfields have given way to mazes. Tomato vines are withering away. The last zucchini has been shredded for bread. Bay Country's summer growing season has ended.
So how did our gardens grow?
"It was a challenging year for our farmers," says Dave Myers, senior agent at the University of Maryland extension office. "We had a cool and wet spring, which delayed planting and put fields under a lot more early disease pressure."
This meant lighter yields of early crops, delaying their appearance at markets.
The cooler-than-average temperatures continued into May and June. Although the pleasant weather was a treat, it was frustrating for those of us chomping at the bit to get our tomato plants into the ground. The cool start kept the soil from warming up, a must for young tomato plants to grow. Then a late blight swept through gardens, killing off tomato patches just as they should have been at their peak.
It was a tough year for tomatoes, but growing conditions were ripe for herbs, eggplant, peppers and cucumbers. And melons.
"We had late but excellent watermelons and cantaloupe," says Myers, who credits the especially sweet melons to "an ideally situated dry spell in August."
Corn and tomatoes may be sweet memories, but local farmers aren't yet packing it in for winter. Cool weather means classic fall crops at markets and farm-stands: apples, bok choy, broccoli, cauliflower, kale, salad greens, winter squash, sweet potatoes and turnips.
"It has been a nice fall," says Myers. "We have had adequate moisture and missed the normal September cyclones."
The dry autumn has produced a good crop of apples. "This year local apples have good color," says Myers.
How about fall's icon, the pumpkin?
"There has been a problem with pumpkins," Myers says. "Pumpkin fields suffered from downy mildew in the second and third weeks of August."
Even so, there should be plenty of pumpkins for Jack o' lanterns.
"We did better than our neighbors just to the north and south," Myers says. "Still, there won't be a glut of pumpkins, and prices are likely to be a little higher."
In Anne Arundel and Calvert counties, the average first light frost — the frost on the pumpkin — comes in the first week of October. The first killing frost or freeze — the one that knocks everything to the ground for the year — usually comes by the end of the month. However, it is not unusual for fields and gardens to grow into November.
Then in the blink of an eye, 'tis the season for holiday greens. But let's not rush things. Jack has yet to get his first frosting.

Our Hapless Neighbors
Cops Reel In Transient at Transom
A surprised Annapolitan called police in the early hours of Oct. 1 to report a man dangling in the water from the back of his boat. After Mark C. McCormick was pulled out, neighbors told police a series of sightings that coalesced into a more or less coherent narrative: A man had been seen loitering in a front yard, attempting to break into a home, running from dogs, heading down a pier, jumping into Spa Creek and swimming across. The now-wet McCormick was identified by his long dreadlocks and dark clothing. He was arrested and charged with first-, third- and fourth-degree burglary, malicious destruction of property and trespassing.
–from local police reports
This Week's Creature Feature
A day of play eases hard times of orphaned animals
The garden is going to the dogs — and other leashed animal companions — at Calvert Animal Welfare League's annual Pet Walk at Annmarie Garden on Saturday, October 17. The day-long fundraising event will keep both pets and owners entertained with agility demonstrations, a blessing of the animals, a pet parade and pet costume competition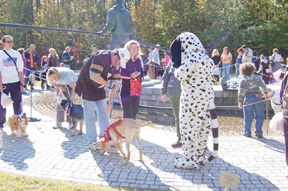 Do you have a speedy hamster? Put it through its paces in the hamster races.
Enter your favorite picture of Spike or Fluffy in a photo contest. Each entry must be accompanied by an entry form and a $5 donation. Winners announced at the Walk.
You don't need a pet to join in the fun. Last year's Pet Walk drew more than 500 humans and close to 200 pets.
All this fun raises funds to keep a roof over homeless animals in Calvert Animal Welfare League's Prince Frederick shelter, which is feeling the pinch of the tough economy.
"This has been a high-cost year for us," says board member Katrina Pruitt-Andrews. "Economic hardships force families to give up their pets when they lose their homes or have to relocate. We have seen the number of owner give-ups double in the last year for dogs."
Cats, are suffering, too, as owners abandoned them in foreclosed homes.
Since the Prince Frederick shelter opened in July of 2004, over 1,500 dogs and cats have found homes.
"Our facility is unique in that it is a local rescue group, not a national organization with big name recognition," Pruitt-Andrews says. "We are 100 percent Calvert County, run by volunteers who donate sweat and sometimes money. The local community keeps it going."
11am-3pm October 17 at Annmarie Garden, 13480 Dowell Rd., Solomons Island $10 per person; $15 per family; pets free: 410-535-9300; schedule and photo forms at www.cawl.us.