© Yacouba Tanou, YTanou Photography
Amanda Blankenship had told her mother over and over, "I'm going to dance with Max."
Dancing with the Stars
In local appearance, Max Chmerkovskiy shines even brighter in the flesh
by Simone Gorrindo
"I always said I'm going to live long enough to dance with Max," Dottie Wright beamed, pointing to her freshly autographed picture of Maksim 'Max' Chmerkovskiy, a seven-time dancer on Dancing with the Stars. "And I did."
The Annapolitan hula dancer was one of the Bad Boy of the Ballroom's five partners — and the only one plucked from an eager audience at Westfield Annapolis. The other four won the chance in a contest that's part of Westfield's month-long celebration of Crate and Barrel's grand opening.
Chmerkovskiy returns for his eighth season next week to Dancing with the Stars, where he has yet to come in first. He remains, however, a fan favorite, and his lean physique and dark Ukrainian good looks may have something to do with his popularity: Women in line for autographs screamed and hooted when he changed shirts in plain view, opting for something lighter. Few men joined the crowd.
"He's very strong," contestant Amanda Blankenship said, leaning in to explain how he had whisked her off her feet while dancing salsa.
The dance partners were a mix of novices and old hands. Grace Crovo — a fair, blue-eyed, toddler from Towson — skipped her first dance lesson to swing with Chmerkovskiy. Amanda Shirk has spent little time on a dance floor, but she flew in from Ohio that morning to nervously do the cha cha for a few short minutes. "He was very down to earth," she said. Even Pam Wood, a dance teacher at Ballroom Made Simple in Salisbury, was calmed when he took both of her hands, looked her in the eyes and asked: "Are you okay?" before leading her into an upbeat mix of East and West Coast swing.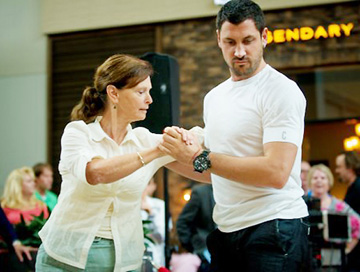 © Yacouba Tanou, YTanou Photography
Annapolitan Dottie Wright said she prayed to live long enough to dance with Max Chmerkovskiy.
After the dancing, photographers and admirers crowded the star. When a fan blinked at the blinding flash from a camera, Chmerkovskiy said: "Now imagine that times a million."
From Annapolis, the dancer headed back to Los Angeles to host the Emmys and begin production of this season's Dancing with the Stars.
The Crate and Barrel opening marks the final phase of Westfield Annapolis' $150 million revitalization. The addition of 240,000 square feet accommodates 60 new specialty stores and seven new restaurants. The month-long celebration ends September 27 with a food sampling of Westfield Annapolis restaurants jazzed up by Annapolis' Rob Levit Trio.
Simone Gorrindo, a writer of stories and poems, comes to Annapolis by way of New York City and San Francisco. This is her first story for Bay Weekly.