Art Grows in Stacey Hann-Ruff's Garden
Annmarie Garden comes into bloom at Artfest this weekend
by Margaret Tearman
With paintbrushes and warm assurances, Nevin Bossart lured passersby off the path into his woodsy artist's lair. We returned to our perambulation through Artfest artists, certified by the brilliant sunflower painted under his guidance. Around the corner, a flock of handcrafted, gaily painted birdhouses insisted a red one of their kind find a new perch in my maple tree. A bold red facemask with a cap of curly metal hair called me back a second day.
Artfest, returning this weekend for its 16th year, is Annmarie Garden's annual two-day arts extravaganza, held the third weekend in September in honor of its namesake's birthday. But in spirit it's not much different from the other 363 days of the year at Calvert County's world-class sculpture garden. Every day at Annmarie Garden is about having a good and inspired time while surrounded by amazing creativity.
"We are very purposeful at the garden," says director Stacey Hann-Ruff. "It's important to us to have fun and be fun. We want to take an accessible approach to art, to be family friendly and always have activities. We want everyone to help create art. We encourage engagement in everything we do."
Hann-Ruff believes in a good time.
Possibilities
When Hann-Ruff was hired in 2003, the 30-acre garden — the impressive gift of successful architect Francis Koenig to Calvert County in memory of his wife, Ann Marie Koenig — was more garden than art. Since its creation in 1992, a pathway had been laid through the woods, and a handful of intriguing sculptures raised. Beyond that was the signature ceramic gate that still stands, alerting visitors that something amazing is here, and one 800-square-foot building for art shows and classes.
Still, it took imagination to see the possibilities.
"The trustees who hired me stuck their necks out," says Hann-Ruff. "I didn't come with a formal background or degree in fine art, just an appreciation for it."
One of those trustees, Duane Beckhorn, who is president of the Koenig Private Foundation, saw possibilities.
"We could see she was inspired by the possibility that something could be done here," Beckhorn says. "You have to have vision, but you also have to have the practicality to make things happen. Stacey has both."
Reaction: Art That Moves You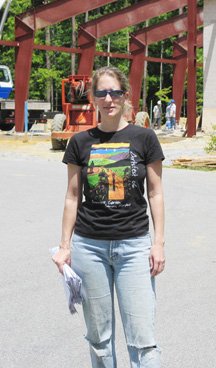 Six years with Stacey Hann-Ruff at the helm has brought big changes to Annmarie Garden. From a park with a couple of statues, it has grown into a world-class sculpture garden with more than 30 pieces.
Stacey Hann's practicality sprouted in her Indiana childhood. Her appreciation of art took root in New York City. Visiting the Museum of Modern Art, the seven-year-old came upon Vincent van Gogh's Starry Night. She's never forgotten how she and a friend "stood in front of it, holding hands. They had to drag us away. It's still my favorite painting."
A move to Virginia in her teen years was made bearable only by D.C.'s art museums.
But the teenager never imagined her grown-up self in a museum, hanging a Picasso on a gallery wall.
Instead, she earned her undergraduate degree in anthropology and environmental conservation from the University of Colorado at Boulder. From there, she followed her goal "to save the world" to the Peace Corps.
During three years in Mali as a soil conservationist, her appreciation of cultural art blossomed in the West African barrage of color, texture and sound.
"Mali is a beautiful country from an arts' perspective," she says. "All the beautiful carving, weaving, dancing and festivals. Even the language is musical. It was impossible to not appreciate the art."
Back in Indiana for graduate school, she earned her masters in cultural anthropology and met her future husband, Joe Ruff. While Joe completed his doctorate in Bowling Green, Ohio, Hann-Ruff began her career as a cultural anthropologist at the Wood County Historical Center.
By 2003, the pair of advancing young professionals wanted to be closer to their families.
"I found a job listing for curator of Annmarie Garden on the American Association of Museums job site," Hann-Ruff says. "My parents checked it out for me. They said it's just a park with a couple of statues. Why would they need a curator?"
Out of curiosity, Hann-Ruff sent her resume. Beckhorn, tasked by the Calvert County commissioners to find a curator for the fledgling sculpture garden, liked what he read.
"We got a lot of resumes from artists, but none was quite what we wanted," the Koenig Foundation president recalls. "A chap I knew told me we needed a boss, not an artist. I talked to Stacey at length on the phone, thought she was interesting and bought her an airline ticket. We spent one day together, and I offered her the job. We thought it would be better to take someone with her background and teach her about art instead of getting an artist and teaching about management."
Some Assembly Required: A Participatory Art Exhibit
Six years have brought big changes to Annmarie Garden. From a park with a couple of statues, it has grown into a world-class sculpture garden with more than 30 pieces, most on loan from the Smithsonian Institution and the Corcoran Gallery.
A new 15,000-square-foot art building opened in May, 2008. The two inaugural exhibits combined the high-end art of the Olga Hirshhorn collection — including that Picasso — with interactive fun in Reaction, a whimsical exhibit of contemporary artists and artisans exploring the theme of movement. Both exhibits would have been out in the rain without the state-of-the-art gallery that gave the garden an indoors to complement its expansive outdoors.
The early vision is coming to life.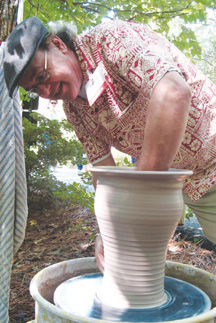 Hann-Ruff credits the garden's success to group effort.
The Garden receives funding from three sources: An annual grant from Calvert County; the non-profit Koenig Private Foundation; and Ann's Circle Inc., the garden's membership organization. Special events such as Artfest help fill the coffers, as does rental of the garden and the arts building for private events.
The Koenig Private Foundation trustees "accept the risk," Hann-Ruff says, and "that faith is very liberating. It keeps us fresh, keeps us thinking. Frees us up to be creative and explore new avenues."
The staff, she says, "makes me look good: Melissa Langley is our exhibit curator, but we change her title as needed. Jaimie Jeffrey creates our hands-on activities and is behind the Studio School. Caleb Clark maintains the grounds and has made the garden beautiful. We make a powerful team."
Regular brainstorming gives birth to the garden's continuing calendar of innovative exhibits. "I don't want to sound mushy," says Hann-Ruff, "but it is a sacred experience when you're not afraid to express an idea, no matter how silly."
Besides, silly is fun, and fun is good.
Proximity: Discoveries Near and Far
It's Hann-Ruff's job to introduce visitors — locals and travelers — to the gamut of possibility in a sculpture garden with a gallery, both devoted to fresh sights.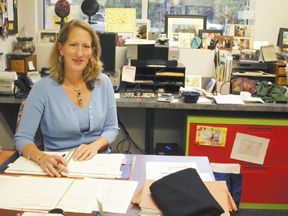 The staff at Annmarie Garden "makes me look good," Hann-Ruff says. "We make a powerful team."
Like the Woolie exhibit than ran all summer. Collector Don Berezoski of Huntingtown approached Hann-Ruff with his collection of 19th century hand-stitched ship portraits. Intrigued, Hann-Ruff tweaked the schedule to accommodate the woolie collection.
"I see the garden as the art center of the community," she says. So she strives to make it welcoming and attractive. "We invite everyone, whatever your story," she says. "Annmarie Garden is a good place for you. It is safe. We will help you find your way, even if it's just to the restroom. And find something of value."
As well as see art, Annmarie Garden invites visitors to make art. The Studio School schedules a full range of playful classes for all ages. During the Wild Things exhibit, for example, local artist Mimi Little ran a class teaching students to paint the Wild Things in their lives: their pets.
Another part of Hann-Ruff's commitment to community is support for local artists. Proximity, a show that runs through October 4, exhibits work by Southern Maryland artists.
"To give it a geographic twist, we added a map and asked visitors to put a sticker on it showing where they live. We're on our second map. We've had people from all over the world seeing art created by these local artists."
People from all over the world gather at the garden this weekend for Artfest, one of three annual outdoors events. (The other two come in the last quarter of the year: Halloween in the Garden in October and Garden in Lights in December.) Some 150 artists — from all around Chesapeake Country and all around our American country — show amazing wares. The artist in you will be coaxed out, as well. This year you can leave your mark on the Graffiti Wall in the Discovery Tent and help decorate pieces of an oyster bed with the Southern Maryland Oyster Cultivation Society.
"We do not take ourselves too seriously," Hann-Ruff says. "Heck, most of the time we're flying by the seat of our pants. But we're having a great time."
"Irreverent fun," she adds. That's what you find at Annmarie Garden.