Back with the Tide

The Maryland Seafood Festival returns to promote the bounty of the Bay
---
by Diana Beechener
---
The passing of Labor Day weekend leaves a bitter tinge on the rest of September. Long weekends and summer days fade into memory as dreary winter appears on the horizon. Last year, the shorter days looked especially bleak with the cancellation of the Maryland Seafood Festival.
The festival was one of the first events to feel the twinge of the recession, a poor economy keeping Marylanders from their September feasting and traditional crab soup cook-off.
This year the scent of Old Bay will once again waft over the waters of Sandy Point State Park, temporarily stalling the coming of winter with the prospect of one more summer feast. The 42nd Maryland Seafood Festival returns September 11-13 to the shores of Sandy Point, promising enough food, fun and Old Bay to quench your appetite.
"We heard a bunch from disappointed customers who made it clear that the seafood festival needed to return," said festival spokeswoman Ayrianne Parks.
Under new management — ABC Events Inc. bought the festival and struck a deal with the Annapolis Chamber of Commerce — the Maryland Seafood Festival promises to honor past traditions and offer new temptations.
Come for Food
To make the economy no excuse for your staying away, the festival offers a range of price options. If you want king crab treatment, purchase a VIP ticket ($75). VIPs park next to the gate, stay in a separate tent and feast all weekend for a single price.
Bargain feasters get in the gate for $10 (no seafood included), while Seafood Samplers pay $15 for all-you-can-eat from the nonprofit booths. But you'll park at the Naval Academy stadium ($5) and shuttle over.
The food focuses on regional specialties, from Phillip's crabcakes and clam fare to Red Hot & Blue barbeque. New this year: Seafood with an Eastern angle from Real Seafood Co.'s sushi bar. Nonprofits — including the Annapolis Jaycees, Arundel House of Hope, Arundelair Chorus of Sweet Adelines, Boy Scout Troop 278, Children's Miracle Network, Cub Scout Pack 496, Foundation for Community Betterment, Mt. Zion United Methodist Church, Queenstown Lions Club, Sons of Italy and Maryland Food Bank — cook for their causes, highlighting succulent seafood.
The star of the feast — and subject of the festival's most celebrated events — is the blue crab. Crack competition and crabs at the Phillip's crab-eating contest (September 12; 4:30pm). Fleet fingers and marvelous mallets prevail at Cantler's crab-picking contest (September 13; 1pm).
Saturday only help judges find the best crab soup in the Old Line State at the 19th annual Capital Crab Soup Cook-off (11:30am-2:30pm), where 19 restaurants and caterers compete in two soup categories (cream or vegetable). Eight dollars buys all the soup you can taste from such contestants as Treaty of Paris, Buddy's Crabs, Mamma's on the Half Shell and The Main Ingredient.
Come for Fun
Work off your feasting calories by scaling the Big Vanilla rock wall or with a stroll through the markets hawking nautical crafts and local knickknacks.
Two stages bring local bands Bayside all weekend. Friday, hear music from Annapolis Junction Big Band, Doug Segree, Unified Jazz Ensemble and the Kelly Bell Band. Saturday's lineup is Jack Julius, Afro-bop Alliance, Girls on Mars, Old Man Mojo, Tom Lagana Group, the Rovers, Val Nebbia Band and the Crawdaddies. Sunday brings the Old Mill High Steel Drum Band, Virgil Cane, The Geckos, Basement Band, The Rob Levit Trio and Higher Hands.
Children find fun by dressing as nautical characters at the September 12 Mermaid Parade. Before kids march, they get some royal advice from local beauty queens.
"We're pretty excited about the mermaid parade," Parks says. "Ms Maryland USA Gabrielle Carlson and Ms Teen Maryland USA Kasey Staniszewski will be there to help out."
ABC Events added more creature comforts to keep you cracking crabs all weekend at the resumed Maryland Seafood Festival. Avoid lines by settling in at Phillip's Oasis, where servers supply your seafood desires. Sports fanatics have their game while they eat at Sidelines Sandbar, which boasts HDTV sports and a stocked microbrew bar. For further libations, local wineries and breweries hold tastings all weekend.
Marylanders don't need a great deal of tempting when it comes to seafood and fun.
"I think the whole community of Annapolis loves its seafood," says Parks. "So to lose the festival was disappointing. There was a demand to come back. We've had a great response from volunteers who worked pervious years."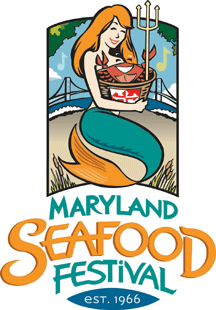 Help Stock the Food Bank
ABC Events estimates about 20,000 people will visit the festival. Parks hopes to translate those staggering numbers into another feast, this time for the Maryland Food Bank.
Partnering with Giant Foods, the festival sponsors a Stuff-a-Boat event. Instead of loading two of each species onto a boat, bring an item of canned, non-perishable food to the festival and get $2 off your admission. The food will be loaded onto a boat to be shipped to the food bank, which has been dealing with a huge increase in demand since the economic downturn.
The Maryland Food Bank also hopes you take requests: tuna fish or peanut butter.
"That's kind of an odd combination," admits Parks. "But they're good protein sources. People bring a lot of canned vegetables."
Parks isn't counting on the state of the economy to keep the crowd away from Sandy Point this year.
"Where else can you go for $8," she asks, "for the food and entertainment you'll find here?"
---
The Maryland Seafood Festival, Sandy Point State Park. 11am-9pm FSa; 11am-6pm Su. $75/VIP includes admission; $15/Seafood sampler; $10/admission: www.mdseafoodfestival.com.