Diary of a Job Search
I'm a sophomore in the hard-knocks college of unemployment
---
by Ashley Goodman
---
I was one of the lucky ones. I graduated from college with a job. Graduation day was Friday, May 16, 2008.
On Monday, May 19, I started work at a marketing company, Geopat Enterprises, which sells products through promotion campaigns.
I was trained to be enthusiastic and was assigned to sell FW1, a waterless wash and wax, at gas stations in the Baltimore area. My job was to approach people while they were pumping their gas and show them how our products worked.
I wore a black polo shirt imprinted with FW1 in red. I had my own demo can and two clean rags. And I had a speech.
"FW1 is a waterless wash and wax, and it washes and waxes your car at the same time. No water is needed. It can wash and wax your windows, your car and even your rims. Your car will stay clean for four to six weeks."

If I could impress drivers in the three or four minutes they spent pumping gas, they bought a can or, better yet, a kit of FW1 from me on the spot. Each can was supposed to be worth $25. We sold two cans for $15 or one for $10. The interior car cleaning kit sold for $40. The more cans and kits I sold, the more I would make on commission.
I loved it. I hated it.
Every morning I regretted taking the job because the hours were so long. With my hour-and-a-half commute and paying for my own gas, was it going to be worth the money?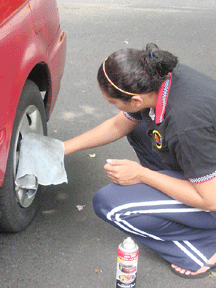 By the time I got to work, my attitude changed. I was excited and eager to learn. After two hours of motivational training and practice, I was ready to get out and sell. I felt brave enough to walk up and introduce FW1 to strangers. Even not-so-strangers. By late in my second day, the sight of a cute former classmate pumping gas didn't scare me away. He said hello, but he didn't buy.
By the end of the 11-hour day, of which at least seven were outside, I just wanted to quit, go home — and never come back.
On Memorial Day, I worked the half day and even joined in the company kickball game. When I woke up the next day, I spent half an hour getting my courage up and — with the support of my parents — I quit.
Fourteen months later, I'm still seeking my career.
Grads in Search of Work
I'm not alone.
One 2009 graduate is blaming her New York college for her joblessness and suing for the $70,000 she paid in tuition.
Only one in five job-seeking seniors from '09's graduating class had been hired by spring, according to the National Association of Colleges and Employers. A quarter of my class had jobs by graduation. The class of 2007 did way better: Half graduated with jobs.
But then so did I. Are the others still working, I wonder? It'll take a while to find out. The grads of 2008 haven't been tracked down yet, though the Institute of Education Sciences is surveying my class in the first longitudinal study of a graduating class since the grads of 1999-2000.
As a graduate of Stevenson University, however, I'm in the unplaced minority. Of 639 graduates between December 2007 and May 2008, the college is in touch with 596. Ninety-five percent are considered "placed," meaning they are working full-time or attending graduate school. Four hundred graduates are working in their field of study.
In my field, business communications, of about 100 graduates, about a quarter had in-field jobs, in businesses ranging from Advertisting.Com to the Kennedy Krieger Institute to the U.S. government. Ten were hired where they'd interned.
Why am I still careerless? I think I may be the laziest person I know. Although I give myself deadlines, I rarely make it a point to keep them.
So I'm still living at home, along with mom, dad, our cat and dog — and most of the college graduates of the last three years. Big majorities moved back home with their parents, as I did, according to Collegegrad.com, which calls itself "the #1 entry level job site."
Each year the percent is climbing: 80 percent of 2009 graduates; 77 percent of 2008 graduates; 73 percent of 2007 graduates; and 67 percent of 2006 graduates.
Three Lazy Months
Out of work, I slept and hung out with my friends, partied, took frequent naps and mastered how to be lazy. I spent all my graduation money in that month.

Jobless a month after graduation, I figured it was time to earn. I called Pirates Cove, where I had worked the previous summer. I knew I would make decent money for the summer while looking for a full-time job. I got hired as a waitress.
Waiting tables made me enough money to hold my own through the summer. My job search was small. I didn't try hard because I was still exhausted from school and wanted more time to myself.
Of course, my parents were pressuring me to find a job. They want me to be out on my own, and so do I. My own apartment — even better, a house — is a goal I can relate to.
Getting Off of that Thing
During my senior year in college, I had been so relieved to finally be finishing school after 17 years that I didn't prepare myself for working life. I didn't see counselors or visit the job placement office. I went to a few job fairs and put my resume on job search engines such as Monster, CareerBuilder and IHirepublishing.com. But I was more focused on passing my classes.
Now I had to focus on money, and that got me motivated.
When summer ended, business slowed down at the restaurant. I went from working five days a week to three.
So I forced myself to stay home more and revive my job search.
For entire days, I researched jobs and newspapers and magazines online, looking for any kind of publishing or freelance job and anything else where I might use my degree in business communications. Leads were slim. Most of the jobs from the search engines were low paid and far away. From my experience at the Geopat, I knew that that was not was I was looking for. I didn't want to trust my living to commissions.
Locally, I called The Capital and gave my resume to a coworker of my dad, who knew someone at the newspaper. But journalism had slowed down too, and The Capital was hiring only route drivers. I didn't need my degree to drive a paper route, and I was still hoping to use the college degree that I expect to be paying for far into my future.
Interviewed at Last
CareerBuilder is one of a couple of job search engines I used. Job search engines are how many people find jobs nowadays.
Job search engines are online, impersonal employment agencies. You begin by searching for job locations and categories, modified by key words like entry level. You can also upload your resume and hope you'll be recruited, again by key words, like journalism, photography or, in my case, business communications.
Searching for jobs where I could use my class in photography plus my two years' experience in customer service at Pirates Cove, I found Portrait Innovations and sent my resume. I was excited that I could be working in a portrait studio, possibly taking pictures.
By mid September, I had an interview with Katie Lenderman, a recruiting manager who'd phoned me. Over the phone she pre-interviewed me, then set up an interview at a studio in Waldorf. I was nervous and excited at the same time. But I'd prepared myself by writing my answers to the potential questions we'd been told to expect in my careers class. I'd even practiced with my aunt. I said ummm too often and sometimes lost my words, but on the whole I thought the interview went well.
Later the next month I received an email saying that I didn't get the job. I sulked, but not for long. The experience of the interview would help me move forward, I told myself. I figured that one interview wouldn't be all. And it wasn't.
On the Interview Treadmill
Two weeks later, Christine Kamsik, a recruiting manager for Sherwin Williams, found my resume on CareerBuilder. This time, the job was for a management-training program. Again the recruiter phoned me for an interview.
She booked me for a second interview at a store in Annapolis and emailed me questions to ask when I met the manager. I learned a lot about how the store worked and what a manager did, but at that point I didn't see my future in paint.
Eventually, I came across a copywriting position on the search engine Working Abroad. It was a paid internship for the KOECH Corporation, which exports natural products from Peru. I'd be living in Peru for a year, sharing an apartment with three other interns. The pay was just enough to live on. But I thought the experience would be worth my while.
Since the position was in Peru I had to do another phone interview. This interview was difficult. I spoke with a man named Alfredo, and his accent was very heavy. I could barely hear as he asked me questions about my writing skills and the classes I took in college.
After that first interview, we never talked again.
I felt more hopeful about Media Plus Consulting, which recruits and trains international sales representatives. For months I had been sending my resume to the company. Finally I received an email invitation to set up an interview. But I would have to pay my own way to Atlanta for the interview. Sadly, I gave up that opportunity for lack of money.
Careerless at Christmas, New Year's Day and Valentine's Day
By the holidays, my parents were concerned they'd have me at home forever. Both my mother and father served in the military, as did both their fathers. Now they were putting pressure on me to join the Air Force.
I didn't have a passion for joining, but neither did I have a good excuse or any better lead. My mom even suggested the Peace Corps as another way to travel, get experience and help pay off my student loans.
My mother wasn't the only person thinking about the Peace Corps: applications are up 16 percent, reports Sara Lipka, writing in the Chronicle of Higher Education.
But my heart wasn't in either the Air Force or the Peace Corps, and that upset my parents deeply.
I considered substitute teaching, like my best friend, who's been substituting since her junior year of college in the school where her mother works. I researched how to become a substitute and eventually came across Prince George's County Teaching Fellowship. I read over the website and filled out applications. I even signed up for an information session. But this, too, was another dead end. My college grade point average was not high enough for the fellowship.
I was frustrated with dead ends. The Monday after Thanksgiving, I started a seasonal job at the mall, but after the holidays, my hours were few. By January, the restaurant business was so slow that I lost all my hours there.
Moving Forward
Anger was replaced by determination. I set a goal to have a job by my birthday, March 1. I had two months.
In mid-February, I went back to Pirates Cove. First I was hired as an expeditor in the kitchen. Soon, I was also waiting tables again. With two jobs I was beginning to make some money. And I stumbled into a little hope.
The day I asked for work at Pirates Cove, the manager had seen an ad in Bay Weekly seeking interns. With his advice, I emailed my resume. Within two weeks I had an internship at Bay Weekly. My first day was the day before my birthday.
Afterward
I'm working and learning, applying the skills I gained in college — research, photography, writing and working with computers — in the real world at Bay Weekly. I'm more hopeful because I've learned that 73 percent of recent grads with jobs had worked as interns. But I still owe almost $80,000 in college loans, plus phone and car bills. And I'm still living in my parents' house.
A year after graduation, I have a little bit of money — enough to pay $50 a month on my loans and enough for a week in Florida. And I have a little more experience in job hunting and in disappointment.
"Keep moving forward," I tell myself, borrowing the motivational slogan from the movie Meet the Robinsons. Anyway, I can't go back. It may take me longer than I expected to find my career, but the only way is to keep moving forward. I've got my life to put together and to live.
---