Log On to Find Lost Pets
An Anne Arundel County website keeps Rover from roving too far
Anne Arundel County is testing the theory that you can find anything on the Internet. The county's homepage contains a Lost Pets section, where concerned pet parents can report their missing animals.
County Executive John R. Leopold — himself the owner of a Himalayan cat and a Labrador retriever — proclaimed the web page a success, citing 25 animals returned to their owners thanks to the site.
The page isn't only for lost animals. Good Samaritans can report found animals as well. Two separate lists hold a registry for lost or found pets throughout the county.
Most recently lost (August 14) is Jackson, an eight- to 10-pound black Chihuahua.
Most recently found (August 13) is a 50-pound, very friendly female rottweiler, wearing no tags.
So far over 400 countians have viewed the lists, and the county executive hopes even more will check the registry and help bring prodigal pets back home.
To view the lists or post a notice: http://www.aacounty.org/AnimalControl/index.cfm.
At the same site, you can also find a new homeless animal to bring into your family, at Featured Pets of the Week.
–Diana Beechener
---
To See Them Is to Love Them
Homeless dogs find publicists in Calvert 4-H'ers
Formerly known as homeless, 28 dogs have a new roof over their heads — and a new lease on life — thanks to the innovative thinking of a handful of compassionate Calvert 4-H'ers.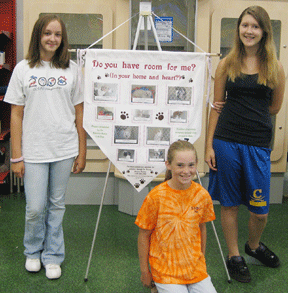 Reverie Acres 4-H members Amanda Shrawder, Casey Denton and Christina Bassett.

In June, the Reverie Acres 4-H Club committed to help find homes for the dozens of dogs awaiting adoption at Tri-County Animal Shelter. Working with Prince Frederick Petco and the shelter, the group of middle and high school students designed a banner filled with pictures and descriptions of the homeless dogs.
"There are a lot of dogs not being adopted because people don't think to go to the pound to find a dog," said 12-year-old 4-H'er Casey Denton. "So we thought with a banner we could post pictures of dogs currently up for adoption so people can see them."
The banner is updated weekly.
"On Friday we go to the pound," Denton told Bay Weekly. "We work on the non-quarantined side and take pictures of all dogs. We add their description to their picture and hang the banner at Petco in Prince Frederick."
It's a win-win project. Shelter dogs are adopted and the youngsters learn the value of teamwork, recordkeeping, communication and community service: all lessons 4-H emphasizes.
"4-H is the oldest youth organization in the United States," explained Elaine Long Bailey, 4-H youth development educator in Calvert County. The organization began early in the 20th century, as modern technology challenged traditional farming methods.
"Kids were seen as a conduit to transfer technological advances in farming to adults," Bailey said. "The kids could show the older farmers how to update farm-management practices."
In this century, 4-H is more than farming.
"In our county program we have everything from animals — including livestock, horses and dogs — through oysters," Bailey said. "It is a vast program with new opportunities in science, engineering and technology. We have clubs on computers, robotics and rocketry."
Year-old Reverie Acres 4-H club has eight members, including Casey Denton. The club works with other animals but emphasizes rescue dogs.
"Our project is helping dogs, keeping them from being euthanized," Denton said. "I think it teaches people to not keep breeding dogs, because there are already so many."
They hope to keep up the banner as long as there are dogs needing homes.
Information? [email protected].
–Margaret Tearman
---
Our Hapless Neighbors
Dog rescued from the drink
A dog made a fourth in a boating party that ended soggily but not tragically last week …
The human survivors were clinging to the overturned hull of their boat when they were rescued.
What about the dog? Was he clinging? Wearing a lifejacket?
Reports were silent on those salient facts, and Natural Resources Police spokesman Brian Albert had not been at the scene so he could not further specify. But he could speculate.
"The dog was probably swimming," he said. "If it was a Labrador or Chesapeake Bay retriever, it could swim a long time. A lot longer than a human," Sergeant Brian Albert said.
Nonetheless, the first rescuers on the scene pulled out the dog along with two humans. The fourth capsized boater was left clinging until a second rescue party arrived.
–Recent report from Natural Resources Police
---
Our Creature Feature
Twitter enters Maryland's black bear hunt
"Everything you ever wanted to know about the black bear" is promised at http://twitter.com/mdblackbear. But the new micro-blogging website has a way to go to live up to its promise. So far, it's broadcast only 10 tweets to about 150 followers.
Ah, but to come are great things: Followers, we're told, will "find out about the history of black bear hunting in Maryland, read testimonials from hunters in the 2008 hunt and even get a handy guide to hunting black bear."
All in 140 characters, max.
Better still, promoters say: "Harry Spiker, DNR Black Bear Project Leader, will be tweeting tips, status reports and actual hunting results each day directly from the field."
The big news to date? There's still time to join the hunt … and follow all the exciting tweets to come.