Lives along the Water
Four books on the Bay, rivers, islands and hurricanes
by Ben Miller
Water shapes our lives in Chesapeake Country. This month, I've chosen four books that show us how. Three are histories of people; one is a personal history, as well. The fourth documents the history of hurricanes and the destruction they caused.
All show how living on and by the water has affected our culture and history.
Waiting for the Big One
Could a Category 5 hurricane come roaring up Chesapeake Bay to make a Katrina-like landfall in Annapolis? It could happen, but probably won't.
Could a hurricane make landfall in Florida or the Carolinas and track north with rain and winds spawning floods and tornadoes that kill people and cost billions of dollars to repair the damage? This could happen, has happened and almost certainly will again.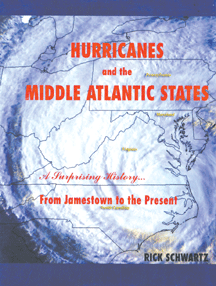 As Rick Schwartz demonstrates in his book, Hurricanes and the Middle Atlantic States, A Surprising History … From Jamestown to the Present, hurricanes have struck Maryland, Delaware, Pennsylvania, Virginia and North Carolina time and time again, doing terrible damage.
Hurricanes tells the history of individual hurricanes — their wind speeds, where they traveled, how much rain they dumped — and the stories of people, some who witnessed them, some who died in them.
We tend to remember the last one — Isabel in 2003 — and forget the rest. The surprise in this book is how many hurricanes have come over the centuries.
A storm called the Independence Hurricane tore the roof off the Maryland State House in September, 1775.
The names of other hurricanes evoke the damage they did: The Great Chesapeake Bay Hurricane, September, 1769; the Great Coastal Hurricane of 1785 in September; the Great Coastal Hurricane of 1806 in August; the Great October Gale, October, 1878; the Great Tempest, August, 1879; and the Great Atlantic Hurricane, September, 1944. That last one sank both a US Navy destroyer, the USS Warrington, with the loss of 248 men, and two US Coast Guard cutters, the Bedloe and the Jackson, with the loss of 47 sailors.
In 1950 the Weather Bureau began assigning names to hurricanes, with female names introduced in 1953, and alternating male and female names in 1979.
Some names particularly stand out in Chesapeake Country: Hazel (October, 1954) devastated chicken farming on the Eastern Shore and knocked down 250 tobacco barns in St. Mary's county. Connie (August, 1955) sank the sailing cruise boat the Levin J. Marvel anchored in Herring Bay, killing 14 people.
Agnes (June, 1972) "still haunts the Chesapeake Bay," says Schwartz. Massive runoff from flooded rivers and streams turned the Bay "into a garbage dump" of trash, oils, chemicals, toxins, sewage and sediment. Torrents of fresh water altered the Bay's salinity doing more damage. Oyster beds died and underwater grasses suffocated. In some ways — with the same stresses continuing under normal conditions —Chesapeake Bay has yet to recover.
Isabel (September, 2003) sticks in people's minds for surging tides that inundated houses and streets. Annapolis recorded a tide that peaked at 7.58 feet above normal, sending water through the streets. In North Beach, Blake Harper saw waves that "looked like the surf at Cape Hatteras."
Not only coastal areas like our own have suffered from hurricanes. Floods caused by torrential rains have coursed through the mountains of western Virginia and the farming valleys of Pennsylvania. Tornadoes generated by the storm have struck far inland.
Yet one of the quotes in Schwartz's book, from a resident of Virginia, is that "Hurricanes don't happen here."
This book is a needed corrective to that misapprehension. Schwartz saw that other regions had books documenting hurricanes, but not the Mid-Atlantic. He waited for one to appear, then decided to write it himself.
The book features remarkable interviews with people who experienced the often-tragic events firsthand. There are scores of photographs of hurricane damage gleaned from historical societies.
Schwartz told me that Isabel changed some minds about how safe they were from hurricanes.
"It was astounding the destruction of homes on the waterfront," he said.
Could a storm like Isabel happen again? Yes, says Schwartz. "Isabel was not a fluke. It was a rare event, but not a fluke."
In fact, this area is due for a hurricane, Schwartz says.
"We're in the midst of a 20- to 25-year hurricane cycle that began in 1995 and have been beating the odds for many years."
While the Gulf Coast has been pounded during this period, the Mid-Atlantic region has escaped with little activity.
"This area is due," said Schwartz. "You'd be crazy not to have flood insurance."
(Most standard homeowner's policies do not cover floods. Ask your insurance agent about the National Flood Insurance Program.)
2007 hardback by blue diamond books: $32.95
---
Seeing People on a River
Writer Alison Kahn and photographer Peggy Fox visited the towns and villages along the Patapsco River — upriver and down river from Ellicott City — to capture a past and a place through photographs and the recollections of people they met.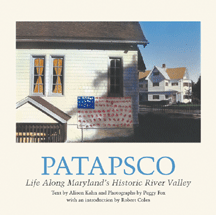 Their book, Patapsco, Life Along Maryland's Historic River Valley, shows a rural heritage of American small towns and an industrial past of water-driven mills.
The arresting images show the people, buildings and landscapes of Oella, Ellicott City, Elkridge, Relay, Daniels and other communities perched along the Patapsco.
Most evocative of another era are the interviews:
Margaret 'Hazel' Wallenhorst of Oella:
"I went to work when I was 15 in the rebuilt mill [W. J. Dickey and Sons]. We worked 10 hours a day, five days a week — and five and a half hours on a Saturday. And I made 19 cents an hour. You were supposed to be 16, but they let a couple of us sneak in and, when [authorities] came around to check, we hid in the washroom."
The Reverend Monroe Simms, Pastor, First Baptist Church of Elkridge:
"There was double procedures there in Elkridge. The procedure was that if you were white, you could come into the soda fountain area and drink out of a glass. If you were white and you wanted to take that soda out, you paid two to five cents for the cup. But when a black came in, they didn't drink out of the glasses, they drank out of the paper cups — free, whether five cents, two cents, whatever it is."
Patapsco, Life Along Maryland's Historic River Valley helps preserve the living history that hugs a river just off our busiest highways.
2008 hardback by the center for american places at columbia college; university of virginia press: $50.
---
Islands of Memory
We can't remember all the moments of our lives. All we can do is to plumb our memories, repeat our stories and write things down.
Frances Kolarek tells her own stories and those of others in her new book, Vanishing Islands, A Story of History's "Invisible People" on Islands in the Chesapeake Bay, How They Lived and Worked and Played.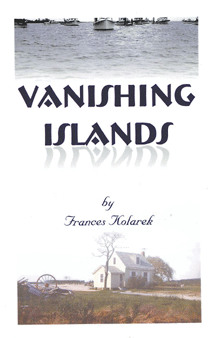 Kolarek, 91, wanted to record these stories before the people and their memories disappear. She writes that she felt a calling to do this: "I still fear that tomorrow's fire will die if I do not tend yesterday's embers."
Kolarek tends yesterday's embers in Vanishing Islands, her first published book.
The islands in Kolarek's book are Sharps and James Islands, which are just about gone; Poplar Island which is largely rebuilt; and Taylor's Island, west of Cambridge.
Taylor's Island is the community that Kolarek knows best. She and her husband Joe bought a house there in 1960. In early years, Taylor's Island was a retreat for a couple often overseas for the Foreign Service. They moved to the island in 1975. In 1987, Joe died of lung cancer. Frances lived there until 1991.
She describes her last summer there and her hopes for the future in a tale of a black snake. Boys crabbing on her dock discovered the snake, which she knew as Henry. After rescuing the boys from Henry, and Henry from the boys, she stared at the snake, which had just shed its skin.
She thought of other snake skins she had found tucked in the attic and cellar of her home.
"I found a lesson I tried to use in my own life. Every year the snake leaves his old skin, struggles away from his former self, and becomes a new-born creature. He doesn't look back; just catches his breath, as Henry was doing, smoothes the wrinkles from his new person and moves along.
"I knew this crabbing party would be the last one from my pier. I knew I was shedding this happy, comfortable country life for another new life, leaving the old skin behind.
"And I hoped I could do it with the grace and dignity of Henry."
Kolarek's short essays on history are interesting, but most powerful are her stories of her own life.
2008 paperback by heritage books, westminster, maryland: $22
Solomons and Broomes Islands
Islands in a River, Solomons and Broomes Island, Maryland is a comprehensive chronicle of two Calvert County communities that made their living on the water.
Illustrated by black and white photographs — many provided by the people and their ancestors featured in the book — is a detailed history of communities that have changed greatly, yet retain the character given them by their founders and long-time residents.
Islands in a River, Solomons and Broomes Island, Maryland is compiled by Richard J. Dodds, a curator at Calvert Marine Museum, which produced the books as part of its mission to document and preserve Southern Maryland maritime heritage.
Reading it as a narrative can be taxing, but browsing rewards a curious reader with rich nuggets of times past.
2008 paperback by calvert marine museum: $15.95