Fish Are Biting
They're biting all over the place. Summertime catching is as reliable as it gets, particularly off the mouth of the Chester for rockfish. Perch, big spot and some rockfish are in the usual haunts: Belvedere Shoals, Snake Reef, Podickery, the Bay Bridge, Dolly's Lump, Hackett's, Tolley and Thomas Point Light. Crabs were a bit light after the last full-moon shedding but they're fattening up fast. The shallow water surface bite isn't yet reliable, but it should in the next few weeks.
Return with Lee Nhare
to the Golden Years
Meet a life-long fisherman and the Atom Plug
This column started with a letter from Edgewater. Lee Nhare, a fellow light-tackle rock fisherman, wrote to say that he enjoyed my column. As I read further into his message, I realized how special this letter and this man were.
I called, and Lee invited me over to his apartment for a chat. It turned out that he had a fascinating life story.
Born in 1929, Lee Nhare began his striper fishing career at age 12 during the Golden Age of Surf Fishing on the Atlantic Coast. Striped bass and bluefish were large and plentiful; pollution and over-fishing unheard of.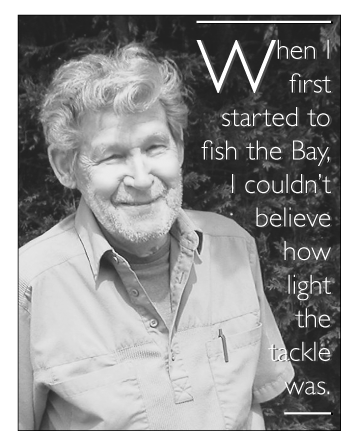 Growing up in Massachusetts near the Cape Cod Canal, Lee was in the right place at the right time. He also had one more advantage. His step-dad was Bob Pond.
On Plugs and Poles
Not many people recognize that name today, but back then Bob Pond had just turned the surf-fishing world on its head with his creation of the Atom Plug. It was one of the first saltwater lures specifically designed for big striped bass and surf casting. And it was a world beater.
Originally created of wood, it was a large, four-ounce, round-nosed, tapered floating plug with a metal lip that made the lure swim down and side to side. Most importantly, it had a heavy wire harness running through its body, securing heavy-duty stainless steel hooks. No giant striper or bluefish could tear the hooks out of the Atom Plug.
Surf rods in the those days were Calcutta cane, usually 12 feet long and sturdy enough to heave four to eight ounces of bait or plug out over the North Atlantic surf. Reels were tough Penn Surf Masters and Squidders, spooled with heavy-test Cuttyhunk linen fishing line. Even then, they were barely a match for the wild, sea-run stripers that often hefted over 40 pounds and bluefish that reached 25.
Fishing with the Atom Maker
In Lee's earliest years of fishing, he often peddled a World War II-production Victory Bicycle along the Cape Cod Canal, shadowing and casting Atom Plugs to schools of 20-pound stripers as they smashed baitfish high into the air.
Lee went out often with his step-father as well. Bob Pond was just in his mid-20s and led a very active life.
"The best day fishing I ever had was one night with Bob at the end of the Cape Cod Canal," Lee told me. "We were out on a string of enormous rocks in the dark and getting fish after fish, 25 to 35 pounds. Finally Bob called it time to go, and I realized that the tide had come in and the rocks were almost covered.
"I grabbed hold of the end of my step-father's surf rod as we trekked back in over the massive boulders because it was so dark I could barely see. I didn't weigh much then, about 90 pounds, and in my chest-high waders, with the surf surging high around me, Bob just about towed me back to the shore. We carried home well over 100 pounds of stripers that night."
On to the Chesapeake
Lee joined the Marines at 17, just as the war was winding down. His duty station assignment became Washington, D.C., and he married an area girl and raised two sons and a daughter. That's when he started fishing the Chesapeake.
"When I first started to fish the Bay, I couldn't believe how light the tackle was," Lee said. "I was used to heavier stuff." But he soon adapted to the scaled-down equipment. The Bay was teeming with rockfish in those days, and limits were generous.
Lee still fished often with his step-father, who came down to Maryland to visit and catch Chesapeake stripers. Lee opened his own sports shop, Outfitters Fishing and Gunning, in 1977 in Edgewater. It prospered for a few years, till a poor economy caused its closing.
Slowed down a bit now by his 80 years, Lee still spins a great fishing story, and he sent me home with a few Atom Plugs.
© COPYRIGHT 2009 by New Bay Enterprises, Inc. All rights reserved.