Summertime, and Eating Locally Is Easy

Taste-tested recipes from ingredients you can pluck

from your garden or buy from your neighbors
by Sandra Olivetti Martin and Margaret Tearman
You don't need a state-supported campaign to tell you that with high summer, the eating is good.
Earth is bursting with ways to please us. The corn in the fields tells you that it's time to eat. Nodding sunflowers at roadside farm stands repeat that this is the season. At farm markets, tangy tomatoes and sweet peaches add the exclamation point of taste to Maryland summer.
Yet those are just the basics of our bounty. Vegetables ready for our tables span the alphabet. Asparagus and arugula have had their season, but apples are just ahead. Zucchini is so abundant it threatens to take over the state.
From the Bay, crabs and fish are reaching their peak. Even oysters are plentiful and wholesome, now that aquaculture has broken the R-month taboo.
Chicken remains Maryland's No. 1 agricultural commodity, with most of our farms supplying the chicken giants: Purdue, Allen, Mountaire and Tyson's. But specialty producers are making headway with delicious, small-scale, pasture-raised beef, pork, lamb and goat.
Maryland producers are mastering cheese and wine.
In short, farmers have discovered diversity, and they're marketing it creatively.
"What we have is an evolution back to multi-discipline farming," explains Ginger Myers, director of the Maryland Rural Enterprise Development Center. "Most small farmers are now producing a number of things, much as their grandparents did."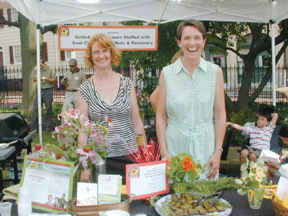 Margy-and-Sarah-O'Herron.

Diversification, in turn, is driven by two more forces: Demand, which means what you and I want to eat; and direct marketing, which increases farmers' profit by reducing the number of buyers between their hands and our tables.
To keep our appetites and Maryland farmers in harmony, there is indeed a state campaign: The 2009 Buy Local Challenge.
For a week, July 18 to 26, the challenge urges all Marylanders to add at least one locally grown, produced or harvested product to our meals each day.
To add the icing to the urging, Gov. Martin and Judge Katie O'Malley asked Marylanders for their best recipes using ingredients grown or produced locally. From more than 60 submissions, 15 recipes — appetizers, salads, main dishes and desserts — were served at a cook out on the lawn of Government House. For each recipe, a local preparer paired with one or more local producers.
Cooks ranged from executive chefs beribboned with stars and honors to caterers to a dot.com proselytizer to a 16-year-old Calvert County culinary arts student, Edward Bowen. Producers ranged from oyster-culture pioneers to vintners to cattle ranchers — both goats and red Angus beef were represented — to an 11-year-old Calvert County swine farmer, Katie Burroughs.
Eating local is "better for your health, your plate and the planet," Governor O'Malley told his guests — at least the ones who broke away from feasting to listen.
In terms of your health and the planet, cutting out distance by buying locally shrinks your carbon footprint by reducing your own travel and the travel of the food you buy. Cleaner air means a cleaner Bay and healthier creatures, including your family.
Katie O'Malley judges a Choptank sweet oyster rather than the usual case.
So far so good, but let's talk taste.

"If Lisa Jones-Raymond of Dogwood Farm grows a tomato next door and brings it over, it's at least three to four days fresher than if it came from California or Florida. There's where the taste difference comes," says David McCallum, executive chef of Tilghman Island Inn, whose menu has localized over the last 15 years to about 50 percent.
"Buying locally also stimulates chefs to be more creative," McCallum says, "because you base your menu on what's available."
Testing taste and creativity for Bay Weekly at the governor's Eat Local Cook Out were editor Sandra Olivetti Martin and writer Margaret Tearman, who lived a year on an all-local diet (except for eating out and such commodities as avocados and coffee).
We ate it all and found it good.
Now, here's a taste of our favorites. We're including one recipe per category. You'll find all 60-plus, along with a few O'Malley family favorites, online at www.marylandsbest.net.
Appetizers
Full of flavors from the Bay and the fields, four appetizers whetted our appetites.
Squash Blossoms Stuffed with Ricotta
Chef Craig Sewell of A Cook's Café in Annapolis teamed with Davon Crest Farm in Talbot County and Spring Farms in Baltimore County to serve squash blossoms stuffed with ricotta cheese, cooked in sungold tomato oil.
Squash blossoms are delicious but delicate, yet Chef Sewell's recipe makes the preparation simple. Plus, eating the blossoms at this stage means fewer squash to creatively cook and consume down the road, so I'm collecting blossoms.
1 dozen squash blossoms
1⁄2 cup fresh whole milk ricotta
2 tsp egg
1 scallion, thinly sliced
Pinch grated fresh nutmeg
Kosher salt and coarse ground black pepper
2 tsp olive oil
1⁄2 cup Sungold tomato oil
Sungold Tomato Oil
1 lb Sungold cherry tomatoes
1⁄2 cup olive oil
8 fresh basil leaves
1 tsp Kosher salt
Place all ingredients in a blender and chop well. Strain.
1. Remove stamen by gently opening blossoms and twisting until they separate.
2. Mix ricotta, beaten egg, thinly sliced scallion, nutmeg and seasoning in bowl.
3. Using small spoon or butter knife, stuff each blossom with 1 1⁄2 tsp of filling.
4. Place stuffed blossoms in heated pan with olive oil and sauté approximately 2 minutes. Turn with tongs; cook 2 minutes on other side.
5. Drain on paper towels slightly, then arrange on a plate, drizzled with Sungold Tomato Oil.
Grilled grape's leaves stuffed with goat cheese, pine nuts and rosemary won raves for chef Margy O'Herron from Montgomery County. Sister Sarah O'Herron's Black Ankle Vineyards supplied the fresh grape leaves and the 2007 Bedlam pairing. Cherry Glen Farm of Montgomery County produced the chevre.
Crab salad with corn relishf rom Mason's Restaurant in Talbot County.

For their Crab Salad with Corn Relish, Chefs Danial Pochron and Matthew Mason from Mason's Restaurant in Talbot County rolled Maryland crab in thin slices of fresh cucumber and garnished the sushi-like bites with sweet corn relish and gazpacho sauce. Davon Crest II Farms, also of Talbot County, partnered with the chefs.
Aquaculturist Kevin McClarren from Marinetics Inc. in Dorchester County shucked bushels of his Choptank Sweets for Executive Chef David McCallum from Tilghman Island Inn. McCallum offered the oysters three ways. Warm toppings were two: Corn, Crab and Bacon Oyster Topping; and Grilled Zucchini and Yellow Squash with Parmesan.
Chilled oysters, perfect for a hot summer day, were topped with either Heirloom Tomato Salsa, from vegetables fresh from Dogwood Farm; or Fresh Cocktail Sauce, substituting chopped fresh tomatoes for catsup.
Salads
Of the dozen recipes submitted, two were served at the Governor's Cook Out. Seared Buffalo Strips over field Greens and Caramelized Onions with a Blue Cheese Vinaigrette made from a Reduction of Solomons Island Mendana — well, it was delicious and made good use of a local wine. But it's a lot easier to get local with Kent County chefs Eileen and Michael Jacobson's Locally Grown Potato Salad. So easy, that I've already done it, modifying ingredients to my own location, including my herb garden.
Locally Grown Potato Salad
2 lbs. Priapi Gardens baby potatoes
1⁄4 cup chiffonade Priapi Gardens basil
1⁄2 cup chopped Priapi Gardens green onion
1⁄4 cup Cedar Run Farms bacon, cooked and chopped
1⁄2 cup Brunoise celery
11⁄2 cup homemade mayo
1. Cut potatoes into uniformly sized halves or quarters.
2. Place in cold water and bring to a boil.
3. Cook until tender, drain and cool.
mayo
2 whole Cedar Run Farms eggs
1⁄2 tsp salt
1 tsp Dijon mustard
1 cup olive oil
Juice of one lemon
White pepper to taste
1. Place all ingredients (except oil and pepper) in food processor.
2. Blend, slowly adding oil until thickened.
3. Add fresh cracked white pepper to taste. Chill.
4. Combine all ingredients; salt and pepper to taste.
Main Dishes
It was hard not to fill up on the scrumptious early courses, but we left room to try each of the featured six main dishes. Maryland seafood was the main ingredient in the Pan Seared Rockfish and Eastern Shore Crab Roll. Antietam Chicken and Slippery Dumpling Stew would suit a chilly winter day. But we favored the meat: red Angus beef, homegrown pork and goat. Yes, goat.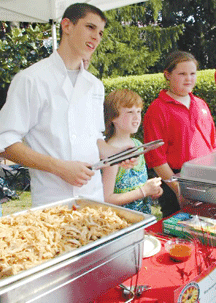 Edward Bowen, a 16-year-old culinary arts student at Huntingtown High School, serves his barbeque pork, raised by 11-year-old Katie Burroughs, right. Jacqueline Bowen, middle, helps.
From Washington County, chef Natoma 'Cookie' Vargaso made young milk-fed goat our new favorite meat in her Cabrito Sliders, or small burgers of ground goat and chorizo from Many Rocks Farm, topped with gouda from Caprikorn Farms, and finished with Eggplant Spread.
From Talbot County, Rags to Riches Caribbean Beef was equally delectable. Chef Michael Rock from Out of the Fire Restaurant braised short ribs from beef rancher Steven Harris' pasture-raised red Angus, then topped the tender meat with Caribbean BBQ Sauce and paired it with Sweet Corn Custard.
Closest to home, two Calvert County kids collaborated on a summertime classic you can do yourself with little travel and not too much work.
The chef is Edward Bowen, a 16-year-old culinary arts student at Huntingtown High School. The barbecue recipe is his; the slaw recipe was his grandmother's.
The pork was raised by 11-year-old Katie Burroughs, who's such a natural that her family has formed a farm around her efforts. Her pork is now sold by order, but the family hopes by fall to add retail sales at Bowen's Market in Huntingtown.
Barbeque Pulled Pork with Cole Slaw
Dust
1⁄4 cup paprika
1⁄8 cup kosher salt, finely ground
1⁄8 cup sugar
1 tbsp mustard powder
1⁄8 cup chili powder
1⁄8 cup ground cumin
1 tbsp ground black pepper
1⁄8 cup granulated garlic
1 tbsp cayenne
Glaze
2 cups apple cider vinegar
2 tbsp dark brown sugar
1 tbsp canola oil
1 tbsp sea salt
1 tbsp chili powder
1 tsp cayenne
Barbeque Sauce
1 cup ketchup
2⁄3 cup seasoned rice vinegar
1⁄2 cup apple juice or cider
1⁄4 cup apple cider vinegar
1⁄2 cup packed brown sugar
1⁄4 cup Worcestershire sauce
2 tsp prepared yellow mustard
3⁄4 tsp garlic powder
1⁄4 tsp ground white pepper
1⁄4 tsp cayenne
1⁄3 cup real bacon pieces
1⁄3 cup peeled and grated apple
1⁄3 cup grated onion
2 tsp grated bell pepper
Pierce 10 pounds of pork all over with a fork and season with Dust. Pierce again to penetrate. Place the pork in a pan, cover, and refrigerate overnight. Remove the meat from the refrigerator and let it come to room temperature. Heat smoker to 230 to 250 degrees. Cook the meat indirectly for eight-12 hours. After an hour and thereafter every 30 minutes, mop the meat with Dust. Turn to avoid hot spots. Once the meat has reached an internal temp of 185 to 195 degrees, brush on sauce, then cook for 10 to 5 minutes, repeating as desired to glaze. Remove pork to rest for 20 minutes. Remove bone, pull apart and serve with coleslaw and barbeque sauce on the side.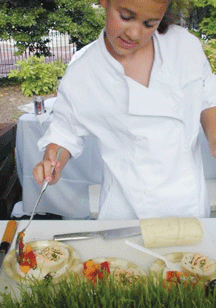 11-year-old junior chef Tillie Saylor plates fresh watermelon salad.
Cole Slaw Dressing
1⁄3 cup olive oil
3⁄4 cup mayonnaise
1⁄3 cup French dressing
1⁄2 tsp sea salt
1 tsp mustard
2 tsp sugar
1⁄3 cup vinegar
Shred carrots and cabbage. Mix all sauce ingredients, refrigerate until time to serve. Mix sauce and vegetables.
Don't Forget the Wine
Grape growing and wine making are rising agricultural arts in Maryland, with very close to three dozen wineries now flourishing under state encouragement. Calvert County, where commercial winemaking is less than 10 years old, leads the state with five wineries.
White Sangria
Contributed by Government House, this refreshing sangria was just what we needed on a hot July afternoon:
1 bottle Maryland white wine, dry (preferably not aged in oak)
3⁄4 cup orange liqueur
1⁄4 - 1⁄2 cup simple syrup
3 Maryland peaches, sliced
12 Maryland strawberries, sliced
Refrigerate 4-5 hours before serving.
Simple Syrup
1 cup water
1⁄3 cup sugar
Boil until reduced by half. Let stand 20 minutes before using. Depending on your choice of dry white wine, use 1⁄4 cup of simple syrup to Sangria recipe. Add more simple syrup to taste.
Enjoy!