Charity Cuts
Styling solutions for people in need
Children in need won't have to go without style as the school year begins. The Hair Cuttery partners with local social service offices, offering to trim the locks of disadvantaged children in the company's 10th annual Share a Haircut program. From August 1 through 15, every time a youngster under 18 sits for a trim, Hair Cuttery donates a cut for a child in need. Since Share a Haircut's inception, over 450,000 children have been styled to start the school year. To find a Hair Cuttery: www.haircuttery.com. To see if your child qualifies for a free back-to-school coif, contact your local social services agency.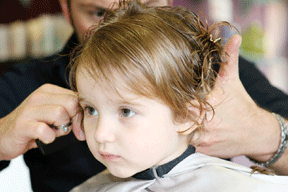 Homeless and disadvantaged people also brush up their look as part of the Gifts for Grooming program. The Harry and Jeanette Weinberg Foundation supports charitable styling services with their second annual donation to Rob's Barbershop Community Foundation. The $11,800 grant funds haircuts and styling for the needy in four local shelters — Annapolis' Willowhouse Shelter, Helping Up Mission, Karis Home and St. Vincent's — and one Baltimore school — Franklin Square Elementary.
The Weinberg grant is only two years old, but Rob's Barbershop has been donating cuts for charity for eight years, helping those in need to make a good impression at job interviews and on the first day of school. Baltimorean founder Rob Cradle has been helping the homeless through styling in his Odenton barbershop for years but has recently moved his efforts south — setting up a two-station permanent barbershop in Light House Shelter. To donate money or styling products: 410-519-2622.
–Diana Beechener
---
Hospice Goes High End
Fine clothes, gold and silver help Calvert Hospice help others
On July 23, thrifty fashionistas will be lining up to visit Calvert's newest chic boutique. That's the day Calvert Hospice opens its Shoppe for Hospice. The boutique, in the Kaine Industrial Park in Huntingtown, offers high quality new and gently used brand-name women's and children's clothing at affordable prices.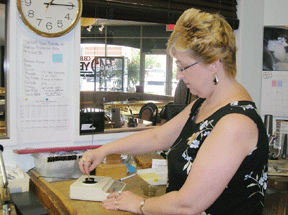 If you've got to empty out some space before you can go shopping, the Shoppe happily accepts donations of good stuff on Mondays, Tuesdays and Wednesdays, 10am to 4pm, but 7 Mon. Donated garments should be in good condition and pedigreed: No Wal-Mart, Kmart or Target brands.
The Shoppe for Hospice is about being in style sustainably: shopping locally, recycling and reusing and supporting a worthy charity. All sales benefit Calvert Hospice. Tax deductions are allowed in accordance with IRS guidelines.
Shop noon-7pm Thursday and 10am to 5pm Friday and Saturday at 4130 Old Town Rd., Huntingtown. Cash, checks (with proper I.D.), Visa and Master Card accepted: 410-535-0892 or 301-855-1226.
To volunteer your time (and get the first look at what's for sale), email Ann Lavezzo at [email protected] with "Shoppe" as the subject.
Recycled treasures of another sort are also sustaining Calvert Hospice. Dickinson Jewelers has created a Gifts of Gold program to encourage donations of old and broken silver and gold jewelry.
Donations are processed for scrap; cash proceeds go directly to Calvert Hospice in the name of the donor. So you could turn the fragments in your mother or grandmother's jewelry box into a memorial donation in her name.
To make a donation, stop by Dickinson Jewelers in Prince Frederick or Dunkirk. Or request a Gifts of Gold mailer bag at 410-535-4338 or
301-868-5584.
–Margaret Tearman
---
Hancock's Resolution Hires Living Lawnmowers
This week's Creature Feature comes from Northern Anne Arundel County
Capt. John Smith sailed up Bodkin Creek, and sailors in the War of 1812 scrimmaged there. Now Hancock's Resolution — an historic park recreating a pre-Civil War farm and linking to Chesapeake Bay by way of the creek — is suffering a new invasion: alien vines like bittersweet and honeysuckle are overtaking its forests and crowding out native oaks and hickories.
The army mustered to fight these invaders? A herd of 40 goats is moving into the park the first weekend of August to graze on invasive vines and undergrowth. The herd, from New Venture Farms in Davidsonville, has been recruited by the Friends of Hancock's Resolution from Brian Knox, Sustainable Resource Management Inc.
"The goats are mutts," says Knox, who has joined with New Venture in a partnership called Eco-Goats (www.eco-goats.com). "For brush eating, these goats are tough."
For safety, the herd will be corralled inside a portable electric fence. The animals will be checked daily and provided food, water and shelter. Following two days of munching, they'll move on to a privately contracted job on Gibson Island.
As browsers, goats are suited to the job, according to Maryland Cooperative Extension Agent Ginger Myers. "Like deer, goats stand up on hind legs and go after leaves and vines."
How effective will they be?
"In two days, they'll take the brush right back so some plants won't reseed this year," said Myers. "In a couple of years, they could do away with" the invaders.
In politalk, the strategy sounds formidable: "Goats provide a unique opportunity to move toward economical, sustainable and ecological weed control and away from methods relying on the use of heavy equipment or herbicides," said Anne Arundel County Executive John Leopold.
If the goats work well on this free trial, they may get hired at other parks.
"With recent budget cuts, they can alleviate one more maintenance measure," says Karyn Molines, supervisor of cultural and natural resources for Anne Arundel County Parks.
Visit 1-4pm Sundays April through October at 2795 Bayside Beach Rd., Pasadena. See the goats at work Su, Aug. 2: www.historichancocksresolution.org.