How Did You Greet the New Year?
Here's how Michelle Steel, of the Willows in Calvert County, answered our January 8 question:
Part I
Noon. New Year's Day. Frigid Bay waters remind me that the Polar Swim is about to take place in North Beach. On Willow's Beach, my shar-pei walks alongside me. He stops and sniffs every few steps. For 20 minutes. Desperate to capture a slice of solitude, I take him home. A once-in-a-lifetime experience beckons: An unusually low tide. A semi-frozen Bay. Sand bars jutting out like stepping stones. Twin footprints on the beach: mine and my dog's. No one else is around.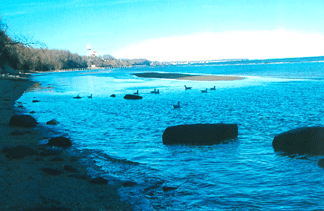 Part II
Back home, I trade in my Birkenstocks for a pair of Timberlands. Grabbing my camera and a Ziploc bag for fossils, I pause to ask my two teenage boys if they want to tag along. Under a mountain of electronic gadgets, they respond, "No way." I welcome a solo retreat to the Bay bliss that awaits me. "I'm leaving my cell phone. Be back soon. Please don't kill each other." (I still have to say that, even at their age). I leave.
Part III
Ahhh. Still, no one is on the beach when I return. I walk over an hour beside the crumbling, creaking cliffs. All the way to Camp Roosevelt and back. My ears are numb. My shins ache. Yet one word describes how I feel this frosty afternoon: euphoria. I savor Mother Nature's picturesque gift to me: seagulls huddled together on a sand bar, a frozen waterfall dripping in slow motion, cracked horseshoe crab shells embedded in ice formations and a single blue crab. Silence. Peace. Gratitude. Captured on film and tattooed in my memory. A frozen Bay moment in time.
---
---