Make a Date with History
How — and where — to make your inaugural memories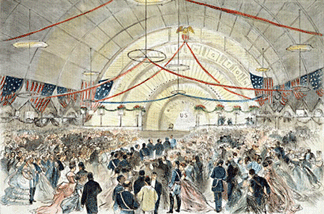 Candidate Barack Obama promised to bring people together. So you won't want to be alone when citizen Obama becomes President Obama. Here's how and where Chesapeake Country plans to celebrate.
How did you mark the milestone in history? That's the Question of the Week of January 15.
Send us your story (under 300 words) and a photo: [email protected].
---
Sunday January 18
Official Maryland Inaugural Ball
The official state victory celebration is billed as a "wonderful evening of music and dancing," and — if you planned ahead — one of D.C.'s most affordable galas. Black tie is optional for men; women are sure to dress up. Actor and tap dancer Savion Glover starts the party, followed by dancing to big-band music and a buffet. A couple thousand overjoyed Democrats are expected, including our congressional delegation. Will O'Malley's March add Irish music to the evening? On this night of divided loyalties, TV monitors add Baltimore's Ravens to the cast of stars.
7-11pm @ Mayflower Hotel, Washington, D.C. Sold out except for sponsors — starting at $2,500: 410-547-8884; [email protected]
---
Monday January 19
A Dream Fulfilled Presidential Inauguration Ball
The Obama Annapolis! campaign pulls out all the stops for the Annapolis Ball, the most formal (and expensive) of local celebrations: no optional in this black-tie cocktail, dinner and dancing party at Annapolis' newest hotel.
6pm @ Capital Ballroom, Westin Hotel, Annapolis. $250; rsvp: 410-626-1051.
---
Tuesday January 20
Inauguration Viewing Parties
Loews Annapolis Hotel — Watch the swearing-in in style on Jumbotron — if you don't eat yourself to sleep. The four-hour buffet for up to 300 begins with Maryland crab chowder and ends with mini-pastries, after stopping along the way for cheese, chopped salad, chilled salmon, sliced loin of beef, veggies, red potatoes; coffee and tea. Table seating; cash bar with souvenir wine glasses.
11am-3pm @ Loews Annapolis Hotel ballroom. $30; rsvp: 410-263-7777 x3410.
---
"Comic books are a huge part of American history," says Annapolis mayor Ellen Moyer of the Barack Obama comic book.
Annapolis City Hall — Mayor Ellen Moyer opens City Hall, inviting all comers in from the cold to see the inauguration on large screen television, warming up with celebration, hot cider, light refreshments and comics.
"Comic books are a huge part of American history and a great tool to help young people read and learn," says Moyer. "I came across these great comic books created for our 44th president, Barack Obama, by IDW Publishing. I will have them available first come, first serve."
11am-3pm @ Annapolis City Hall. free: 410-326-1361.
---
Stanton Center — Families are invited to see Barack Obama take the oath of office and the full day of festivities on the center's big screen; light refreshments served. Adults return in the evening (see below) for music, dancing and more.
11am-5pm @ Stanton Center, Annapolis. $10; under 13 free: 410-326-1361.
---
Salutes and Galas
Mount Olive Community Life Center — Celebrate the inauguration and build community at this gala event of food and fellowship. There'll be big screen TV coverage, and, says organizer Cassie Hoyle, "we might stop the music when something really special flashes on CNN, but we don't want anybody to just sit and look. We'll cheer when we need to and dance when we need to." Headlining six hours of entertainment are jazzmen Jim Ballard and Harold Sims, who is also the church minister of music. Also on the program: gospel music, a DJ playing for line dancing, praise dancing by Dianne Miller and the church's youth group, and more.
Just as ambitious is the menu, featuring appetizers, three carving stations, hot vegetables and desserts, plus light beverages, including wine.
"This is a very special, one-time occasion, and we want people to dress up and feel good," says Hoyle.
6pm-midnight @ Mount Olive Community Life Center, 2 Hicks Ave., Annapolis. $100; $150/couple; rsvp: 410-571-9681
---
A Salute to Patriotism features patriotic music and D.C.'s inaugural balls on big-screen television. Hot cider and light refreshments served.
7-10pm @ Annapolis City Hall. free: 410-326-1361.
---
La Fontaine Bleu — Toast President Barack Obama at a red-white and blue black-tie gala including big screen broadcast coverage and a grand buffet, starting with jumbo shrimp cocktail and continuing to carved roast beef and ham, plus stuffed chicken breast and fish, ending in gourmet desserts. DJ Jerry Stamper plays jazz to get you — and the other 999 celebrants — dancing.
7-11pm @ La Fontaine Bleu, Glen Burnie. $65; rsvp: 410-760-4115 x234; [email protected]
---
Calvert County Gala — "This
is the most historic election in our lifetime; it's like man landing on moon," says Democratic volunteer Rhonda Crawley, who inspired Calvert County's "jazzy inaugural party." Celebrate with 500 "friends and neighbors across social, economic and political lines," says Democratic Club executive vice president Larry Titus. Big screen TVs keep you connected to the capital and the nation. Thompson's Seafood and Catering serves hors d'oeuvres. Local jazz bands Melodium and Sound Waves make music. Dress is semi-formal.
7-11pm @ Calvert County Fairgrounds banquet hall, Rt. 231, Barstow. $40; rsvp: 410-414-3660; [email protected]
---
Ball at the Hall — Celebrate the inauguration of Barack Obama at the newly formed South County Neighborhood Coalition's free ball, a family affair with children welcome. The Barley Mob plays reggae for the event (for donations), including numbers composed to mark the Obama presidency. South County Café plus neighbors are catering. byob. Dress is freeform: black tie, glitz or South County casual. "Real home-grown, just like it's supposed to be," says organizer Celelia Petro.
7pm @ Galesville Memorial Hall. free; rspv by Jan. 18; 410-867-7050; [email protected]
---
Stanton Center — The adults-only edition of the Stanton Center's inaugural celebration features two musical events: Nationally rated saxophonist Art Sherrod Jr. playing smooth jazz; and the reunion of the local band Original Pipe Dreamers. Light menu served by musician and We Care founder Larry Griffin. byob. All profits will support We Care and the Stanton Center in helping children and the homeless.
8pm-midnight @ The Stanton Center, Annapolis. $10; free with daytime admission: 410-326-1361.