How the Butler Did It
Ray Fulton beat death and amnesia to return to the stage in Over My Dead Body
by Jane Elkin
Charters the butler, a hunched figure with a solemn aspect and grey mustache, carries a small tray of drinks. He plods like a steadfast tortoise, teeters over a coffee table and topples down onto it, drinks and all.
Night after night in Colonial Players' 16-show run of Over My Dead Body, which closed June 7, audiences loved Ray Fulton's cameo Charters, as much for his physical comedy as for his 14 lines.
"While the rest of the cast works more realistically, Ray Fulton styles his character almost into slapstick," wrote Bay Weekly reviewer Davina Grace Hill, who knew only as much of Charters as met the eye. "This was jarring initially, but the laugh-out-loud experience — watching him sink impossibly low into a chair cushion or bend down to place a tray on a table — overcame the clash of styles."
Charters seemed slow, both physically and mentally, but there was more to him than met the eye. So it is with the actor who played him.
Real-Life Drama
Amnesiac and tongue-tied, Fulton is struggling to rebuild his reality after a brain tumor derailed his life two years ago. In a past life, Fulton was not only a naval architect but also a regular on the Annapolis theater scene, memorable as Joseph in My Three Angels, Rooster in Annie, Fagin in Oliver! and dozens of other roles. That was before the subtle memory loss, the seizure, the incorrect diagnosis and the operation that saved his life — and left him with a scar running the length of his skull.
photo courtesy of Colburn Images
Now, fresh from his return to the stage as Charters, Fulton sees acting as a way to reconnect with forgotten friends and relearn basic skills. Thespian therapy was his wife Nancy's idea. An amateur actress whom he met through the theater 25 years ago, she urged him to audition for the role of Charters — despite his fears.
"I thought it was a plot to get me involved in theater again," he says. "I didn't really know if I could do it." Memorization and vocabulary are two of his biggest residual stumbling blocks. Yet his return to the stage has been "a great experience."
Try to Remember
Memorizing scripts, or trying to, and having a regular schedule again is good for Fulton the way school and homework are for a child. He has a lot of catching up to do: specifically relearning the three R's — reading, writing and 'rithmatic. Reading newspaper headlines is now a chore, writing is uncharted territory and, as for 'rithmetic, the USNA grad and former nuclear engineer is grateful he can still balance his checkbook.
There's a fourth R, too: remembering.
"I used to have a very good memory, exceptional," he says. "Now I have to practice doing things to redirect the thought process. It's always a surprise to me what will come out." When his memory fails on stage, he ad-libs in character, with the audience none the wiser.
Factual memory loss is one thing, but personal history is another. Fulton is grateful to have awakened from surgery knowing his wife and sons, but he still forgets the names and circumstances of old acquaintances. Of course there are exceptions. He recognized his costar, Kevin McConnell from And a Nightingale Sang, at the Johns Hopkins oncology ward. Both were undergoing radiation therapy, but McConnell's doctors feared they would also have to cut out his tongue. As it turned out, they did not. Both men understood what the other was going through, and both felt better for speaking to a friend.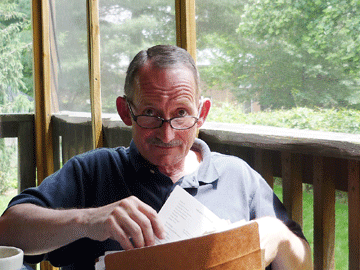 photo by Jane Elkin
Fresh from his return to the stage as Charters, Fulton sees acting as a way to reconnect with forgotten friends and relearn basic skills. "I didn't really know if I could do it."

On the Sunny Side
Gratitude and positivity are Fulton's hallmarks. Despite having lost some vision and the means to his livelihood, he is in otherwise good shape physically and financially, filling his days with gardening, construction and handball, and maintaining a healthy perspective.
"I'm grateful I'm still alive and can do things at a certain level," he says. "I can't presume I'll keep getting back more. Life is life, and then you die. I'm not incapacitated in some categories, and a lot of what I've lost has only brought me to where some other people are normally, where they have been functioning their entire lives. How can I justify being upset when I'm no longer better off than them?"
For now, Fulton remains humble about his future and his casting prospects. He does not consider himself a particularly talented actor or singer, despite his impressive resume. For inspiration, he credits "real, experienced" actors. "It was Tim King who taught me how to create the illusion of speed in a slow character like Charters," he says. As for musicals, he claims "I can only sing in character because then I can ham it up all I want."
Acting also fills the keeping active part of Fulton's prescription. "I have to push myself," he says. "If I'm too sedate, things don't click."
From too full, Fulton's time has become too empty. Two years ago, he worried what would happen to Nancy and their boys if he had to leave them. Now he's watching the boys leave for college. Come fall, both will be in Virginia Tech's NROTC program, hoping to follow in their father's footsteps as submariners.
As for his own future, that's uncharted. "Nancy is adamant I'm not going anywhere, and that we will be doing things together," he says. "Now we have to figure out what that will be."
Look for both Fultons in Bay Weekly's Spotlight on Theater.