Disposable Advertising
Sex sells — but what about trash?
The Annapolis Department of Public Works is banking on a trashy new advertising campaign. For $450 for 90 days, an ad featuring your business will stop by every house in Annapolis — at least on trash days.
"We were looking for a way to gain some potential revenue," says Department of Public Works director Bob Agee. "Trash trucks have a way to get a message out on their sides. It's something new that we're trying now."
The campaign, dreamed up by Agee, was inspired by the advertisements that adorn the sides and backs of the capital's buses. Agee admits that he isn't expecting the same range of advertisers, but he believes that refuse receptacles would be ideal for cleaning and lawn service businesses.
"We're hoping we'll get landscape services, gutter repair guys; that's who we're targeting in addition to our own information on trash pick-up," Agee says. "I doubt we'll be getting a lot of restaurants."
Agee also hopes the price is right for advertisers hit by the hard economy. "The trucks do get a lot of visual contact. I would think they're cheaper than on a bus, but I can't say for sure." For now trash trucks are a cheaper way to permeate the market. An ad on an Annapolis bus or trolley will run your company $900 for four weeks — with an added production cost of about $600 for first-time advertisers.
Residential Refuge Supervisor Phil Cook has more practical hopes for the trash billboards. "One of my wishes is to have a sign on the trucks about recycling," Cook says.
Bay Weekly used to advertise on the back of the now-defunct Annapolis to South County run. Now General Manager Alex Knoll also wants space on the trash trucks. "We'd say something like, Don't let Your Bay Weekly End up Here."
Though trash trucks have only been offering ads for a few weeks, Agee has already developed a fire sale offer:
"With every ad you get a free bag of trash."
–Diana Beechener
---
Mohawk Cuts for Maryland State Highways
Let the grass grow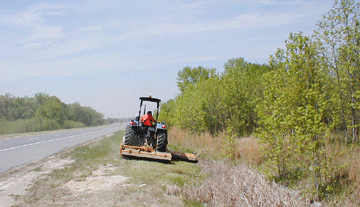 Mohawk cuts are helping the Maryland State Highway Administration save money this summer. Median grasses will be routinely mowed — routine is about six times a season — 10 feet in from roadways to maintain clear lines of sight. But in the center and on shoulders, natural vegetation will grow, and grow (from early summer), and grow (to the end of fall).
About 8,500 state highway acres will be mowed only twice this year.
As well as cutting costs, the new road cuts will help the environment.
"This is excellent for filtering water through the highway before it goes into Chesapeake Bay and preventing soil erosion," Maryland State Highway Administration spokesman Charlie Gischlar told Bay Weekly.
Carbon emissions will also be reduced, with big gas-powered mowers — three heads on a 90-horsepower tractor can mow a strip 81 inches wide — doing about 10 percent less work this year.
Want to watch the grass grow? Start on Routes 4 and 262, which got their spring cut the first week in June.
–Sara Newman
---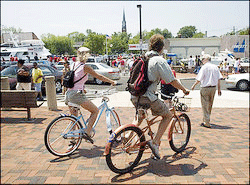 Free Wheelin'
Giving away bike rides in Annapolis
The perfect Sunday afternoon: clear skies, a high of 76 and wheels to run down pedestrians moseying through downtown Annapolis.
Crowds had come out to enjoy the gorgeous weather, but my friends and I were the first customers at the first weekend of the city's 2009 Free Wheelin' bike rental program.
A team of six single-speed beach cruisers, complete with baskets and locks, make up Free Wheelin'.
To get you Free Wheelin', the city Department of Transportation has partenered with Capital Bikes, which provides and maintains the bicycles. This is Free Wheelin's third year.
"In 2007, the bikes were used 80 times," said Capital Bikes' owner Parker Jones. "In 2008 they were used about 800 times, and we're expecting around the same in '09."
Through August, with a driver's license and credit card you can check out a bike for 24 hours. Helmets are not provided but are recommended.
A mixture of locals, boaters and tourists take advantage of the free service.
"Cyclists are able to see Annapolis in a different way," Jones said. "Last year I saw one of the bikes being used, but I couldn't catch up because I was stuck in traffic."
You see more of the city riding a bike, and you get greater access to shops, sights and the water. Especially on a busy weekend afternoon when parking has vanished in place of bumper-to-bumper traffic, biking make an easy and healthful alternative.
Jones says the goal of the program is expansion. First St. John's College went Free Wheelin', buying bikes for the students. The next planned expansion is to the Annapolis Maritime Museum in Eastport.
In case a cyclist tires or the bike breaks down, Free Wheelin' renters have free access to city busses, which include bike racks.
A tip for riders on busy afternoons: Watch out for pedestrians. The sun can make people forget bikes have wheels.
–Sara Newman
---
Creature Feature
Our creature feature returns, thanks to reader William Rynone, of Annapolis.
As I was leaving Lee Airport in Edgewater late one afternoon, I glanced at the small parking lot serving the Navy Flying Club. My appreciation of nature caused me to stop my car and watch a female mallard picking at loose stones in the lot. I decided it would be nice if she had some food rather than just stones for her crop, so I gingerly left the car and walked to the open club doorway, hoping not to disturb her.
Inside were two flight instructors working with midshipmen flying students. Mentioning the mallard, I asked if anyone had a piece of bread or an unwanted sandwich. The response: "She's been in here twice today looking for food."