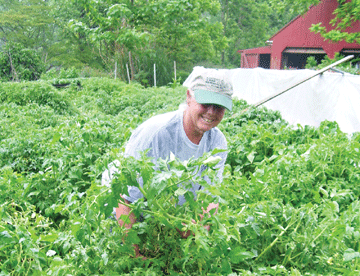 Betty and Les Knapp awash in tomato plants at their Loch Less Farm.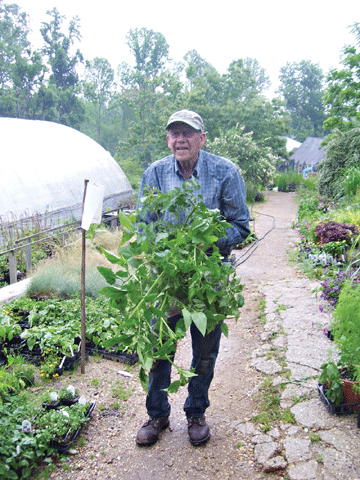 Food Ways / Food Wise
This economy's bringing back the
backyard gardener
by Sandra Olivetti Martin
Way back when, Betty Knapp majored in journalism. But she doesn't need a newspaper to read the state of the economy. The plant propagator and proprietor of Loch Less Farm, in Owings, has a direct measure: Customers are buying vegetable plants, for backyard and patio gardens, before flowers.
Tomatoes, peppers, cucumbers, melons, squash — that's what she's selling this year.
"Even before Mrs. O'Malley planted a home garden at Government House," says Knapp, "we figured we'd get slammed. We were ready, and we still got slammed."
Knapp orders dozens of varieties of vegetable seeds, more than four dozen of tomatoes alone, including a long list of heirlooms with names such as German Johnson, Mortgage Lifter and Giant Belgian. In late winter, she plants the seeds in flats. They grow in warm greenhouses until she judges the weather is right to take them outside.
Tomato weather was way too right in early May. Ten days of rain made the plants grow like Jack's beanstalk.
Thousands of tall, leafy tomato plants tangle Knapp's bedding yard. Choose from her list, sheltered inside a plastic bag, and she or husband Les, a retired Smithsonian ichthyologist, will wade in and uproot your plants.
Most anything else as long as it's in season. You take your vegetable plants home in plastic bags.
"People want lettuce, too, but I tell them they're too late," Knapp says. "Now they're coming back for winter squash, but they're a few weeks too early."
If the plants survive, what many gardeners get for their effort will be a surprise.
"People don't know what fresh food tastes like anymore," says Knapp.
But this year, they're learning.
---