Trash Picking
What these kids found grossed them out … and taught them a lesson in recycling
Calvert Countians can recycle more and waste less nowadays — though Anne Arundel still leads the way in redefining what's recyclable and in picking up at the curb.

Paper All reading, mailing, boxing and packaging paper — unless it's coated (like pet food bags or carbon paper), waxed or contaminated.
Plastic and Glass Bottles, jugs, jars and tubs only.
Cans Aluminum, tin and steel, including empty aerosol containers — but no paint containers of any sort.
Electronics All sorts, including cords and cables — but no kitchen appliances.
Light Bulbs Incandescent, fluorescent, compact and specialty — unless broken.
Deliver your recyclables to any of Calvert's seven centers. Call for hours:
Appeal 401 Sweetwater Rd.:
410-326-0210
Barstow 350 Stafford Rd.:
410-535-5206
St. Leonard 1045 Ball Rd.:
410-586-1262
Huntingtown 3666 Hunting Creek Rd. 410-535-4760
Lusby 11725 H. G. Trueman Rd.: 410-326-2611 (no electronics or light bulbs)
Sunderland 96 Pushaw Station Rd.: 410-257-3296
Plum Point 2801 Plum Point Rd. 410-535-2405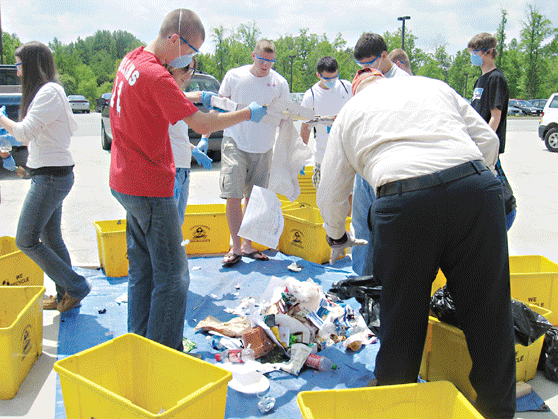 by Ashley Goodman
"Mmmm, brown and green peaches, my favorite!" said Wesley Chester as he sorted through black trash bags collecting the waste of Huntingtown High School. Mushy peaches were about half way down the scale of gross. Less gross were chip bags, soda cans, plastic bottles, classroom paper, including paper airplanes and personal notes. More gross were used tissues and plastic tampon slides.
"People are just disgusting!" said Emily Pieringer.
Chester and Pieringer were two of 16 seniors and juniors in Grace Hanners' Advanced Placement Environmental class. They risked their high-tide clothes and new shoes and covered up with blue nitrol rubber gloves, goggles and masks to sort through trash to see what their school — and their peers — throws away.
Trash isn't just foul and disgusting. It's also educational. It tells us how people live. The trash at Huntingtown High School told this class how much they don't recycle. On the positive side, it alerted them to a solution: Kids need motivation to recycle and to go green.
Trash Picking with a Purpose
This warm May day's smelly adventure was an ecological science experiment called waste-stream analysis, Hanners said. Waste-stream analysis helps assess the success of recycling efforts. From this analysis of about five percent of one day's trash, Hanners hoped her students could tell whether their school is "achieving significant recovery of potentially recyclable materials."
Calvert County was also watching — from several directions. The Board of County Commissioners asked the Calvert County Environmental Commission and the county's Division of Solid Waste to discover how well the county is recycling. Recycling Coordinator Bill Teter wondered how public institutions could help increase the county's overall percentage. At the same time, the Board of Education wanted to judge the success of its new single-stream recycling contract to combine recyclables in a single dumpster.
Teter and Ronald McClain, of the Calvert County Environmental Commission, worked with Hanners' class to gather data and stories to suggest improvements to the in-school recycling program. "We also wanted," McClain said, "to let the students see for themselves how well the school was recycling."
Getting into the Experiment
On trash-picking day, 18 bags of garbage were collected from the cafeteria and classrooms. As the bags were dumped and sorted, jaws dropped, faces clenched and stomachs turned. Ankle deep in trash, the waste-stream analysts kept up their morale by joking and taunting each other with their findings.
At they same time, they took their findings seriously. Repeatedly, they said they could not believe what kinds of things were thrown away. "Why would anyone waste this?" asked Joshua Olexa of an uneaten sandwich.
"Anyone like a sandwich?" Olexa called.
Entire sandwiches, full water bottles and uneaten food were tossed. "Who doesn't eat the garlic sauce from Papa Johns?" Chester wondered. "What a waste."
Just as amazing was the waste that could have been recycled: pizza boxes, unused writing and construction paper, wood blocks from shop class. "Trees are being wasted for paper, and the paper isn't even being recycled," lamented Adrain Harding.
Caitlin Harris and Diana Kirkley worked as class recorders, calculating the weight and percentage of trash sorted. In all, their 18 bags produced 65 pounds of trash.
Of that, 46 percent or 30 pounds was unrecyclable trash: all that uneaten food and food-smeared waste.
Aluminum cans were 26 percent of the trash. Recycling just one soda can save enough electricity to run a laptop computer for over 10 hours, said McClain. He used that example because 90 percent of the AP class told him they use a laptop six or more hours a day.
Mixed papers were third in the amount of trash not recycled.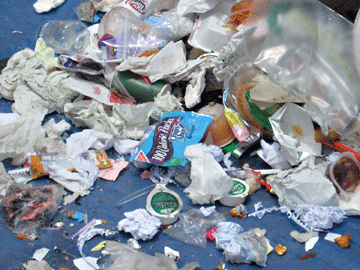 From the experiment, the class learned that about half of the school's waste could be recycled.
"I am more aware of how much individuals recycle and what is actually recyclable," recorder Kirkley said.
How We Can Do Better
Motivation is a force high schoolers understand.
In an effort to motivate the class for the experiment, student Jacob Land had suggested that if they completed the task, they should be allowed to play kickball the following day. Their teacher agreed. The reward excited the kids, and more joined in to sort through the trash.
After sanitizing their hands, the high schoolers talked about how to motivate their classmates to recycle more. Having their planet live longer for their personal use is just not enough, the class agreed. Motivation and opportunity are key factors in how students recycle.
The entire class raised their hands when asked if they recycle at home. At school, however, recycling is not on their minds.
If the opportunity to recycle is there, students said, they are more likely to recycle. "If the signs were bigger and brighter and the containers were more available, recycling wouldn't be overlooked," student Joseph Steffee said, to class agreement.
Others suggested that having the choice to recycle isn't enough for young kids. Rewards — like their own kickball game — would motivate classmates.
Class Credit
Picking trash didn't earn Hanners' students college credit. They'll have to pass a test to get that. It did earn them a period of kickball. And the thanks of Calvert County, which now has a better idea of what isn't being recycled — and some fresh ideas on how to do better.
Ashley Goodman, a graduate of Stevenson University, is a Bay Weekly intern.