Diamond Jim Swims Again
You'll earn $10k if this fish bites on your hook — and you land him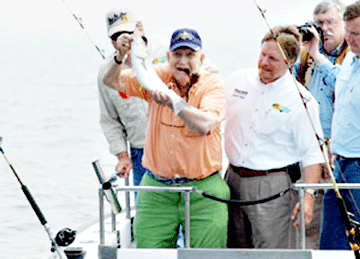 by Sandra Olivetti Martin
Bill Burton considers himself a frugal Depression-era Yankee. But without a qualm, Burton dropped $10,000 into the Bay last week.
The money was tagged to a fish. He — we'll presume it a he, as his name is Diamond Jim — is a striped bass. He's bigger than 18 inches long, and he swims with a yellow-green plastic tagging strip looped through his side.
Diamond Jim was caught, tagged and released into Chesapeake Bay last week with a message to you: Fishing is rewarding, in more ways than one.
Fun is the first reward, says Burton, whose life and career as an outdoorsman and writer are celebrated by this year's 5th annual Maryland Fishing Challenge, which revives the Diamond Jim competition of the 1950s.
Money is the second reward.
Of course it isn't Burton's money. Maryland Department of Natural Resources made this deposit on the future of fishing, using part of the fees paid by fishers to buy their Chesapeake Bay sports fishing licenses.
To withdraw that deposit, you'll have to go fishing. You'll not only have to fish but catch. What's more, you'll have to catch Diamond Jim. Fifty impostors were also tagged and released May 28 by six charter boats that lent their services.
All 50 fish look pretty much like Diamond Jim, but each of these is worth only $500. Only one person — and that's not Burton — knows which tag is Diamond Jim's. And he's not telling until month's end, when first-round prizes are announced as the challenge enters the second of its three months.
The catch-and-release boats fished from Annapolis to Solomons, with four of the six heading out of Rod 'n' Reel at Chesapeake Beach. But that knowledge won't help you find Diamond Jim. In the 2007 challenge, a fish released in Solomons was caught three days later — 73 miles north of the release site.
If Diamond Jim is caught in June, a second Diamond Jim is to be released in July with a $10,000 tag and 49 impostors. The same in August.
But if Jim remains on the loose, July's bounty rises to $20,000. If he's still free in August, the prize goes up to $25,000. Swimming along with him all summer are $73,500 worth of tagged rockfish: 147 fish worth $500 each.
Prizes are the third reward. Big fish of more than 60 species caught this summer in Maryland waters from the Atlantic to the mountain streams of the western state can win you prizes. Thousands of prizes, topped by a boat and trailer from Bass Pro Shops.
The fishing challenge runs through Labor Day. Soon after — date to be determined — winners will gather at Sandy Point State Park to celebrate their luck. Info: www.dnr.maryland.gov/fishingchallenge.