Voyages
Paddling Plum Point Creek
Past the fish cleaning station and into the wilderness, these waters are a bizarre of wonders
by Ralph Bucca
Plum Point Creek, which begins at Breezy Point Marina in Calvert County and ends under Plum Point Road, is in my neighborhood, and I often go paddling up it. It's a typical tidal creek, meandering and shallow, suitable mostly for kayaks and canoes. My paddle takes me past a fish-cleaning station, then into the wilderness. The creek is navigable for about a half-mile before fallen trees block the way. I've probably paddled there 100 times as a quick and easy getaway.
The last two visits resulted in some unusual finds. A few months ago, on a still winter day, I came across a green plastic lawn chair stuck in the weeds, probably blown or fallen off a boat and washed into the creek. On my way out, I decided to be a good environmentalist and remove it from the creek. After some tugging, I managed to free it and put it in the front of my kayak. I got some surprised looks from the Breezy Point staff as I paddled passed them and came to shore. The chair was faded, but in good shape, so I took it home. A can of dark green spray paint made it look new, and it now sits proudly in my back yard.
Yesterday I went out again on a fine spring day. The tide was running out and the water quite shallow. I spotted an eagle flying overhead, then a large beaver lodge, a first sighting for me in this creek. More surprises were in store.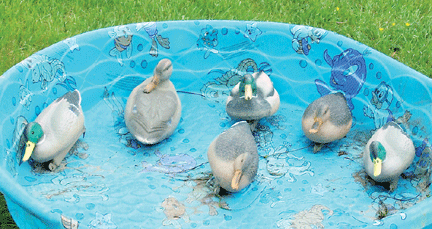 Rounding a bend I came across three ducks, hardly unusual. But as I came closer, these ducks didn't move. Paddling right up to them, I realized they were decoys, so I put them in the boat. Continuing on, I saw another pair and added them to the collection. The water was getting quite shallow, so I headed back out. Making my turn, I found another one and tossed her in with her buddies. The front end of my yak was a big pile of ducks; I don't think there was room for any more.
After getting stuck in the mud and some heavy pushing, I made it back to the take-out. There was no audience to see my duck collection.
At home, I hosed them off and dragged an old plastic kid pool from the garage. The pool has holes in it and will have to be patched to hold water, but the ducks are a little banged up themselves and don't seem to mind. I'll have to see if the set-up attracts any real waterfowl.
I'll be back up Plum Point Creek again soon. Who knows what will turn up next?
Calvert County freelance writer Ralph Bucca is a kayaker, vintner and avid recycler.