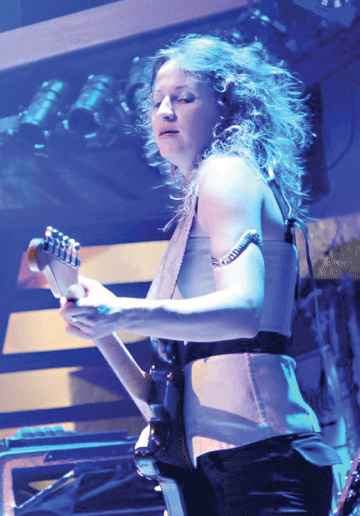 For people who want to do something they dream about but think it is impossible because there are obstacles, it doesn't have to stop you.
Momma's Got A Case of the Blues … And That Ain't Bad
A Bay Weekly interview with Serbian guitar queen Ana Popovic
Great blues sprouts in places other than the Mississippi Delta, Memphis or Chicago. The incubator for Ana Popovic's soulful, hard-driving blues was old Yugoslavia, where war and unbounded human cruelty erupted in the early 1990s under the man they called the Balkan Bully — Slobodan Milosevic.
In those early days of unrest in her land, Popovic, a headliner at The Chesapeake Bay Blues Fest in Annapolis this weekend, was growing up in Belgrade, listening to the great American musicians on vinyl.
The daughter of a guitar-playing father, she was encouraged early and was able to pursue her music in Amsterdam during the height of war and the breakup of Yugoslavia under Milosevic.
Amid turmoil in her homeland, Popovic was traveling around Europe with her first band, Hush, and occasionally diverting to Memphis to record.
Blues aficionados on this side of the pond, too, were drawn to her uncommon guitar skills and her seductive voice. Before long she was winning awards, touring the United States and sharing the stage with the likes of Buddy Guy.
A year ago, her son, Luuk was born, and her music evolved from the tight blues grooves and the electric funk for which she had become known. With her fingers flying on her Stratocaster, Ana Popovic can still tear it up on stage, as Blues Fest-goers likely will see.
In an exclusive interview with Bay Weekly as she prepared to depart for Annapolis, Popovic — who turned 33 May 13 — talked about her life and her music.
BAY WEEKLY Is it harder to go on the road now that you have a little one?
ANA POPOVIC I was thinking it's going to be much harder than it really is. In the worst-case scenario, it's a crying baby. And he's going to be crying at home or on the road. We just had a first-birthday children's party. He is a very, very easygoing baby and he loves music. My mother helps me out. I'm with him all day long, I go play, and then I'm with him again. He's been very much an inspiration.
BAY WEEKLY Back in Belgrade, what were you listening to that shaped your music?
ANA POPOVIC Oh, Stevie Ray Vaughn, Howlin' Wolf, Allman Brothers, ZZ Top. We grew up on all of that, basically American rock and blues music.
BAY WEEKLY In your song, Navajo Moon, you pay tribute to Stevie Ray and Ronnie Earl.
ANA POPOVIC Navajo Moon is a tribute to Ronnie Earl. I grew up listening to his guitar licks; that's really what got me into solo guitar. He called me one time, and it was really nice. I was playing this little club, and he came up on stage and we jammed. I respect people like him who had the strength to turn the bad in their lives into good.
BAY WEEKLY Speaking of bad, I think you were 14 or 15 when your land was plunged into war. What did that do to lives around you and to your music?
ANA POPOVIC It changed a lot of my views. For everyone it was a surprise, but it was most surprising for the young generation. There were student demonstrations when I was still living in Belgrade. They didn't know what to expect, where it all came from. They were against Milosevic, like we were.
I went to Amsterdam and was writing these things in my songs. You need some time to pass before you can really think about those things. And you are relieved once you know that your country is going in the right direction and is getting closer to the European Union.
For a lot of it, I was living in the European Union and traveling with my Serbian passport with a band that had no problems traveling. It was really nice to be in that position. I just decided, I'm going to go on and do what I'm going to do. I really wanted to go to the States and across Europe and record my music. It was sometimes hard, but it was also inspiring. This is the message: For people who want to do something they dream about but think it is impossible because there are obstacles, it doesn't have to stop you.
BAY WEEKLY You combine a lot of styles from old blues to rock to jazz. Where would you say your music is headed?
ANA POPOVIC I just finished another record, Blind for Love. I kind of thought that I said a lot of what was on my mind in earlier albums. I've been busy with my family, and Blind for Love is about positives and negatives, about struggling in a relationship to make things happen. We live in a society with so much love around us, and people should focus on that and try to bring out that love.
I've been traveling to Third World countries and seeing how people live there. I would like to give them hope. There are so many great songwriters, and they should have the strength to look beyond their own problems. This record is more positive and all about love. I have a son now and I am more serious in our relationship. I didn't want to repeat myself. This is a new period.
BAY WEEKLY How about the sound of your music?
ANA POPOVIC I wanted to have more soulful gospels going throughout this record. I still have the jazzy guitars. But I tried not to overplay this record. I wanted the vocals and the guitars to do what the song needs rather than just showing off with my licks.
BAY WEEKLY I saw you quoted somewhere as saying, "We live in a time when everything is rushed." Were you implying that music can be an antidote to all this rushing around?
ANA POPOVIC Yes, music and love. I am very, very inspired by that. I am really busy all the time trying to have more hours in my day. Not just to do more but to enjoy the time that passes by in one day. Less time in front of the computer and more time enjoying life. When you look back at the end of the day, you should be able to say, I had a couple of hours when I was truly enjoying myself.
BAY WEEKLY You've toured all over the U.S. Do you have a favorite place? Have you been to Chesapeake Bay?
ANA POPOVIC I'm really a fan of the West Coast. I took a week off once and traveled up Highway 101 north from Los Angeles. I've traveled all over the states, from Key West to Navajo country to Maine. I'm always looking for relaxing and beautiful places and want to see Chesapeake Bay.