Big Daddy Gets the Blues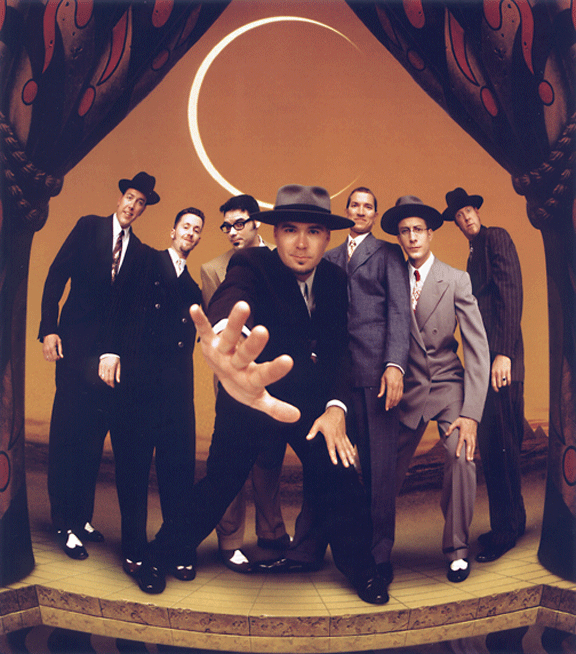 Big Bad Voodoo Daddy, with trumpeter Glen 'The Kid' Marhevka second from left.
Big Bad Voodoo Daddy trumpeter Glen 'The Kid' Marhevka talks to Bay Weekly on how the band keeps swinging
interview by Diana Beechener
In the late 1990s, hipsters packed away their flannel shirts and pulled out saddle shoes. Grunge and alternative rock gave way to the newest musical craze, a swing revival. Bands with names that sounded like rejected Ben & Jerry's flavors — Squirrel Nut Zippers and The Cherry Poppin' Daddies — overran American culture, supplying soundtracks from Superbowl halftime shows to movies to Gap commercials.
Leading the swing revival movement was L.A.-based seven-man band Big Bad Voodoo Daddy. The group earned a following on the West Coast in the early '90s, catching the eye of actor/writer/director Jon Favreau, who featured them in his 1996 film, Swingers.
When music trends traded plucking base and brass sections for the synthetic pop of boy bands, BBVD hit the road again, continuing to sell out venues for guys and dolls. Five years into the new millennium, the swing revival was already a piece of pop culture nostalgia. But BBVD continued to swing.
Still touring with their frenetic swing band stage show, BBVD just released its eighth studio album, How Big Can You Get. The Cab Calloway cover album features a Depression-era message for Recession-era listeners.
They join the all-star line-up of Jonny Lang, Los Lonely Boys, Ana Popovic and Shemekia Copeland at the 2009 Chesapeake Bay Blues Festival May 16 and 17. The Bayside outdoor festival draws hundreds of music lovers, ready to swing in the sun and beat the spring heat with the blues.
BBVD trumpeter Glen 'The Kid' Marhevka spoke with Bay Weekly on the upcoming festival, the band's new direction and why the daddies thrived after the swing revival fizzled.
BAY WEEKLY Big Bad Voodoo Daddy is known as a retro swing and jazz band. Where do you think you fit in the Bay Blues Festival?
THE KID The blues is the basic progression of swing music, so it's not a stretch for us to be there. I mean Jonny Lang [Blues Fest's headliner] has played with us before. I think we'll fit right into a blues festival, and I think people will dig it.
BAY WEEKLY What's so appealing about the fusion of jazz, blues and swing?
THE KID It's fun. If you put us in front of a crowd, people walk away with a smile on their face. It's open to everyone, from little kids to grandparents. It's not like alternative rock or metal, where you have different fan bases.
Now he strolls through the city like a big ol' alley cat
With his pinstripe suit and a big bad voodoo hat
I don't believe I ever saw him without a kitten on his hand
And no one swings as hard to the big bad voodoo band
–Mr. Pinstripe Suit
BAY WEEKLY Was it hard to find an audience?
THE KID There really wasn't, like, a swing movement or anything going on when we first started playing. I don't know that it was hard for us to find an audience, but we worked really hard at getting in front of audiences. We had been playing mostly on the West Coast from about 1993/94 thru '98. We were playing a minimum of five nights a week for several years, just going up and down the Coast. It was a lot of work — not really to find the audience, but to build the audience, maintain it.
Fortunately we were able to do the movie Swingers. When that came out, that's when things really took off.
BAY WEEKLY Has your performing style evolved since you started?
THE KID When we first started out, we fed off each other's energy and the crowd. It was full on in your face the entire time. I think we've evolved it into a more polished show band now, where we haven't lost the energy, but we're able to really perform to our full potential. We've matured a little bit, in a good way.
Hey Jack … I know what your thinking
That now's as good as any to start drinking
–You and Me and the Bottle Makes Three Tonight
BAY WEEKLY Have you played the Chesapeake area before?
THE KID I really like Annapolis. It's a great little town. There's a real small place we played called The Rams Head in downtown Annapolis. It's one of the smallest places we've played. It's kinda fun to play there.
BAY WEEKLY What do you see as the value of festivals?
THE KID I'm always excited to play festivals. I love it when people who don't know you see the show and come away fans.
Here's the story 'bout Minnie the Moocher
She was a low-down Hoochie Koocher
She was the roughest toughest frail
But Minnie had a heart as big as a whale
–Minnie the Moocher
BAY WEEKLY How do you cope with the touring schedule? Do you have a significant other or children that it affects?
THE KID I'm married and I have two little kids, and it's a challenge. It's really difficult to bring everyone out on the road, but they like to come to really cool places. I always think that I probably get as much time with my family as my friends with a 9-to-5 job have. If I'm home for two weeks, then I get two solid weeks with them.
We try not to go out [on tour] for long stretches. We try to go out for short blocks.
BAY WEEKLY Do you prefer to re-imagine music or create original pieces?
THE KID I think they're both equally cool. This album [of Cab Calloway covers] was the first full-on cover album. We want to do original stuff, but we really wanted to explore Cab Calloway. He was such an influence on the band. We came up with our own sort of interpretation of [Calloway's music]. I think there's a time and place for each one.
Here's a little tune we're gonna play for you
Ain't nothing to it and it's easy to do …
If you like music with a boogie beat,
Here's a little ditty that's really al-reet.
–Calloway Boogie
BAY WEEKLY Why Calloway?
THE KID Cab Calloway was a big influence. He just had this great style and energy. He was this high-energy showman, which is definitely what we try to do. I saw him in junior high. I was blown away. He seemed larger than life. So I've always had a place in my heart for Cab Calloway. It just worked out that this was the right time to do it.
This is a great thing, to pay tribute to someone I've been inspired by. I wouldn't compare us to Calloway; there's no comparison, but we try to capture that same energy.
BAY WEEKLY Most of Calloway's music reflects Depression-era sentiment, did you think the music had resonance in the current economy?
THE KID It wasn't really a conscious thing, but the title track [How Big Can You Get?] really relates to what's going on today. The bigger you get, the more you build up, the harder you fall. I love to say yes, it was thought out, but really it was just us trying to capture his music.