The Volvo Ocean Race, Leg 3
Tacking 2,000 Miles to Singapore
by Steve Carr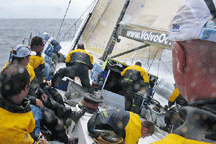 Skipper Bouwe Bekking, aboard Telephonica Blue, watches as his crew changes sails in wet weather, above.
Team Delta Lloyd, top right.
PUMA leads the fleet at the start of Leg 3, right.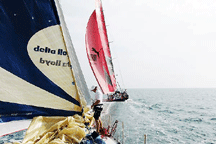 Volvo 70s are made to reach, meaning they like the wind coming from the side. When the wind blows from the pointy end, it makes for a bone-rattling beat. Try this for over 1,000 miles, and you will end up speaking in tongues. This incessant plowing through the waves is punctuated by tacking back and forth, which on a Volvo 70 is a major production involving the entire crew humping all the sails and equipment over to the high side. That, of course, changes every time you tack.
Let's imagine you have come below decks after your watch and you are sore, wet and in desperate need of sleep. You get out of your foulies and climb into your munchkin-sized swinging bunk that is getting bounced around in the pounding chop like riding in the back of a pickup truck barreling down a washboard road. Above deck, the skipper gives the order to tack. You are suddenly roused from a fitful sleep because it takes all hands to move tons of sails the size of trees so the weight is distributed properly to allow for maximum speed. Do this all during your sleep time until it's your turn to return to the racing grind up on deck. After a few days of this relentless torture, you become a walking zombie.
Winning Strategy
The Volvos left Cochin, India, on the wings of a dove, sailing south in a steady breeze until they cleared land. Then they turned east, fighting the westerly trade wind that came and went like someone whispering through the fog. Storm squalls highlighted each wind shift as the crews settled in for a week of jockeying back and forth, crisscross tacking toward the island of Sri Lanka.
We could talk about true wind angles, leverage, GRIB files, karabatic winds or a million other complex aspects of long-distance ocean sailing. But in the end, the choice facing each boat was simple.
As they gazed east across the Bay of Bengal, they knew they had to round the Pulau We lighthouse, guarding the infamous Strait of Malacca at the northern end of Sumatra. The first boat there would get four points; each ensuing arrival would get a half-point less.
And every navigator knew that he could either stay south and sail the most direct route — or head north where the wind was stronger and the distance considerably longer.
The two veteran Volvo skippers slogged it out the whole way, exchanging leads like clockwork. Torben Grael on Ericsson 4 chose the northerly route. Bouwe Bekking on Telephonica Blue stayed south. In the end, the northern strategy won. Ericsson 4 rounded Sumatra first, with the other boats close behind — all but Delta Lloyd, with a broken hydraulic ram, which moves the keel for balance. Crippled and fearful of sinking, the boys on Delta Lloyd struggled valiantly to reach Singapore in one piece.
Il Mostro skipper Ken Read, left, sees a Sri Lankan fishing vessel.
Crowded and Still
Entering the Strait of Malacca is like sailing through one of those war game videos where danger looms with every tack. It's one of the busiest shipping channels in the world. To reduce the chance of collisions, the Race Office restricted the Volvos to the Malaysian side of the strait.
Tensions aboard each boat built as terrible conditions took their toll.
"Okay, enough is enough. Let's get to Singapore," wrote Green Dragon skipper Ian Walker. "It has been upwind and very shifty in the Malacca Straits, which has meant lots of tacks. The shipping lane is getting busier and busier, but no sign yet of many fishermen or pirates. There's a lot of debris in the water like bits of bamboo and tree trunks. We have a permanent spotter during daylight but will have to keep our fingers crossed at night. It will only be a matter of time before we hit something. Hopefully it won't be something as big as the tree we have just sailed past that stuck seven feet up out of the water."
As the boats slowly closed in on Singapore, the sea turned to glass. Ericsson 4, Ericsson 3 and PUMA called in to the Race Office to say that they wanted to break the seals on their anchors. The anchor is locked in place so it can't fly around and become a lethal threat to boat and crew. But when the tide starts pushing the boats backward, it's the only way to avoid losing ground. PUMA and Ericsson 4 dropped their hook and rode out the incoming current, while Telefonica Blue and Ericsson 3 found a last gasp of wind and drifted a little off shore.
According to PUMA skipper Kenny Read, "A solid 3 iron: That is what it would take to whack a golf ball off of the mainsail."
Winning Points
In the end, Bouwe Bekking and the lads on Telephonica Blue squeezed out a well-earned victory, with Puma, Ericsson 3 and Ericsson 4 finishing within minutes of one another for one of the closest races in Volvo Ocean Race history.
After three brutal legs and 12,900 nautical miles, Ericsson 4 remains on top with 35 points, followed closely by Telephonica Blue (30.5) and Puma in third (26.5).
After the in-port race in Singapore, it's 2,500 miles to Qingdao, China.
---