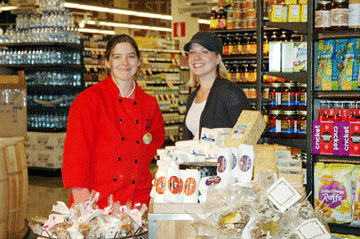 Eliza Burnes and Amy Johnson, top, stock the new Whole Foods Market with regional products.

Food Ways / Food Wise
There's a whole lot of Maryland in the new Whole Foods
by Sandra Olivetti Martin, Bay Weekly editor
In Whole Foods' new 56,000-square-foot market at Annapolis Towne Centre at Parole, 17,000 items will compete for a place in your grocery cart.
Among the thousands of exotics we've come to take for granted — from coffee, bananas and olives to salmon and soy sauce — hundreds will be local.
"Local means our state," says Amy Chase, community liaison at Annapolis Whole Foods. The new store, Chase estimates, opened with about five percent Maryland products. Make that 10 percent, says Whole Foods' local forager Mark Smallwood, if you add Virginia, Pennsylvania and New Jersey.
Thus you'll find products from Maryland and neighboring states in almost every aisle. Many bear signs telling just how many miles they traveled to reach the store.
Fruits and vegetables: Chesapeake Fields Farmers' Cooperative, Chesapeake Garden Lettuce, Godfrey's Farm and Homestead Farm — all on the Eastern Shore — are among a long list of Marylanders.
Flowers and herbs from Emory's Organics in Annapolis.
At the expanded seafood counter, Nate Clubine stands ready to shuck a variety of fresh oysters, including Maryland, and other shellfish.

Candy from B.G. Purcell's caramel kitchen, Mouth Party, in Towson.
Cheeses from Caprikorn Farms, Frederick County; Chapel's Country Creamers, Talbot County; Cherry Glen Farm, Montgomery County; FireFly Farms, Garrett County; Hawks Hill Creamery, Harford County.
Choptanks Sweets and Choptanks Salts: oysters sustainably farmed in the water column on the Choptank River.
Chesapeake-caught crab packed at J.M. Clayton Seafood Company in Cambridge.
Eggs from Springfield Farms in Baltimore County.
Sauce King sauces from Germantown. Tessemae's salad dressing from Annapolis.
Soap and bath products by Biggs & Featherbelle, in Baltimore.
Organic dog food prepared and frozen by Aunt Jeni's Home Made in Temple Hills; and dog biscuits by Baltimore Dog Bakery.
Also local is the art decorating the store.
Local artists Laura Mazelis and Elisa Mayes paint the store's signs and letter its many chalkboards announcing timely opportunities. Photographs by local shooters Pam Denardo and Michael Land decorate the in-store culinary center, where locals — Chef Frances Vavloukis and guests chefs from the store and from Anne Arundel Community College Culinary Institute — teach classes to locals of all ages.
Fifty local young artists painted four murals of local scenes on the wall of the market's 135-car garage.
Taking local to the national level, Whole Foods provides up to $10 million in low-interest loans to small, local producers.
"It's part of our mission to get in as many local products as necessary," Smallwood says.
It's in Whole Foods' history as well. "In our first store in Austin, producers would pull up to the loading dock," says regional spokesman Fred Shank. Over 29 years, the chain has grown to more than 270 stores. Still, Shank says, "We never left the original model."