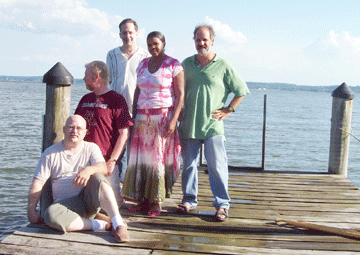 Needing survival jobs, poets work as teachers, carpenters, town planners, professors, cops, vegetable sellers, editors, astrophysicists.
Poets at Work
A Poetry Month look at what they do and why you might need it
by Elisavietta Ritchie
April is National Poetry Month. As if the other 11 months, poets were not writing and sharing poems. Look, and not too hard, and you'll find them writing poems, re-working them in ad hoc workshops, publishing in small journals and on the Internet, reading poems to each other and to ever-greater audiences in delis, taverns, libraries, schools, and gardens.
Your neighbor, even you, may be among them.
Poetry cafes — many with live music, quirky sound effects and good sandwiches — blossom. "The size of our usual clientele multiplies on poetry nights," says Stacey Jackowski, co-owner of b.b. Bistro in West Annapolis.
Poetry cafes often feature one published poet followed by an open mike, where poets in the audience read briefly, often mixing several hilarious verses among more somber poems. Hank Stanley, a retired chemist who lives on his 43-foot Youngsun pilot-house cutter in Annapolis Marina, usually brings amusing poems and his archival sax and flute to open mikes. But he kept a recent audience spell-bound at b.b. Bistro as he recited Langston Hughes' poetry and related how Hughes fits into the cultural scene.
"The present scene is jumping," says Rocky Jones, who along with Cliff Lynn organizes several poetry cafes.
As Susan Sonde of Odenton — a recent reader at Zü Coffee in Annapolis — marveled, "The Friday night readings bring out some good writers in the immediate community."
Poetry slams, on the other hand, are more aggressive, rap-like entertainment, with poets competing in declaiming poems — not necessarily their own — to energize their audiences.
Into May, weekends continue to bring poetry out, including the Book Fair May 2 at Calvert Library in Prince Frederick, and at several cafes in Annapolis.
"My parents read poems to us children," said Tim Holland, poet and chiropractic assistant who works in Prince Frederick. "And we read to each other as we were growing up in Prince George's County."
Poetry Outloud: High-Schoolers Compete
All over Maryland, students are daring to write, recite and publish in anthologies and their own booklets. Yet recite serious poetry — even somebody else's — in front of an audience? Especially at age 16 … 17 … 18?
Reciting was not too daunting for the high school contestants in the Poetry Outloud competitions. In Calvert and Anne Arundel counties, and across the U.S., high school students memorize and recite poems before challenging audiences of admiring family and intimidating school superintendents, teachers, art council officials and outside judges. Many students read thoroughly philosophical poems, about which they obviously think deeply. A few write their own.
In this spring's competition, Jimmy Mavrikes and Cullen Oliff from Northern High School were voted winner and runner-up for Calvert County. In Anne Arundel County, Will Poxon of South River High won first, Ashley Verner of Broadneck High second and Kelly Grace Lawrence of Arundel High third.
Poetry Outloud is funded by the National Endowment for the Arts through the Maryland State Arts Council.
– Elisavietta Ritchie
Poets at Work
Yet poets cannot live on the rare income from stanzas. Needing survival jobs, they work as teachers, carpenters, town planners, professors, cops, vegetable sellers, editors, astrophysicists. Though poetry is increasingly accepted, they sometimes hide their gifts lest employers think them flaky, fearful they might compose on the job. Sometimes minds do wander amid mundane tasks.
Jobs also provide grist for verse. Take building a house under an August sun. Adam Chambers of St. Leonard, now a student at Oberlin College, worked as a carpenter's apprentice while beginning an internship in poetry before his senior year at Calvert High School. His new job gave him new metaphors:
watch closely that
the head is straight
the screw is square
the wood is solid
or otherwise
the bit jumps
the screw strips
you need a wrench
to pull it out
you start again …
Also sharp and real is this poem by Temple Cone, who teaches at the U.S. Naval Academy:
The rain-warped wood,
A shoddy ladder stretching from dank sand, Lured me as a child …
The planks were speckled with nettles, ghost-trails
Gaffed and laid aswirl to dry in sun.
Read or listen to a few poems, and you'll see they do all sorts of work.
Telegraphing History
"From early times … we look to poetry for what people felt and thought," writes Grace Cavalieri of Annapolis, a playwright, reviewer, publisher and two-time nominee for Maryland's poet laureate. Cavalieri's Poet and the Poem radio programs are broadcast nation-wide, and she records poets for the Library of Congress archives. Her recent novella-in-free-verse, Anna Nicole, is a tragic-comedy.
Poetry records first-hand instants of joy in war-torn lands. Helena Mann-Melnitchenko, Bay Weekly contributor who has published accounts of her childhood in World War II fleeing Ukraine, surviving as a refugee in Germany and beyond, writes in "Liberation":
we felt immortal and so alive
the summer of nineteen-forty-five
the sapphire sky was clamorous with birds
not bombs
Encouraging Invention
Like fiction, poetry also grants the right to invent. Thus Bailey Utrecht, 16, a redheaded violinist and soccer player from Severna Park, looks into the future:
The grief that I hide inside
Eating me alive
The hospital bed, so hard and cold
Matches me, my heart so old
As a senior at Huntingtown High School, Michelle Leigh Martin wrote as if speaking for many returning warriors plagued by Post-Traumatic Stress Disorders:
I watch the boy
and he eyes me,
steadily, like the moment before
my finger twitched on the trigger
In the desert city,
he and I both died
Praying
As creating is a spiritual act, poems are prayers of sorts. Michael Glaser, Maryland's current poet laureate — who reads to all ages from schoolchildren to nursing home residents — wrote of turning
to poetry for revelation,
instruction for my spirit,
courage for my re-awakening soul
Lillian Caplins of Huntingtown, an 84-year-old retired nurse, asks:
God, do I make you laugh?
Me! Your finished work
good for all eternity.
Mourning
Poems can stuff rough agony into a frame. Priests and chaplains have read thousands of poems — in the form of chants, psalms and prayers — to bless the fortunate and comfort the sorrowful. Cavalieri is another who knows poems can bring solace to troubled souls:
When you come to wherever
failed hopes go, turn
here instead
Kevin McAndrews of North Beach, a lieutenant colonel in the National Guard, convinced a returned warrior plagued by persistent nightmares to try poetry. As the soldier began to write, his nightmares disappeared.
Here is Jeffrey Coleman of St. Leonard, a teacher at St. Mary's College, on visiting a graveyard:
You shouldn't believe everything you hear about the buried.
They're not as forlorn or vengeful as you might imagine.
I usually visit on Mondays as my father is waking.
We hug and sit down at the table.
He always places a Bible between us
As if he thinks my soul is about to burst into glorious flames.
– originally printed in Delaware Review
Celebrating
Far beyond greeting-card verse, poems celebrate engagements, romances, weddings and births. In his book "Becoming a Father," Glaser greets his newborn with a sort of prophecy:
I cradle you in my hands. Your face squints
against the light. Your eyes open, then close again
as your arms and legs flail their first
flailing into the world, against the world.
Playing
Rocky Jones of Dunkirk shows poetry at play, simply experimenting with language:
Thomas and Nathan were brothers
Thomas, deaf in the right ear
Nathan, deaf in the wrong ear
Susan sat between them
And never stopped talking about her ferrets.
Teaching
The Maryland State Arts Council and local arts councils sponsor poets who visit schools, read their own work and encourage the students to write. Working with these itinerant poets, students think new thoughts and expand vocabularies, writing skills and awareness of the environment and their part in it. Retired high school teacher Elaine Steib led her students to write poems in foreign languages. "Most fun was composing rap in Spanish," she said.
Poetry can allow students to reveal the sadnesses in their own young lives, worries and griefs of which sometimes neither parents nor teachers are aware. Students also learn the fun of making poems — in the meantime absorbing various forms from haiku to rhymed limericks to sonnets and villanelles.
So there's lots of work for poets to do. But even if they didn't, poetry would thrive. It exists everywhere. This morning, peeling a blood-orange from Lebanon, I spot a pair of snowy egrets at cove edge. Perhaps they seek real estate among the cattails, to mate here in our marsh. Poetry on the wing.
The latest of Elisavietta Ritchie's 15 collections of poetry and fiction are Awaiting Permission to Land and Real Toads. A poet-in-the-schools, she also teaches a monthly memoir class at Calvert Library and is active in Washington Writers' Publishing House.
---
Poetry Calendar
April 30: Michael Glaser reads. 7-8:30pm @ Calvert Library, Prince Frederick.
May 2: Authors' Festival. Literary X, an amorphous group of writers, lowers prices on poetry books and literary journals at their table. 10am-1pm @ Calvert Library, Prince Frederick.
May 8: J. Joy Matthews Alford plus open mike. 6:30pm @ b.b. Bistro, Annapolis.
May 22: Christopher Goodrich, plus open mike. 6:30pm @ Zü Coffee, Annapolis.
Calvert Library, Prince Frederick, hosts monthly Poets' Corners on Third Thursdays (2-4 pm) and creative memoir workshops (which sometimes include poetry) on second Wednesdays; occasional formal readings; and the annual Heart & Spleen Valentine's Day and Halloween Creep Fests, both featuring poetry.
For more information on dates and venues, check with the primary poetry impresarios Rocky Jones and Cliff Lynn: http://rockydude.com/art/poets/annapolis_readings.htm
Check www.annapolisbookstore.com, Enoch Pratt library in Baltimore, the Library of Congress, Folger and other libraries in and around Washington, D.C., for their event schedules.