Looking for Your Inner Artist?
It could be hiding in a dumpster or a broken dish
by Margaret Tearman
There is nothing in a caterpillar that tells you it's going to be a butterfly.
–Buckminster Fuller
Art doesn't have to be created in a studio. It doesn't have to be made with expensive materials and specialized tools. It doesn't even take genius — if you think of that as a foreign word.
Even the most important piece of art is born from imagination.
Consider a broken or discarded object and envision the possibilities.
A piece of glass becomes glittering garden art.
A twisted tree root becomes a circus snake bent on charming.
Take a look around. Your next — or first — great masterpiece may be right under your nose. No purchase necessary.
Ed Rupard's Found Art
Ed Rupard creates art from objects he finds at yard sales, at the dump or just laying around on the beach.
"I just find stuff," he tells Bay Weekly. "I'd like to say I have a vision, but I don't. I'll find a piece of driftwood and it screams I want to be this."
Where most of us just see gnarled roots and burned-out tree stumps, Rupard sees dancers, reptiles and birds.
Like his latest creation, a heron named He Flies on Burnt Wings. Standing about four feet high, it has a body of charred wood pulled from a cold campfire, a crown of horseshoe crab and a head of a knot from a shaggy piece of wood that Rupard rubbed smooth. The bird's long legs are two iron rods pulled out of a dumpster.
"The rods were straight," Rupard says. "I put some bend in them to give the bird some movement and grace."
The artist is always on the lookout for something he can use.
"My studio is full of things waiting to become something else," he says.
Rupard may have always been a dumpster diver, but not always an artful one. He inherited his love of dumps from his mother.
"Her house is filled with found things," he says. "She showed me there is some life left in everything. But I never saw the things we brought home as art."
That idea didn't come to him until much later.
For 30 years, Rupard worked as a graphic artist, creating logos and brochures for corporations like Marriott. When changing workplace technology forced him to spend much of his day in front of a computer, he knew it was time to move on.
"I liked my job when I was working with my hands," Rupard says. "But I didn't like working on a computer all day."
So he found a new job working for Calvert County, maintaining the building and grounds at Calvert Pines Senior Center. He's been at it for three years. "I love it," Rupard says.
In his free time, Rupard began to fiddle with his found stuff, looking for ways to put it to use.
The sculpture Unlikely Pair — and an artist — were born.
"It was the first thing I ever made," says Rupard. "I had a piece of wood that looked like a dancer. I made it so it would move because that's what dancers do."
Rupard put the twirling piece in a courtyard at Calvert Pines. The residents loved it and encouraged him to enter it in Annmarie Garden's Reaction exhibit, a 2008 juried art show to inaugurate the Garden's new building.
"I still can't believe they let me in the show," Rupart says. "I never thought of myself as an artist."
Rupard's second sculpture is now part of Annmarie Garden's Touch exhibit encouraging people to feel art.
Inspired by early success, he's just finished three new pieces. One is Dances with Hoops.
"The curled piece of wood said to me I'm a snake. And a snake wouldn't be taking that pose unless it was doing something, so I added the rings, giving it something to fling."
The rings are embroidery frames found at a yard sale; the base an electric cable spool and an old tabletop pulled from a dumpster.
Rupard wants to work next with metal. There is a lot of it lying around.
"I got my first welder," he says. "I'm learning how to use it and figuring out what to do with it."
He'd also like to find something to make from the colored beach glass he's picked up from the beach. He has plenty of it, just waiting to become something else.
---
Nancy Collery's Recycled Art
Nancy Collery would know exactly what to do with a handful of beach glass: Toss it into her garden.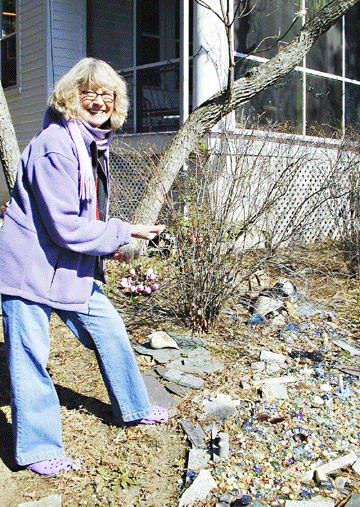 Her garden isn't growing flowers or vegetables. Instead it sprouts from imagination with blossoms of broken glass and cracked pottery. Like other gardens, her vibrant patch of color didn't blossom overnight. It's been growing for 18 years alongside the Prince Frederick home she shares with her husband, Jeff Klapper, and her business, Main Street Gallery.
It started with a broken demitasse.
"I bought it in Germany," Collery tells Bay Weekly. "When it broke, I just couldn't bring myself to throw it away."
Instead, Collery stuck the broken pottery in the ground next to her house where water running from her roof had created a crude drainage. Liking the way it looked, Collery continued to add broken dishes, glassware and whatever else cracked and shattered in her home and gallery.
Collery isn't throwing dishes against the wall to grow her garden.
"We don't deliberately break something to go into the garden," she says. "Everything is natural breakage."
She has plenty of material, as the inevitable broken piece is part of owning an art shop and gallery — and having an artist daughter firing clay on the property.
Nurtured by Collery's creativity, that small piece of scoured earth has transformed into a sparkling garden stream of recycled art, rearranged from its original form into another.
Lining the walk from the gallery's parking area to its entrance, the garden is a public space open to public offerings.
"When we returned from a recent vacation, we saw a broken green dish had been added to the garden while we were gone," Collery says. "We have no idea who put it there, but we love the way it looks. Thank you, whoever you are."
For Collery and husband Klapper, giving art another life is an earth-friendly pleasure.
"Our property was certified Bay Wise in 2006," Collery says. And it began with the garden.
"The broken glass and marbles slows the water runoff and prevents erosion," she says.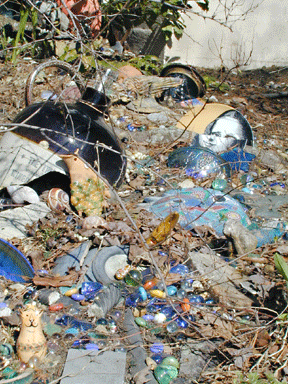 Klapper's two artful ponds, still works in progress, fulfill part of another Bay-Wise standard: Create natural habitat.
The smaller pond was once a neighbor's bathtub. It came to Klapper when the original owners remodeled. Today it bathes birds and frogs. Klapper added a waterfall using rocks and a piece of found granite. Broken pottery adds splashes of color and whimsy.
Glance quickly at the pond and you'll miss some of the fun. Yes, that pile of round objects artfully placed to one side is indeed coconuts, left over from one of the gallery's art shows. Neither Klapper nor Collery could throw them out.
Finding a new life for broken or unused things takes creativity and humor. Collery and Klapper have both in abundance.
A flock of pink flamingos forms a colorful aviary in a leafless bush.
"They were once attached to a string of party lights, until the lights burned out," Collery says. She threw out the lights but saved the birds, giving them a new home in her garden.
A small glass bird hangs in a nearby tree. It was for sale in the gallery until it cracked and Collery set it free in her garden.
How to set your own inner artist free?
"It's your property," advises Collery, the expert on such transformations. "Let it inspire you. Use it to discover your own creativity. Most of all enjoy it."
---
Learn how to make your garden Bay Wise as well as artful at www.baywise.umd.edu.