Sky Watch by J. Alex Knoll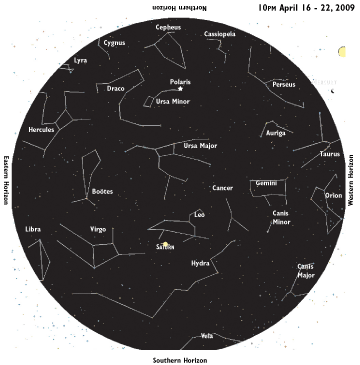 Possible Early Morning Showers
Let's hope for a meteor storm
The gibbous moon wanes to last-quarter phase on Friday, when it rises in the southeast at 3am and is high in the south at sunrise, around 6:25. Each evening thereafter, the narrowing crescent rises roughly a half-hour later and sinks 10 degrees closer to the sun at daybreak.
Before dawn Sunday morning, Jupiter trails the outer curve of the moon by less than three degrees. Just before daybreak Wednesday, the moon joins Venus and Mars low in the east. Between 8 and 9am that day, the lower tip of the crescent moon occults Venus, meaning it passes between us and the planet, obscuring it from view.
The waning moon provides dark skies for the annual Lyrid meteor shower. While you may spot stray Lyrids streaking across the sky all week, the show peaks late-evening Tuesday through dawn Wednesday, when the moon is but a thin crescent in the pre-dawn sky. While the Lyrids have stormed with as many as 100 meteors an hour, 10 to 20 is more typical. Of those, roughly a quarter leave long glowing trains of dust arching across the sky for a few seconds.
To best appreciate the show, later is better. Then find a dark, comfy spot facing northeast, toward the shower's radiant, the point from which most meteors appear to emanate. For the Lyrids, that's the bright star Vega in the namesake constellation Lyra.
While Jupiter, Venus and Mars rise with the sun fast on their heels, Mercury makes its best evening appearance of the year. Look for this surprisingly bright light roughly 15 degrees above the northwest horizon following sunset at 7:45. Over the next week it will appear a little higher with sunset each evening, but even so, fleet Mercury sets well before 10pm.
Illustration: © Copyright 1925 M.C. Escher/Cordon Art-Baarn-Holland; Graphics: © Copyright 2009 Pacific Publishers. Reprinted by permission from the Tidelog graphic almanac. Bound copies of the annual Tidelog for Chesapeake Bay are $14.95 ppd. from Pacific Publishers, Box 480, Bolinas, CA 94924. Phone 415-868-2909. Weather affects tides. This information is believed to be reliable but no guarantee of accuracy is made by Bay Weekly or Pacific Publishers. The actual layout of Tidelog differs from that used in Bay Weekly. Tidelog graphics are repositioned to reflect Bay Weekly's distribution cycle.Tides are based on National Oceanic and Atmospheric Administration and are positioned to coincide with high and low tides of Tidelog.