Sweet 16
Bay Weekly's History — Up Until Now
1993
The Start of It All
We set up shop at 5861 Deale-Churchton Road to make a newspaper. J. Alex Knoll, Sandra Olivetti Martin and Bill Lambrecht — we're reporters and writers, but our business experience is limited: Alex paid for journalism school as a self-employed snocone truck driver.
Nonetheless, New Bay Times' first issue appears on April 22, typeset on the tiny Macintosh Plus and laid out by cutting and pasting. On the starting line-up: features, news in Dock of the Bay, calendar of events, Not Just for Kids, Land, Sea & Sky, a couple of editorials, letters to the editor, Bay reflections and commentaries — plus Real (now Free Will) Astrology and News of the Weird, both continuing to prove themselves Most Valuable Players.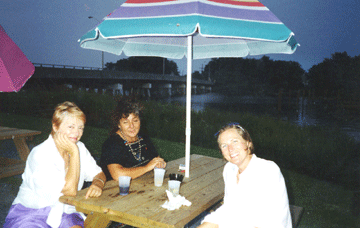 Contributing writers Lee Summerall, left, and Carolyn Martin, right, sit with editor Sandra Olivetti Martin at a staff party celebrating publication of New Bay Times' 10th issue.

The second issue is harder than the first. But by June, luck and confidence are on our side.
We take three big steps that month: Bill Burton, newly retired from the Baltimore Evening Sun after 371⁄2 years as outdoors editor, signs on as New Bay Times' first columnist. He sends his copy by modem. On Tuesday nights we scramble to set up.
We're so good at this we take on a special issue: Our first Summer Guide: 101 Ways to Have Fun.
We buy a used white Chevy Suburban to deliver New Bay Times from Severna Park to Solomons.
In August, with our 10th issue, we throw a party to celebrate. We also add spot color to our front and back covers. Our first color: green.
Among the first-year crew and contributors: Nathaniel Knoll, Sonia Linebaugh, Carolyn Martin, Donna Reifsnider, Jeannie Thomma, Audrey Scharmen, Lee Summerall; photographers Steven Anderson and David Hawxhurst. Finding willing advertisers for those earliest papers were Kristin Sohr, Darline Health, Christine Yotko, Eric Byrd, Debbie Connell and Steve Rocks. Our receptionist is Max, the 100-pound yellow Lab.
Blast from the past …
Remember Bobby D's?
---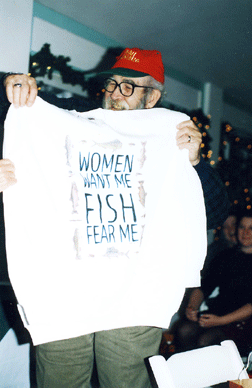 Our first big catch, outdoors writer Bill Burton comes aboard in 1994.
1994
Doubling Down
In June New Bay Times (fortnightly) becomes New Bay Times~Weekly for a 40-issue year. Advertisers are beginning to trust this upstart paper, and stories grow on trees, waiting to be plucked. Innovation is the name of the game. We even try a serial: 25 weeks of Eli Flam's novel Alex and the Eagle.
Still, hours are long. We work two shifts, with dinner often served (Popeyes and pizza are popular) as the night crew of writers comes in, after other day jobs, for editing, proofing and layout.
Every Wednesday evening, the flats — lined cardboard sheets on which stories and ads are pasted — are driven to Newspaper Printers in Waldorf. There photos are reshot to size and pasted into their holes on the flats, which are in turn shot as photo negatives. Burned as thin metal plates, the pages are threaded into web presses and rolled off in thousands. Our fully loaded Suburban is driven back for Thursday delivery.
Playing on the team in year two: Stephanie Barrett, Evan Christman, Amy Ellsworth, Aloysia Hamalainen, Heather Hardesty, Rebekah Hazzard, Eli Flam, Mark McCaig and Barbara Marinaro; advertising sales reps Jane Arthur, Jennifer Cochran, Rhonda McCullough and Darlene Tuttle Smith. Betsy Kehne, today's production manager, begins as night-shift intern.
Blast from the past …
Remember the Bay View Inn?
---
1995
Learning to Crawl
Ironman Cal Ripken breaks Lou Gehrig's record of 2,130 consecutive games of baseball. New Bay Times~Weekly sets a personal best: 51 issues (with a week off at year's end) — despite Nov. 5's editorial, The Death of the American Newspaper. (By 2008, that headline was sounding too prophetic — though still premature.) Readers are taking us around the world, sending back photos of New Bay Times~Weekly being read in faraway places.
Doc Shereikis joins us as the Movie Professor, beginning our never-ending tradition of movie reviews.
New to the crew in year three: Kimbra Cutlip, Diane Knaus Diamond, C.D. Dollar, M.L. Faunce, Michael Gaunt, Carol Glover, Paula Langguth, Pat Piper, Doug Truitt. Eastern Shore humorist Helen Chappell contributes monthly Tales from Oysterback. Tina Franken and Joyce Williams work on the advertising team.
Blast from the past …
Remember Emack and Bolio's Ice Cream?
---
1996
Innovations and Traditions
Holistic healing is sweeping Chesapeake Country. New Bay Times~Weekly rides the wave with a year-beginning feature, The ABZs of Wellness, and a monthly full page of wholistic advertisers. Antique and curio shops also support a full page. We remember them, but we've forgotten the blizzard we chronicled that same January.
Innovation continues with the young paper struggling to survive as self-supporting (meaning no more nest egg). Editorial cartoons (by Betsy Kehne, Sonia Linebaugh and Lee Summerall) and photos make a splash; wish they'd survived. Occasionally two colors mix on our pages. We follow bookstore Mystery Tales' writers' competition through to its murderous end, when contributor Lee Summerall pens the death of a mystery-bookstore owner who breaks the rules her competition has set.
Local Bounty, begun this year, is ever since our annual guide to the celebrations from Thanksgiving through the New Year.
Helping carry NBT~Weekly your way in year four: our first classified manager Jim Gibbons; interns Anne Bryant, Jennie Wierschem, Shawn Wilkenson, Alan Walkowich, Meredith Zimmerman; junior reporters Ariel Brumbaugh and Eric Smith.
Blast from the past …
Remember Eastport Trading Company?
---
1997
Catching On
New Bay Times~Weekly must be catching on: At typically 28 pages, we're full of fascinating stories and ads. Photos are shot in 35mm, developed and scanned for layout in stories on computer. Stories and ads are then combined and pasted on flats.
Bill Burton celebrates 50 years in journalism on Dec. 7. That's a few months after he admits in these pages that he's seen Chessie.
On a personal note, General Manager Alex Knoll takes time off to marry Lisa Edler, who he eventually persuades to sign on as our director of sales and marketing.
Among the fourth-year crew: Stacy Allen, Valerie James, Kathy Johnson, Kevin Kohler, Brianne Warner, Janie White. We expanded our stable of delivery drivers, adding Jonesy Jones, Ray Mudd Jr. and Brian Shipman.
Blast from the past …
Remember Lagoons Island Grille?
---
Our first webmistress, Brianne Warner, with our first canine greeter, Max.
1998
Five and Flying
Five years is a big deal. We celebrate with a Birthday Bivalve Bash on the South River at Surfside 7. Hundreds join in the May 3 party, including Sen. President Mike Miller and Del. Virginia Clagett. Music and food are free, courtesy of local bands and restaurants. Advertisers and our community of friends contribute such an array of goods and services that our auctions, called by Judy Howard and Pam Parks, raise $6,500, the New Bay Times~Weekly community's gift (minus expenses) to the Oyster Recovery Partnership.
Keeping up with the times, New Bay Times~Weekly goes online at www.bayweekly.com. Former intern Brianne Warner takes us into the electronic age, becoming our first webmistress while earning her journalism degree at University of Maryland.
Production manager Betsy Kehne marries sweetheart Mark Behuncik, and we still get a paper out.
Among the fifth-year crew: Kim Cammarata, Darcey Dodd, Kathy Flaherty and Don Kehne; drivers Tricia Action, Nate Anderson and Russ Pellicot; and two stalwarts: Mark Burns, who keeps reinventing himself, and Gary Pendleton, whose Earth Journal column is still with us, 11 years later.
Blast from the past …
Remember Freds Restaurant at Parole?
---
Mary Catherine Ball and Kathy Flaherty test the dress code.

1999
April Fools
Computers and the Internet have created a virtual newsroom. Chris Dollar electronically sends his Chesapeake Outdoors column from home after his day job at Chesapeake Bay Foundation. On the telephone while prompting his computer, Bill Burton sounds like a sailor working his way through a stubborn knot.
Finally, April Fools Day falls on a Thursday, allowing us to report the overnight theft of the State House by St. Mary's County. Humorists Don Kehne and Mark Burns handled the story, and cartoonist Jim Hunt gave us his best illustration. Even Sen. President Mike Miller cooperated in the prank.
Reporters are fresh and eager to make their mark, and their stories are inspired — and prize-winning: Chris Heagy's Father's Day Special: Sons and Daughters; Kirstin Hagert's Lacrosse Dreams.
Energy is so high we throw ourselves another Birthday Bash to celebrate our sixth, returning to Surfside 7 for a party that raises over $8,000 and plants 8,000 trees for American Forests as our Earth Day-Birthday gift.
We revisit and improve the good ideas of earlier years: Gabby Crabcakes' (aka Lisa Edler Knoll) brings restaurant reviews to our pages, in the form of Bay Bites. And we reprise our bright idea of 1993, making 101 Ways to Have Fun an annual summer supplement.
Our crew in the century's last year includes newcomers Donna Ayres, Mary Catherine Ball, Connie Darago, Christy Grimes, Kristin Hagert, Chris Heagy and Lori Sikorksi; interns Aaron Booth and Tom Denney; sales reps Kathy Flaherty, Kitty O'Dowd and Archie Holden; and drivers Bob McDaniel, Bebe Murry, Betsy Owens-Shultz, Michelle Petro, Gretta Radford and Joachim Wintermute.
Blast from the past …
Remember Smith Building Supply?
| | |
| --- | --- |
| | |
| Mary Catherine Ball and Darcy Dodd, at left, and Betsy Kehne, right, at Bay Weekly's sixth-year birthday bash in 1999. | |
---
2000
The Dawn of a New Millennia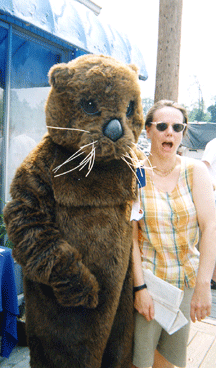 After meeting Calvert Marine Museum's mascot otter at the seven-year birthday bash, contributor Christy Grimes writes about becoming the otter.

New Bay Times~Weekly becomes Bay Weekly. Shortening our name — thereby getting in synch with our online identity — is our first millennial act.
Late summer, we take a second leap, from our shoebox office at Tri-State Marine, down the road to 536 Deale Road. Our Bay cottage has a water view, and it's across from Deale landmark Happy Harbor, so it's easy to find. We're looking good, too, as Jackie Gallagher of Room Smart Redesigns sets us up in a day.
Mark Behuncik and Don Kehne work with Alex Knoll to network the new office; elements of the paper now move from desk to desk at the touch of a button — unless the system fails. Email now brings us much of our information, and most of our stories. We're trying out our first digital cameras, too.
A third big change comes as we switch printers. With Southern Maryland Printing in Waldorf, technology finally ends the rush-hour rush to deliver our camera-ready pages to the presses; we now simply upload PDFs to an FTP site over the Internet, and the printers take it from there.
The millennium also adds a third generation to the Bay Weekly family: John Alexander Knoll Jr., born to Alex and Lisa on August 15.
At seven, we're still celebrating birthdays. Mascots add to the fun at this year's Surfside 7 affair: Calvert Marine Museum's Otter comes (leading to a good story) along with Maryland Department of Natural Resources' PDF Panda and American Forests' Treeture. Dozens of Chesapeake Country businesses donate food, goods and services. Their generosity, and $1 donations asked of each partier, support the South River Federation.
Audrey Scharmen's Bay Reflections win her first place prizes a third straight year — awarded by three different sets of judges — in Maryland-D.C.-Delaware Press Association editorial awards competiton.
Millennial newcomers to the Bay Weekly crew: Sharon Brewer, humorist Allen Delaney, Jennifer Dawicki, Amy Mulligan and Matthew Thomas Pugh; drivers Siobhan Carlyle, Donna Faiola, Joseph Kelly and George Moon Jr.
Blast from the past …
Remember Stinnett's Restaurant?
---
2001
Intern Amanda Lofton and advertising account rep Jennifer Dawicki.
The Shadow of 9/11
In retrospect, the long shadow of 9/11 casts a penumbra of foreboding over even the early year. Looking back, you see patterns where at the time you experienced only bumps. Looking back, Bay Weekly's 2001 seems a year of transition.
Staffers are drawn to us for the creative challenge (certainly not for the high salaries). So they're often people in transition. We set a high standard, they rise to it, discover new powers and set out on new paths. So Bay Weekly is continually redefining itself as old contributors leave and new ones find their way to us.
Our hardest loss: Bay Weekly's Max, our receptionist since the beginning, leaves us a few weeks before 9/11, a few months before his 14th birthday.
Our writers are at peak performance: Chris Heagy' writes Johnnies Talk Their Way out of College, which will win our first prize for an education story. Intern and UMD student Amy Mulligan takes a first for her 2000 sports feature, Pick-up Is the Name of the Game.
In sales, transitions bring us a powerhouse team with Lisa Edler Knoll and Marnie Hansen (Morris). They help us reach another personal best, with our first Best of the Bay competition and awards.
Lisa Edler Knoll makes another landmark contribution, giving birth to the second member of Bay Weekly's third generation, Elsa Leigh, on
October 4.
Fueling Bay Weekly's fires in our eighth year: Lisa Edler Knoll and Marnie Morris on the advertising front; writers Martha Blume and April Falcon Doss; calendar editor Angela Collins; webmistress Christina Crayle; interns Amanda Lofton and Rachel Presa; drivers Andrew Martin, Phil Brown, Michelle Cole, Pam Folderauer, Pat Harder, Vicki Marsh, Dave Ropiski, Steve Seymour and Cindy Thomas.
Blast from the past …
Remember Saturn of Bowie?
---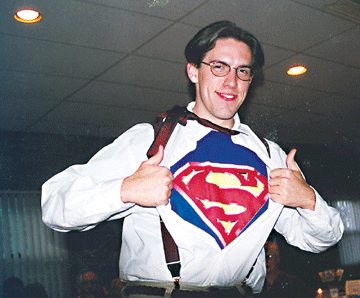 Longtime contributor Mark Burns, who first came to New Bay Times~Weekly in 1998 as an intern, still pens movie reviews.
2002
Growing Stronger
Once again, change has made us stronger.
In 2002, we write wrapping up that year, Baysiders proved our vow that the tragedy of September 11, 2001, would not shatter either the rhythm of our daily loves or our values. We spend this year in blessed anticlimax, recovering, rebuilding, perhaps even recreating our better selves.
Confidence and quality are the bywords of our ninth year. We're bold enough to carry out a years-old threat to hire a full-time staff writer. We've got great art, with our own ever-agile Betsy Kehne supported by Jim Hunt, Lali, Gary Pendleton and Cristi Pasquella.
Old favorites get upgrades, as our long-running Not Just for Kids page takes on the monthly How-to Cowboy feature, by Edward Allen Faine. Food reviews return with Chris Kulczycki.
The Asian oyster Ariakensis enters Chesapeake waters and vocabulary, and rain gardens and rain barrels begin a continuing run on our pages.
Joining our ninth year: writers Brent Seabrook, Nancy Hoffman, Sara (Ebenreck) Leeland, Kathleen Murphy; artists Lali and Cristi Pasquella; advertising sales rep Deborah Bell; drivers Claire Hinckley, Jennifer Madison, Melissa Sousy and Judy Zelsman; and interns Davene Grosfeld, Katie McLaughlin, Cynthia Owens and Sarah Williams.
This year brings us proofreaders Annette Najjar and Dick Wilson, who's still with us — and who for four years doubles as our theater reviewer. Jonathan Parker signs on as movie reviewer, and along with longtime contributor Mark Burns, still pens reviews.
Blast from the past …
Remember Chesapeake Music Hall?
---
2003
Ten Years
Our 10th-year anniversary issue brings a retrospective, and throughout the year we update the problem stories of 1993: Trash on our beaches, falling crab catches: alas, they're still much the same. Political scientist Howard Ernst tells the world the same thing in Chesapeake Bay Blues, the book that blows the whistle on the failures of two decades of Bay restoration talk. So it's no surprise when Tom Horton's new edition of Turning the Tide says we're not.
On the good news side, we're repeating ourselves: Ten years in, we're still writing about the value and availability of locally raised food, including beef, for our first time.
There's a bit of good news on the oyster front, when Richard Pelz asks "Who needs Ariakensis? Right-raised native oysters can review the species and restore the Bay."
This year, too, slots break the news surface — never to submerge.
New in our 10th year: writers James Clemenko, Louis Llovio, Carrie (Steele) Madren, Gary Starikoff, Albert 'Abby' Ybarra and Vivian Zumstein; drivers Tom Hensler, Richard Miller, Linda and Tom Murphy; interns Stephanie Chizik, Kimberly Goode, Sara Kajs, Jesssie McLean Heller, Lauren Silver and Therese Troescher.
And you're still reading columnist Steve Carr, who joined us in '03.
Blast from the past …
Remember Featherstone Square Antique Mall and Collectibles?
---
2004
Taking Stock
At 11 years old, Bay Weekly professed that we'd been around long enough to measure the vital signs of Chesapeake Bay. The biggest stories remain the ones that led us into this enterprise: environment, quality of life, culture and lore, people and places.
On that year's list of 10 top vital signs:
1. Chesapeake Bay's Fortunes Ebb and Flow: Over the past 11 years, all but the last may go down in history as the decade we nearly talked Chesapeake Bay to death.
2. Maryland's First Republican Governor in Three Decades: Robert Ehrlich.
3. Sports Powerplay: Six teams showing promise.
4. Women Riding High in Anne Arundel: County Executive Janet Owens and Annapolis Mayor Ellen Moyer.
5. Rockfish Recovery: They responded to the protection afforded them.
6. A New Mr. Maryland: William Donald Schaefer steps into Louis Goldstein's shoes as comptroller.
7. Edgewater Explodes: Population has increased by about 12 percent over the decade, while the shopping centers draw in still more.
8. Prime Time for Baltimore's Mean Streets: In David Simon's hands, they make great television: Homicide, The Corner, The Wire.
9. Twin Beach Renaissance.
10. The Arts Flourish: From Chesapeake Arts Center to Annmarie Garden.
We're shaken out of our complacency by the death of first-year staffer and friend Kristin Sohr, 36, by cancer.
New on our 11th-year team: classified manager (and later webmistress) Erin (Huebschman) Sakalas; contributing writer Maureen Miller and intern Susan Wheatley; webmistress Angelia Crayle. Current delivery drivers Jim Lyles and Jim Walter join us, as did Joe Barry, Michael Cook, Andrew Knicley and Marilyn Snowden.
Blast from the past …
Remember West River Market?
---
2005
Upping the Ante
Mid-decade shake-up: We open a second office, in Annapolis where we've longed for daily presence and proximity to the center of state life. Some of us divide our time between 1202 West Street and our waterside office in Deale; others work from the closest office to reduce mileage and our carbon footprint.
New in 2005: Bay Gardener Frank Gouin, who remains a favorite, joins our team. And longtime contributor M.L. Faunce keeps tabs on Chesapeake Bay crabs, fish and oysters in her weekly column Bay Bounty.
New on our 12th-year team: writers Kat Bennett, Suzanna Brugler, Becky Bartlett Hutchison, Ted Daly, Al McKegg, Dawn Kittrell, Helena Mann-Melnitchenko, Eugene Melnitchenko, B.C. Phillips, Paula Anne Delve Phillips, Debra George Siedt, Alice Snively, Bradley Sroka, Scott Sowers, Staff writer Margaret Tearman signs on; advertising sales rep C. Blair Lee; driver Kim McCaig.
Blast from the past …
Remember the South County Connection C-50 bus route?
---
By Christmas 2006, our staff and cadre of contributors has grown to its largest.
2006
Riding High
It's a political three-ring circus in Maryland, with county, state and federal elections all packed with competition, and we cover it like the big show it is, attending to substance, style and stress. Voters Guides in which the candidates speak for themselves add to the ways that help you decide how to cast your ballot.
We also step onto printing's leading edge, moving up to computer-controlled tower presses with top-notch color and fast enough to print 20,000 copies of Bay Weekly in under an hour. Delaware Newspaper Printers in Dover does the job.
And Dennis Doyle renews our focus on outdoor sports with his column, The Sporting Life, winning prizes ever since. Meanwhile, our own ironman Bill Burton celebrates 50 years in Maryland.
New contributing writers in our promising 13th year: Maria Bellos, Mick Blackistone, Ralph Camardo, Dotty Holcomb Doherty, Valerie Lester, Matt Makowski, Ben Miller (now our monthly book reviewer) and Aubree (Allen) Stafford. Production assistant Clara Gonzalez de Hall; intern Alex Murray. Advertising sales reps Amy Garris, Dawn Gray, Gillian Morton and Eleanor Nelson. Drivers Ralph Camardo, Tammie Bates and Becky Fuller.
Last but not least, Moe joins the team, continuing our tradition of employing a yellow Lab receptionist; he looks just like Max, our first.
Blast from the past …
Remember Merritt Athletic Club?
---
2007
Clouds on the Horizon
By midyear, the boat starts rocking — but who knows, because the dips lift to highs. Papers are big and fat, often 48 pages, and four special supplements: our first annual Dining Guide, spring Home & Garden guide, summer's traditional 101 Ways to Have Fun — and its winter-holiday companion, Local Bounty.
These big papers give us room for expansion. First, we puzzle you each week with Ben Tausig's Xwords, complete with local clues. A weekly sudoku follows. We add a monthly column chronicling the Voyages of Discovery by science writers Lynn Teo Simarski and Guy Guthridge from aboard their live-on trawler Bright Pleiades, on Chesapeake Bay.
But fall doesn't bring its usual rise, as advertisers begin to report slowing sales. We're not the only ones loath to read the early symptoms of recession. We're bullish and keep those big papers coming, with arts, adventures, events, music, profiles, theater — and lots of long, smart environmental stories.
By the end of the year, our two offices reunite, on the south side of Annapolis at 1629 Forest Drive in a spacious building on a hill and backing up on woods. With that move, we leave Deale, our location since the beginning.
New in our 14th year: Calendar editor Diana Beechener, theater reviewers Davina Grace Hall and Jane Elkin and contributors Rob Goszkowski and Michelle Steel. Joining our sales team are Joe Addabbo, Kenny Bernard, Petey Kitzmiller, Beth Marx and Mike Mullican. Current South County driver Wally Everett comes on board, as well as Justin McCabe. And interns Susie Borchardt, Tom Lyons, Julie Randolph and Bethany Rodgers provide able hands.
Blast from the Past …
Remember Beach Cove Restaurant?
---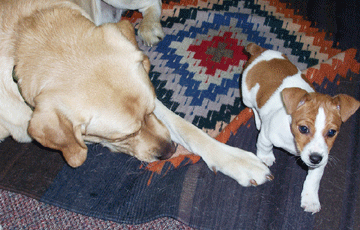 Receptionist Moe and head of collections Nipper.
2008
Riding the Storm Out
The best news of 2008 is that Bay Weekly makes it through the year. Many newspapers don't as global recession and people's changing habits make dailies look like dinosaurs. As a weekly, we're luckier: still able to engage you and make reading worth your time (and the price is still right — free).
Even so, with fewer ads and ever-rising newsprint prices, we must trim our sails and batten down the hatches. With smaller, leaner papers, we must jettisson some of the talent that helped us grow, parting ways with several staffers and friends, taking us from the dozen-plus staff of 2007 to six.
In many ways the challenges of the downturn return us to where we began, offering us the chance to define Bay Weekly all over again as the best paper we can in these times.
Amy Kliegman and Heidi Thomas join our hard-working 15th-year sales team, and current delivery drivers Allison Quattro and newlyweds Peter and Kate Vonderheide join the crew, as well as Chris Benton and Valerie Stokes-Heckert. We are aided by interns Sally Bolig, Rachel Rabold, Erica Stratton and Ying Wang. And to provide four-legged company for Moe, we add the irrepressible Jack Russell Nipper to our staff as his assistant and head of collections.
Blast from the Past …
Remember the 60-page Bay Weeklys?
---
2009
Rebuilding
Turning 16 on April 22, Earth Day's annniversary, Bay Weekly is lean and focused. We're optimistic that with spring, our fortunes and those of our advertisers will again bloom. You're now reading our 801st consecutive issue.
Our crew is made up of veterans and novices, all working to keep this ship moving forward through uncertain waters. Co-founders Sandra Olivetti Martin, Bill Lambrecht and Alex Knoll have been joined by director of sales and marketing Lisa Edler Knoll. After 15 years, production manager Betsy Kehne continues to oversee the assembly of each week's paper. Coming on as calendar editor in 2007, Diana Beechener now helps carry the load of filling each week's paper. Advertising account representative Amy Kliegman has just celebrated her one-year anniversary, and just this week, Karis King has joined our sales team. New contributor Grant Zeigenfuse, proofreader Martha Lee Benz and interns Ashley Goodman and Erin Woodhurst and delivery driver Tom Tearman add to our hopes as we rebuild our way to better days.
What does the year have in store? What changes lie ahead? What stories are to come? Read on to find out.