Off to the Races!
The spring season begins with the Races at Roedown
by Erin Woodhurst
Whoosh! A horse gallops past, heading for an emerald steeplechase jump.
That's more like it. Winter was much too quiet and too gray. At last it's spring, and here come the Roedown Races — with sound and color, with hooves throwing mud and people throwing tailgate parties.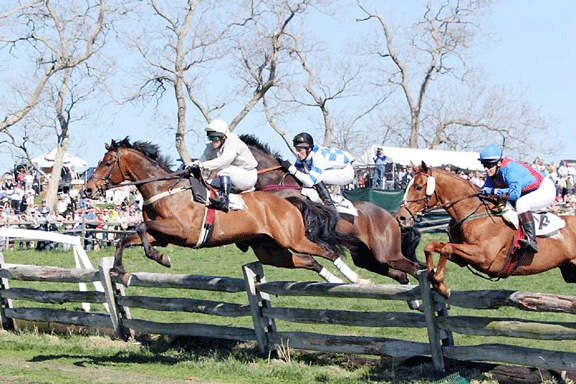 Weather is fickle in April. On the month's first Sunday, this year April 5, "the weather could be good or bad." That's the prediction of sponsoring Marlborough Hunt Club member Gil Hill, who's never missed a race in 35 years. Hill says he's betting on warm, sunny weather this year — "because it's my birthday."
A more scientific prediction of good weather comes from 92-year-old Hal Clagett, owner of Roedown Farm. Over the race's 35-year history, Clagett recalls two years of sunshine for one year of drizzle and cold. If you're betting on a good day, the odds are two to one in your favor.
Whether it rains or the sun is high in the sky, the races — and the surrounding hubbub of events at Davidsonville Farm — still go on. In the best of years, the afternoon of racing, feasting and festivities draws 5,000 partiers.
They'll find lots of reasons to party. Eleven races — some on the flat, some punctuated by jumps — define the event, bringing Thoroughbred horses, jockeys in brilliant silks, speed, competition and wagering to the greening Roedown fields.
On the hill overlooking the racecourse tailgaters have polished their cars (and some their silver) for spring's first picnic. They'll not only entertain their guests (tailgate parties are by advance reservation and invitation), they'll also compete for prizes.
Picnics of your own creation are welcome throughout the grounds.
A third competition encourages the wearing of extravagant hats, with awards for creative-, elegant-, unique- and colonial-topped women and children. (Judging from noon to 1pm.)
This year Roedown takes a cue from racing's Triple Crown, adding a signature drink. Eastportorican Rick Casali's champagne cocktail created for the Old Stein Inn was crowned The Roedowner in judging last week.
Music is another tradition beginning this year, as local bands — Sweet Leda; Pressing Strings; Michael K. and the Populists; and the American Originals Fife and Drums Corps, under the direction of Mike Mallonee — play at the starting line rail next to the red barn.
Getting There
Rain or shine Sunday, April 5. Reserve a tailgaiting space or bring a picnic. Gates open at 10am; First race at noon; Roedown Farm (Route 2 to Harwood Rd. to the farm), Davidsonville. $5 admission; $20 parking. No pets: 410-956-1975; Early-bird parking and admission for 6 ($35): www.marlboroughhuntraces.com
---