Searching for the Man who Saw God
Engravings of William Blake at the Mitchell Gallery
Tyger! Tyger! burning bright in the forests of the night.
Reviewed by Ben Miller
Remember that William Blake, the English poet whose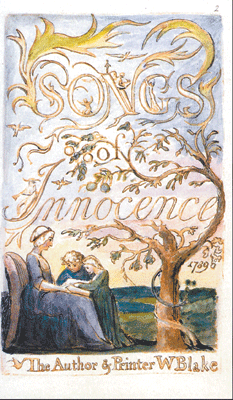 poem, "The Tyger," we studied in school?
For all his poetic fame, Blake, who lived from 1757 to 1827, was a poet on the side. He earned his living as an artist, who produced engravings and illustrations for books and magazines.
At the Mitchell Gallery at St. John's College you'll see that other Blake. The cleanly organized exhibition displays framed pages from three books that Blake illustrated.
Blake's illustrations are small and intricately designed. If you use glasses, you will need them here. The drawings, not quite miniatures, are not as large as the illustrations we are accustomed to.
Fortunately, our ability to see his work is enhanced by the excellent condition of the paper. There is none of the browning and foxing that often troubles old books.
Blake's style is enhanced by his attention to detail. In color and form, his art has an intellectual quality. There is a reason for everything he did.
This viewer was also looking for something else. Blake was more than a poet and engraver. He was a mystic.
At age four, Blake saw God "put his head in the window." At nine, he saw angels in a tree. When his younger brother, Robert, died of consumption in 1787, Blake saw Robert's spirit rise through the ceiling, "clapping its hands for joy."
Mysticism gets short shrift in our practical age of politics and planning, although the yearning for something beyond the world we know keeps popping up in movies and television shows.
Is Blake's mysticism evident in this show? It may be, if you look closely.
In The Book of Job (1825-1826), Blake communicates his vision through his art and the visual organization of the Old Testament verses. He makes the story his own by repetition and adding verses from the New Testament.
Blake varies the size of the writing, hence the emphasis, of the words of this narrative poem. His drawings of devils, monsters, snakes and dragons are frightful images of Job's torment. Blake's emphasis of the line, "The Fire of God is fallen from Heaven," evokes scenes from our own recent history.
Yet there is hope in the end. God is operating through all that happens. Job says, "I have heard thee with the hearing of the Ear now my Eye Seeth thee."
For Blake, the mystical vision explains when the practical leaves us mystified.
Blake's other book, Songs of Innocence (1789), is charming and carefully drawn.
On the surface, Songs of Innocence is a sort of child's garden of verses, but underneath are the words of a man well aware of mortality and loss.
He intimates the view that all are one. In "On Anothers Sorrow," Blake asks, "Can I see anothers woe, And not be in Sorrow too." In "The Divine Image," Blake makes the claim "And all must love the human form, In heathen, turk or jew. Where Mercy, Love, & Pity dwell, There God is dwelling too."
You won't be blown away by this beautifully presented exhibition. It's not meant to blow you away.
If you look closely, however, you will see the messages of a man seeing God working in all of life.
The exhibit visits to St. Johns College from the Syracuse University Art Collection, thru Feb. 29, Noon-5pm Tu-Su and 7-8pm F @ the Mitchell Gallery, Annapolis. Free: 410-626-2556, www.stjohnscollege.edu
Docent tours Noon-3pm Th; art educator Lucinda Edinberg leads a tour at 3pm Feb. 10. St. John's tutor David Townsend presents a gallery talk 4pm Feb. 19.