Ten years in, Battle of the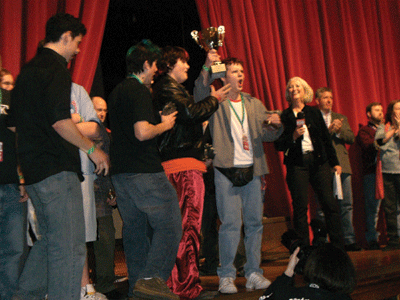 Bands keeps the music playing
by Rob Goskowski
Ten years, 10 battles. It's been an impressive run for Anne Arundel County's High School Battle of the Bands, the largest contest of its kind in the nation. This anniversary year delivered a bit of humor, plenty of talent and some late-evening drama for a well-rounded and thoroughly entertaining night.
If five hours of play revealed anything about this generation of aspiring musicians, it's that the kids are alright, to borrow a phrase from a previous generation. Inevitably, there were bands whose music would baffle anyone over 40, and those were in the vein of scream-your-face-off hardcore music. Kill The Mourning notably proclaimed "We're here to make your ears bleed!" But the majority played tunes in a style relatable to those who grew up on the music of the 1970s. Hip-hop and electronic music were absent; rock 'n' roll enthusiastically ruled the stage.
Think back to the last mildly unruly high school assembly you attended, and you'll have a good idea of the scene on January 18. Kids cheered for their schools and their friends on stage; they shouted out things annoying or occasionally hilarious.
In between sets, emcee and Battler emeritus Danny Mays did an admirable job of keeping the room entertained. Teens are merciless judges of what is cool, and Mays pulled it off with a few well-placed jokes, many at the expense of expensive private schools. Quick responses to sporadic heckling coupled with his own band experience helped his credibility.
To raise money for the school music programs of the top four bands, "roughly 900 tickets were sold," estimated Battle founder and director Nancy Almgren. But the real purpose of the annual battle is making music. To that end, a panel of judges gauge each band on aspects ranging from professionalism and musicianship to crowd response. "Every year the winner is a total package," said Almgren.
The Total Package: Stockyard
Severna Park High School's Stockyard was just that this year, placing first overall while earning Best Vocals, Best Stage Presence and Best Song honors. The electric quartet blended humor and versatile pop songwriting, with a bluesy loverboy number succeeding an uptempo funky stomp. Singer Thomas Kenny hit notes and strutted around stage, blowing kisses to boos from a rival high school and working the crowd.
Preparation made their act stand out. The band sported makeovers with green and blue hair highlights, dozens of temporary tattoos and a strip show to Marvin Gaye's "Let's Get it On" where jeans gave way to red leather pants. Crowd response was solid, and panties — presumably spares — pelted the stage.
"Before, we were not good but just had this sense of humor," said bassist Nick Bessman. "After playing for a few years, we've gotten a lot better and kept the humor. Before, our songs were a little generic. This year we're more creative."
Heavy Metals
While Stockyard played modern funky rock, Annapolis High School's Mount Weather and Old Mill's Sylent Asylum turned back the clock. Kit Whitacre of the former took the stage in a Hendrix-inspired outfit, wailing through psychedelic rock guitar solos and a cover of Pearl Jam's "Alive." Sylent Asylum also took cues from decades past. They, too, featured some dexterous guitar soloing, by Patrick Linton, but in a shredding, heavy metal style.
"All the new stuff, we don't really listen to it," said Linton. "We're influenced by older bands like Metallica, Megadeth and Iron Maiden."
The heavy metal soloing continued during Kramer and Nelson's set, albeit in a less headbanging and more refined fashion. The South River High Schoolers' ambitious effort earned them third place and both players individual honors. Paul Nelson walked with Best Guitarist and Max Kramer with Best Musician for his work on the keys. The three-song set featured a well-disguised Grateful Dead cover, and "the other two are originals I wrote while he solos over 'em," said Max Kramer, summing up the sound of the duo. "We don't have a drummer but we try to make it work. People seem to like it, so we'll probably try to record and get some more gigs."
Two other instrumental-only bands took the stage, a departure from previous years when every song featured vocalists. Spaulding High School's Question the Hearing thrashed through its set with songs that never stayed the same for long: smooth and melodic one minute, abrasive and staccato the next. Southern High School's Ground also bypassed the lyrics but with a more traditional rock backdrop, with bassist Parker King and guitarist Sean Garfola trading solos. King's slapping, popping and picking resulted in a Best Bassist award.
Southern High School's second band, Choice, also played in a familiar hard-rock style, performing a spot-on cover of Dispatch's "The General," a feat in light of Dispatch's reputation for technical prowess. Choice's expressive harmonizing, clean solos and sharp performance made them a crowd favorite and runners-up in the contest.
Funkasaurus was one of the evening's curiosities. The appropriately named 14-piece behemoth was the largest band in the BOB's history and the only one in this year's Battle to feature women. Their extensive horn section and driving percussion brought their big sound to life during reggae- and ska-tinged originals paired with covers of The Mighty Mighty Bosstones' "The Impression That I Get" and Ah-ha's "Take on Me."
Hardcore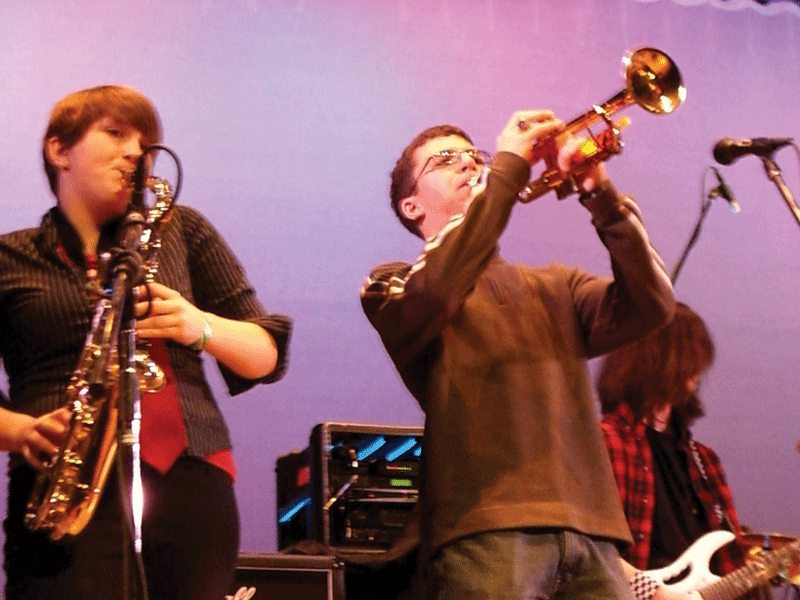 The only bands likely to make parents stick their fingers in their ears were Kill the Mourning and The Side Affects, both from North County, and The Honest Life, from Broadneck.
Kill the Mourning, performing their first gig ever, played a blistering set of angst-ridden, scream-o hardcore music. Guitarists John Mitchell and Jimmy Queen cranked out rhythmic noise while vocalist Allen Shaner paced the stage, growling and shrieking through three songs. Drummer Brandon Monroe's double-bass drum time-keeping impressed the judges. He was voted best on the kit.
The Honest Life's hardcore attack had a dose of melody hidden in the chugging guitar and alternately bellowed or screamed lyrics.
The Side Affects were dealt a of bit of disappointment after a cut-short set of speedy punk rock. Bass player Hunter Crane sprinted around stage like AC/DC's Angus Young, leaping over equipment and jumping off stage, while singer Josh Klein hardcore danced when he wasn't singing/yelling. Alas, they used an unsubtle word while trying to make a subtle point in their last song "Sex Addict."
"The song is about respecting women and not being a sex addict," explained guitar player James Hampton. "They just didn't get it." But after a parent complained mid-song, the curtains were drawn on the band. To their credit, the band made an effort to handle the disqualification maturely and to stay positive. "We just want to find out who won so we can congratulate them," said Klein. "We're not mad; we had a blast and played a great show."
But when told a moment later by a police officer that they could not re-enter the auditorium, the band was visibly angry. They stood in the lobby and viewed the awards ceremony from a distance.
Almgren was unaware of the decision to bar the band until asked about it by Bay Weekly on Sunday. "We never said anything to Maryland Hall's security about that," she said. "That had nothing to do with Battle of the Bands."
Host Danny Mays' band Beretta Jane closed out the evening. Their polished, '80s' rock performance contrasted obliquely with the amateurs' sets leading up to it. Tight jeans, make-up and excessive accessories coupled with soaring, sing-along rock cliché lyrics such as "Sex is/like a drug!" made Jane seem cheesy compared to the earnest energy the kids had brought to the stage. The teens in the audience, opinionated as ever, seemed to agree. "You're a terrible finale!" was one particularly harsh catcall.
Rock and Roll Rules
Early in the evening, when the opening act had just finished, Mays joked that "it's gonna be a long freakin' night for you parents." Volume issues aside, he may have been mistaken. All but a few bands played in a style established by artists 20 or 30 years ago, so there was something for elders to appreciate, too. The battle of the bands these moms and dads fought with their own parents decades ago, when rock and roll was radical, has turned to a longstanding victory.