Home, Sweet Green Home
Ways to make your abode a more eco-friendly place
by Carrie Madren, Bay Weekly staff writer
About the time birds rebuild their spring nests, we humans get the itch to re-think our living quarters, too. As home improvement season launches, you may be planning your own changes — painting with a bolder color, refinishing floors or updating your kitchen.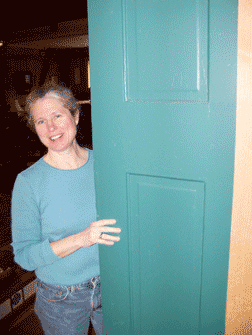 To avoid the harmful VOCs in paint, Carolyn Surrick, painted bold accents — like a forest green interior door — with eco-friendly paint.
If you are a green-conscious home improver, you'll want to beautify your home and leave a light footprint on the Earth — as well as keep your living space healthy. The good news: Nowadays you can buy green products to accomplish both goals. The bad news: The bounty of choices can confound a green homeowner.
Some eco-friendly choices emit fewer volatile organic compounds — fumes that can irritate your insides — than their traditional counterparts. Other sustainable choices use renewable materials that demand fewer trees, leaving more forest intact to absorb carbon and rainwater.
Adding to the astounding choices, green twists can be found for almost every construction project in the house, including windows, woods, tiles, lighting and more.
Knowing how to go green in home projects is new to many of us, so Bay Weekly caught up with local experts and homeowners to help navigate through three common home improvements — in varying shades of green.
Greener Brushstrokes
Perhaps the worst part of painting — after painter's tape is peeled and the touch-ups painstakingly applied — is the pungent smell. Lingering paint fumes aren't healthy in a closed-up home.
That's why Carolyn Surrick of Crownsville chose eco-friendly paints in her newly restored home.
Surrick lived in a smaller house on her property while she restored a 120-year-old barn into her dream home. In that temporary, smaller house, she began worrying about indoor air quality.
"My daughter, who was four at the time, got this horrible cough from a moldy basement, and I had to put her on Singulair," Surrick recalls, standing in her now-finished home. "I was really conscious when I built this house that I did not want her to move in and be sick. I didn't want there to be fumes or off-gasses in the house."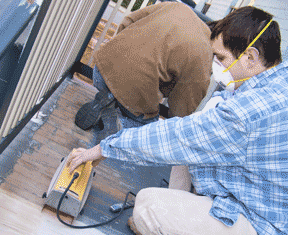 As an alternative to toxic chemical paint strippers, Mark Parreco, above, uses an infrared heat lamp to soften paint before scraping.
The dangers lurking in paints come from VOCs — a group of gasses known as volatile organic compounds — as well as other chemicals. Many paints and paint strippers emit VOCs as they're applied. Health symptoms range from eye, nose and throat irritation to liver, kidney and central nervous system damage. Some VOCs are suspected or known to cause cancer.
Strip paint indoors, and VOC levels may be 1,000 times higher than outdoor levels, according to the EPA.
Surrick avoided much of the paint problem by covering her interior with wood panels. But she yearned for color, so she painted bold accents — a red front door, a forest green interior door, a sunny yellow wall and a lovely lilac bathroom — with eco-friendly paint.
"I like being environmentally astute, but really, my first concern was my daughter's health," says the musician, who plays viola da gamba for Ensemble Galilei. "I didn't want to put her lungs through anything else after almost two years of being in an environment that wasn't really good for her."
Like Surrick, paint specialist and color consultant Jessica Gordon worries about unhealthy fumes.
"I have asthma, and I was around it a lot," Gordon recalls from her days as head of the paint department at Clement's Hardware in Severna Park. "Sometimes the smell would tighten my lungs. I thought about it a lot as I worked in the paint store, especially when I was pregnant."
Commonly used latex paint emits off-gases that can take two weeks to cure, so you'd be inhaling fumes for half a month.
When you apply low-VOC paints, on the other hand, the smell — and the compounds — can dissipate after about 12 hours.
But, Gordon warns, "that doesn't necessarily mean that it's super green." There are more dangers to look out for.
Other paints also contain silica, which can be toxic if it gets onto your hands, then into your bloodstream. Paints with mildewcide — meant to kill molds and mildews — emit off large amounts of toxic fumes. Milk paint requires you to mix in a highly toxic dry powder that can cause health problems if it gets into you.
It's hard even for experts to determine what paint is greenest, says Gordon. Some paints are more eco-friendly in the way they're produced; other paints are less toxic to painters at work.
But it's not hard to find paints geared toward the eco-conscious. Just about every brand of paint has developed its own low-VOC line.
"Green paint — as an industry and technology — is still young," says professional painter Vince Harriman of Landmark of Annapolis.
Ten years ago, Harriman says, there was no such thing as green paint. He predicts that 10 years from now, most paints will contain low or no VOCs. If, that is, mainstream America and corporations make green choices.
"It's not enough to have a few committed people, we need everybody on board," he says, including large paint manufacturers.
Harriman himself has been onboard for years. He not only uses green paint but also has greened other aspects of the trade. Instead of using chemical paint strippers that emit toxic methylisobutylketone and VOCs into the air, Harriman and his workers use an intense infrared heat lamp to soften paint before scraping. After all the old paint is scraped away, he hooks an electric sander to a HEPA vacuum that filters much of the particulate dust out of the air, making it safer for workers' and dwellers' lungs.
Your project might not require an infrared heater, but when choosing green paints, Gordon and Harriman offer some guidelines:
First, when it comes to most green paints, remember "you're giving up performance for green," Gordon says. Low-VOC paints generally aren't as forgiving as their more toxic counterparts. Harriman won't use them for some areas, including outdoor porches that are exposed to the elements and high foot traffic.
"The greenest product would last six months, and it's less green if you have to redo it every year," Harriman says. So pair your paints and surfaces wisely.
Second, for some paints, it's the pigment tint that adds VOCs to paint, so a light-colored paint generally contains less VOCs than a darker color. Harriman says that darker paints — especially reds — need more coats. "A thinner coat of paint has better integrity and longevity," he says.
Third, as a rule, finishes in eggshell or satin tend to have less VOCs than flat finishes, according to Gordon.
Fourth, become an informed buyer.
"There aren't green guidelines yet, so trust your instincts," Gordon says. Low-VOC paints are the best you can get in Bay Country — but in Baltimore and D.C., you can find no-VOC paints.
All together the best advice, says Harriman, is to "make informed choices about how you impact what's around you."
Greener Ground-Cover
Green home improvers can tread lighter on Earth with sustainable and healthier flooring. Whether you're refinishing present hardwoods or buying new materials to install in your home, you'll find green alternatives for hardwood floors and plush carpets alike.
To finish the reclaimed-wood floorboards in her old barn-home, Surrick used a low-VOC finish called Osmo Polyx Oil.
Frank Inanloo says he's seen the market for cork and bamboo flooring grow; nearly one-fourth of his new store, CarpetOne, is dedicated to green flooring options like cork.
"It's different from a regular floor finish in that it's not bullet-proof in any way," she says. Unlike regular polyurethane, which emits VOCs and keeps its finish looking the same, the Osmo-finished wood will fade and age over time, changing hue and variation with wear. That's an advantage for repairs. "Instead of having to re-sand the whole floor, you just take a little steel wool," she says, making a small buffing motion, "then you add a little more Osmo and it looks like everything else."
A non-toxic wood-finish is a green option if you're looking to refinish existing floors. If you want to install new flooring, you have a myriad of eco-options.
First, you can choose a highly renewable resource — instead of solid, slow-growing hardwoods. Cork, for instance, has more uses than stopping wine bottles.
Cork hails from Spain and Portugal. Because of the climate, that's the only region that grows vast quantities of cork for wine bottles — and now flooring. You can see cork flooring in Chesapeake Bay Foundation's Phillip Merrill Center.
"Cork comes from bark, and bark can regenerate itself," says Chuck Minnich, a design consultant at CarpetOne in Annapolis, "so you're not removing a forest." The outer layer of bark, cork grows back every 10 years with little or no harm to the tree. Cork floors are much harder than a corkboard, but softer than hardwood. These floors come in different hues and natural-looking swirling patterns, including ones that look like the sides of espadrille shoes and others that look like the sides of wine corks, but more firm.
Another fast-growing plant useful for floors and other wood projects is bamboo. Bamboo flooring is becoming more used in homes and businesses — like Varuna Salon at Park Place in Annapolis.
Bamboo plants are pests, here and around the world. "It grows like a weed and can take over landscapes in a decade," Minnich says. Bamboo comes mostly from Asian countries, especially China, says Cyrus Inanloo, a sales rep for EcoFinishes. Bamboo in China takes some five to seven years to regenerate and grows much wider and taller than our pesky backyard variety.
"They cut it off at three feet; then it grows back just like your lawn," Inanloo says.
Bamboo's ability to quickly regenerate makes it an ideal sustainable material, although environmentalists debate techniques used to grow some of the Chinese bamboo, as farmers there cut down forests to make room for their expanding bamboo monoculture.
Green builder Richard Healy, of Thomas Point Custom Renovations, says that although bamboo and cork get green points for being sustainable, the materials don't wear well in high traffic areas.
"Bamboo tends to get dented up, and cork tends to wear," he says, "though it depends on how well you take care of them and foot traffic."
Still, CarpetOne's owner — and Cyrus' father — Frank Inanloo says he's seen the market for cork and bamboo flooring grow. Indeed, nearly one-fourth of his new store is dedicated to green flooring options.
Another sustainable flooring, Marmoleum, is a soft linoleum-like veneer created with linseed oil and pine rosins as well as other abundant and non-toxic materials. Maureen Fine of Bowie used Marmoleum in her newly renovated bathroom. She considered tile but chose the linseed-based material as a soft, warm flooring.
"With the Marmoleum, I don't feel like my feet are freezing," Fine says.
Because linseed is edible, "you could literally eat it," offers JoAnn Uhl, a sales representative at CarpetOne.
The second way to buy eco-flooring is to choose a veneer, a thin layer of wood, cork, bamboo or other new material, glued to durable particleboard. The bulk of the panel is made from recycled or reused materials like sawdust instead of new materials cut in thick slices. For instance, one type of wooden veneer covers 11,000 square feet of space with one tree.
You get double the green when you reuse wood as a veneer for your flooring. "Reclaimed heart pine doesn't grow anywhere anymore except in protected areas," says Cyrus Inanloo. "When they were building all those big textile mills about 150 years ago, they used heart pine for the main beams, and now are taking down all these mills." Inanloo's company buys up the rare, reclaimed wood to use as veneers for flooring.
Such environmentally friendly hard flooring brings fewer toxics into your home. Carpets, on the other hand, don't come with low-VOC option: Eco-carpeting typically has the same amounts of VOCs as regular carpets, Cyrus Inanloo says.
So, "the way houses are built airtight for energy savings, a carpet's VOCs are getting trapped in the house," he says.
If you still fancy a softer touch underfoot but want to go green, you can buy carpeting made of two-liter soda bottles, melted down and spun into fibers. Some of the newer types of carpet backings are made from recycled carpets, too, says Minnich.
"They are actually post-consumer recycled, so it comes straight from the landfill," Minnich says, reclaimed before manufacturers melt the bottles down and make fibers for PET polyester. You can also buy carpet padding fashioned from recycled car seats, to go under your recycled rug.
Third, if you must have hardwoods, green builder Healy suggests Forest Stewardship Council-certified hardwood. That seal of approval means that your wood floor was made of lumber grown in a managed forest that will be reforested. Certified woods can be difficult to find, and are more expensive than non-certified woods. Still, all state forests in Pennsylvania are managed by the Forest Stewardship Council, so sustainable wood isn't too far away.
"People can just look for the FSC symbol," Healy suggests, when buying hardwood. Alternately, for new homes, you can hire builders who will save any trees felled on your property to make floorboards, countertops or cabinets. "So instead of sending wood into the wood chipper, it can be a countertop," he says. One New Jersey company will send your wood to an Amish manufacturer that uses a water-powered sawmill to craft your cabinets or countertops.
There are still more environmentally friendly options. Tile made from recycled glass can also be used for floors. Healy used tiles that were 55 percent recycled glass to pave the bathrooms in Highland Beach's new platinum LEED-certified town hall.
Other floorings that come in green hues include cement made with fly ash — a byproduct of coal-fired power plants — and brick, which can be made in-state.
Countertops in Green Hues
When it comes to resurfacing counters, "people think they have to use granite," says Andrea Wheeler of Miko Wheeler Fine Countertops in Edgewater. Granite and marble may be the mainstays of today's upscale kitchen counters, but these stones are often not the greenest choices.
Granite and marble have two counts against them. First, "it's natural, but once it's blasted from the Earth, that's it; when you take that countertop out or it breaks, there's really not anything you can do with it," Wheeler says. Second, granite and marble are often shipped to Italy to be finished, then finally shipped to your home. Shipping such heavy, bulky materials halfway around the world and back means fossil fuel-burning ships must ferry your purchase long distances, spewing carbon and other pollutants into the air.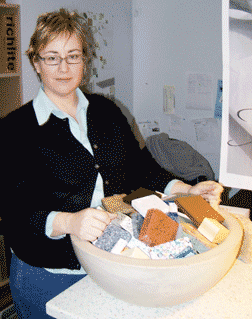 "People think they have to use granite," says Andrea Wheeler, when in fact there are far more eco-friendly options. Here, Wheeler shows samples of green countertops.
Laminate countertops are no better a choice but for different reasons. They're traditionally glued to their plywood composite backing with formaldehyde-filled adhesive. And like granite, traditional laminate loses more green points for its one-place only lifetime: "Once it's damaged, there's nothing you can do to fix it," Wheeler says.
Consider green countertops for more choices than with traditional counters, Wheeler says. Like green paints, green countertops are a young industry. Unlike green paints, green countertops are equal in durability and longevity to traditional countertops.
Eco-friendly countertops get their green status for three reasons.
First, recycled materials — once headed to the landfill — get new life in a newly molded countertop. One type of countertop, Icestone, contains recycled bits of glass, cement and sustainably harvested, crushed mother of pearl. The overall effect looks speckled and feels cold and hard, like granite.
Another type, Richlite — fashioned from paper and wood pulp from Forest Stewardship Council-certified forests, mixed with resin and then baked — is so hard that it's also used for skateboard ramps.
When Maureen Fine had her bathroom remodeled, she opted to use Richlite countertops, in addition to Marmoleum flooring and bamboo cabinets. "I knew I wanted to use non-toxic and renewable products," says Fine, who's striving to leave a smaller footprint on the Earth. She chose eco-friendly materials to keep herself healthy, too.
"I react to off-gassing from products that put out a lot of chemicals," says the physical therapist, who volunteers to teach environmental education. "I get headaches, and my eyes will burn, and I feel generally out of sorts." She had such a reaction to an office chair that her husband bought, and she didn't want to take any chances with her new bathroom.
Besides, she says, the materials for her countertops and floors have a "much warmer and more pleasing texture, plus a very pleasant aroma."
Similarly, Paperstone is a counter made entirely from post-consumer paper pulp, mixed with a cashew-nut-shell oil resin until it's hard as wood. Ecotop is made from bamboo and half post-consumer paper.
Green builder Healy suggests tile made out of recycled glass for countertops.
Countertops come from more unconventional materials, too. One uses shredded paper money taken out of circulation — cast in a polyester resin. There are also counters made from sunflower seed hulls; shredded, colorful detergent bottles; bits of recycled tubs, sinks and toilets; and metal scrapings cast in hard resin.
Second, a countertop's reusability or recyclability — once it's outlived your kitchen or bathroom — makes it green. It's for that reason that Wheeler sells Corian, even though it's made with a non-renewable resource: oil.
"The counter itself is renewable. If it gets damaged, we can restore it to new again," she says. Or if you decide that you want to renovate your bathroom and use the counter in another area of the house, Wheeler adds, Corian is easily adaptable — you can add to it and subtract from it. Some other newly developed materials can find new life elsewhere, too.
Third, a non-green countertop that comes from a company that operates in a green way can be considered ecologically friendly. If materials are produced nearby and don't require an 18-wheeler or a ship to haul your purchase, that's green, too.
"The other side of being green is to investigate the businesses you're working with," Wheeler says. The company Kahles Kitchen sells cabinets that aren't necessarily green, but the company turns leftover wood shavings and dust into bricks that can be burned at campsites. Plus, Kahles makes its cabinetry in Pennsylvania, so your purchases don't have to travel across the country using fuel and emitting carbon. Likewise, both Corian and Icestone come from New York.
If you must have a wooden counter, Healy says, choose a hardwood like oak — crafted from Forest Stewardship Council-certified wood. Or salvage reclaimed wood from a secondhand construction store.
Sometimes, an eco-friendly kitchen is one that doesn't change much.
"If the cabinets are in decent shape you may just want to paint them, so you're not throwing everything away," Wheeler says. As for your countertops, "people have to get over that thought that countertops have to remain perfect. It's a work surface," she says. Every countertop type has issues and can scratch. So choose a countertop that you can bear a couple of scratches in or that can be fixed easily.
When you're looking at a project, the question to ask is what's the best I can do to reduce my impact? says professional painter Vince Harriman.
Apprentice Yourself to Green Thinking
After moving into her new house in January, trimmed with eco-paint, Carolyn Surrick was able to take her daughter off medications. Surrick's daughter hasn't been sick since. That made going green worth it.
Green home improvers will find newer and better eco-options every year. Whether your reasons are environmental, health-related or a combination, experts agree that you should look at the big picture.
"When you're looking at a project, the question that I ask and want clients to ask is what's the best I can do to reduce my impact?" painter Harriman says. "Some choices you make contribute to your overall impact more than others." For instance, at one of Harriman's recent projects, it made sense to paint one Annapolis home's 2,000-square-foot exterior in eco-paint, but not the 16-square-foot porch, where eco-paints would have worn out quickly.
Focusing on the big picture of your project takes into consideration where your purchase comes from, how it is produced and how far it travels to get to your home.
"If you own an SUV but only drive it once a week, that's better than owning a tiny car and driving it everywhere," explains Harriman. When it comes to green painting — or any other green home repair — "there's not a simple formula that you can apply to everything."
Do your homework, then make a choice that you, your budget and the Earth can live with.