In with the Old
Use discards, not credit cards, to spruce up this spring
by Margaret Tearman
Home improvement usually means out with the old and in with the new. But sometimes the new can be old.
Before you toss your old stuff into the landfill and head to the local big box store to buy new replacements, consider these alternatives.
Habitat for Humanity and Community Forklift operate retail stores that accept donated new and slightly used building material and re-sell it to one and all at terrific savings.
Donating your discards, and in return, finding a place in your home for items others can no longer use, is a good thing. The re-use benefits you the consumer, the community and Mother Earth by offering new and used building material at prices well below retail, creating jobs and saving well-crafted and still-working items from the landfill.
Habitat for Humanity ReStore's Renovation Station
Located a bit off of the beaten path in Curtis Bay, the modest storefront of Habitat for Humanity ReStore's Renovation Station is deceiving. Floor to ceiling, it is packed with bargains for a cause: All proceeds go to Arundel Habitat for Humanity, where the money is used to build houses for low-income families.
"Habitat ReStores are outlets where quality used and surplus building materials are sold at a fraction of retail prices," explains Anne Rouse, deputy director Arundel Habitat. "Proceeds from the Arundel ReStore help fund the construction of Habitat for Humanity houses in our community, and at the same time we are helping the environment by re-channeling good, usable materials into use."
Liz Kennedy helps Marty Cahn choose materials at Habitat for Humanity ReStore's Renovation Station in Curtis Bay.
There are more than a dozen ReStores in Maryland and Virginia. Materials are regularly donated from building supply stores, contractors, demolition crews and homeowners.
On a Wednesday afternoon, the Arundel store is full of customers, many regulars who greet staff and volunteers by name.
Like Marty and Maria Cahn of Grasonville, who are renovating two investment properties and who shop at ReStore at least once a month.
"We're regular customers," says Maria. "We have, so far, saved thousands of dollars on kitchen cabinets, bathroom vanities, countertops, cabinet knobs and lighting."
On this day, the Cahn's bought an entire kitchen's worth of brand new cabinets for $1,094.
"These are quality wood cabinets," says Marty. "If we had bought them at a big box store, they would have retailed for more than $5,000."
Restore Director Kevin Crawley has developed a working relationship with Home Depot, Lowes and other local business that donate new merchandise that has either been discontinued or overstocked.
"We just received 160 pallets of new kitchen cabinets still in the box," says Rouse. "It was discontinued merchandise that, I hate to say this, but would have been thrown out. We've kept it out of the dump and can provide homeowners and do-it-yourselfers with quality merchandise at a big discount."
The staff and volunteers at ReStore will even help design a kitchen layout.
"Every other Saturday, Warren Frederick, a volunteer, comes in to assist customers with design," says assistant store manager Liz Kennedy. "And our director, Kevin Crawley, does the same."
Crawley has earned a reputation as a master backsplash designer using donated ceramic tiles for his signature "mix and match" scheme. "It is a great look using beautiful tiles," says Rouse. "It's unlikely you'd get this kind of design out of a big box store."
Stocked items are not limited to kitchen cabinets. Appliances, doors, windows, lighting and bathroom fixtures are almost always available. But you have to be quick. Priced to sell, items fly off the shelves.
"The store has exceeded our expectations," Rouse says. "Kevin Crawley has doubled monthly income every month. After just four years, the store is already operating in the black. We expect to raise $40,000 just in April."
ReStore does more than keep reusable material out of landfills. The money raised by selling all this saved material goes straight to the community as affordable housing.
The ultimate goal of Arundel ReStore is to raise enough money to sponsor its own Habitat for Humanity home. Rouse expects that goal will be realized this year.
"Kevin expects to generate enough revenue to sponsor an entire house, which will cost in the neighborhood of $120,000."
This means a home for a deserving neighbor, like Annapolis native Lorraine Williams. The walls on her new home were raised by Habitat volunteers in February; she hopes to move in by Mothers Day.
"I've waited five years for this house," says Williams. "My grandma lived just a few doors down the street. It's like home already."
Arundel ReStore Renovation Station: 410-437-7755; www.arundelhabitat.org/restore
For readers in our southern region, Patuxent Habitat for Humanity operates a ReStore in Lexington Park: 301-737-6273; www.patuxenthabitat.org/restore
Community Forklift
Community Forklift opened the doors to its cavernous 40,000-square-foot warehouse near Hyattsville, Maryland, in November 2005. It's filled with new and used building material, and goods overflow into the adjacent courtyard.
Roland Banscher drives from Annapolis to Curtis Bay to volunteer at Habitat for Humanity ReStore's Renovation Station.
Conceived by architect and deconstruction specialist Jim Schulman, Community Forklift is owned and operated by Sustainable Community Initiatives. Proceeds from the store support job training, small business incubation and public education about green design and construction.
Schulman was motivated by a study done by Germany's Wuppertal Institute. "It concluded that 84 percent of all environmental harms are caused by extraction, like clear cutting," Schulman says. "If we reduce new manufacturing by reusing, we can help reduce damage to our planet."
"Hand-demolishing homes and businesses not only saves building material for re-use, it also provides jobs," Schulman says. "With demolition, you have one crane operator. De-construction takes an entire crew."
Community Forklift was born out of necessity. "All of the material that was being salvaged from deconstruction projects needed a home," Schulman says. "Instead of continuing to take it all up to Baltimore salvage yards, I decided to open one here."
Community Forklift sells to everyone — landlords, small renovators, small businesses, homeowners — saving you up to 80 percent more than big-box retailers. Items almost always in stock include new and gently used kitchen and bathroom cabinets, bathtubs, sinks, doors, windows, light fixtures and ceramic tiles.
"We are the largest source for reclaimed lumber in our region," says outreach director Ruthie Mundell. "Sales of reclaimed oak and heart pine flooring pay our rent."
Occasionally items of historic significance are offered for sale.
"We once had a chandelier from the Watergate," Mundell recalls. "And we have had bricks, ashtrays and chalk donated by the U.S. House of Representatives."
Oddball items include a large cross from a local church, an entire log cabin from McLain, Virginia, and a potato gun fabricated from PVC pipes.
"A customer pointed it out to us," Mundell laughs. "He told us we had a weapon on our shelves."
The staff encourages creative uses for salvaged material — like the dozens of broken porcelain sinks and toilets accumulating behind the warehouse. Mundell, raised on the water in St. Mary's County, has a dream for all that porcelain: An artificial oyster reef. "I hope somebody who shares my love for the Bay will agree and take on the project," Mundell says. "It would be a great way to reuse all of this material and do something good for the Bay's ecosystem."
Community Forklift outreach director Ruthie Mundell sits amidst her pet project: unusable porcelain bathroom fixtures seeking a new life as an artificial oyster reef in the Bay.
Forklift is an operation providing needed services to the community. It has nine paid staff and a fleet of volunteers paid with store credit. And it provides low income homeowners with affordable alternatives.
"We have a large community of senior citizens who can't afford to shop at the big box stores," Mundell says. "We can sell them a perfectly good water heater for an affordable price. Some of our best, regular customers are the handymen hired by seniors."
Schulman and Mundell are always looking for creative uses for the mountains of material and have turned to their local arts community for ideas. A local artist, Susan Chapin, has jumped at the chance and moved into a corner of the warehouse.
Creating art from discarded building materials, Chapin is making good use of the opportunity to display and sell her unique items. "I have a compulsive urge to make things," Chapin says. "Community Forklift has given me display space in exchange for my volunteer labor."
A glass case holds bowls adorned with roofing nails, creating a mosaic design. Old doorstops function as legs on others. "My favorite material," says Chapin, "is the stuff nobody else wants."
The possibilities — and benefits — are endless.
Community Forklift 301-985-5180; www.communityforklift.com
Still More Architectural Salvage
Resources for salvaged and reclaimed treasures aren't limited to the non-profit sector.
In Washington, D.C.,'s Adams Morgan neighborhood, The Brass Knob has been rescuing and reselling architectural antiques for 27 years. It is a reliable source for vintage door knobs, restored lighting, architectural ornaments and fireplace mantels. In 1993, the business expanded into a second building. Brass Knob Backdoors Warehouse stocks larger items including bathtubs, sinks, doors, windows, columns, arches, iron fencing, radiators — and even more fireplace mantels.
The Brass Knob Architectural Antiques, Inc. 202-332-3370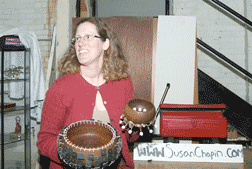 "I have a compulsive urge to make things," says artist Susan Chapin. "Community Forklift has given me display space in exchange for my volunteer labor."
The Brass Knob Backdoors Warehouse, Inc. 202-265-0587; www.thebrassknob.com
Our neighbor to the north, Baltimore is home to a number of sources for architectural and building salvage:
The Loading Dock accepts donations of building materials and appliances for re-sale. 410-558-3625.
Mt. Rainier Antiques, Thrift and Salvage, specializes in antiques and architectural salvage including mantels, doors, stained glass, ironwork, stonework and other decorative architectural elements: 301-779-1740.
Second Chance Architectural Salvage and Antiques rescues architectural elements from structures scheduled for demolition. Its aim is to give salvaged pieces "new lives in new homes with new uses": 410-385-1101 or www.secondchanceinc.org.
For more information: www.mdrecycles.org.
Bargains on the Web
The Internet has become our new community bulletin board with resources for used and salvaged building materials and household goods.
Free Cycle is a network of over 4,000 groups with close to five million members across the globe. This grassroots movement is all about reuse and keeping good stuff out of landfills; items are donated and resold — for free: www.freecycle.org
Craig's List is a centralized network of online communities featuring free classified advertisements of items for sale, barter or wanted. www.craigslist.com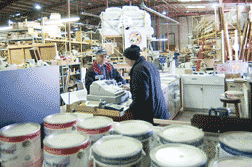 Community Forklift owner Jim Shulman helping a customer.
E-bay, the on-line auction house, is a source for just about anything you can imagine — either as a seller or as a treasure hunter. www.ebay.com.
Treasure Hunting
As you wander cavernous warehouses and poke around back rooms in search of a charming vintage sink for your bathroom makeover or a brand new stainless steel model for your kitchen, let the creative juices flow and imagine what you can do with those brightly colored ceramic tiles for just pennies apiece. Mix and match cabinets in a pantry; with a new coat of bright paint it will look like you paid an expensive professional to decorate. Consider how a funky pair of vintage wall sconces will light up a dark hall. The possibilities are limited only by your imagination.
The same goes for what you were planning to haul to the curb or to your local landfill. Is it in working order? If not, can it easily be repaired? Don't be quick to trash your unused or un-needed stuff. Somewhere in our community, someone needs a hot water heater but can't afford a new one.
Re-use is good for our wallets, our communities and our planet. And don't forget the old saying: Your trash is another's treasure.